BrightSign had no new media players, but nonetheless had lots to show and talk about. We caught CEO Jeff Hastings, who had obviously been kept very busy – his voice was extremely croaky by the second day of the show!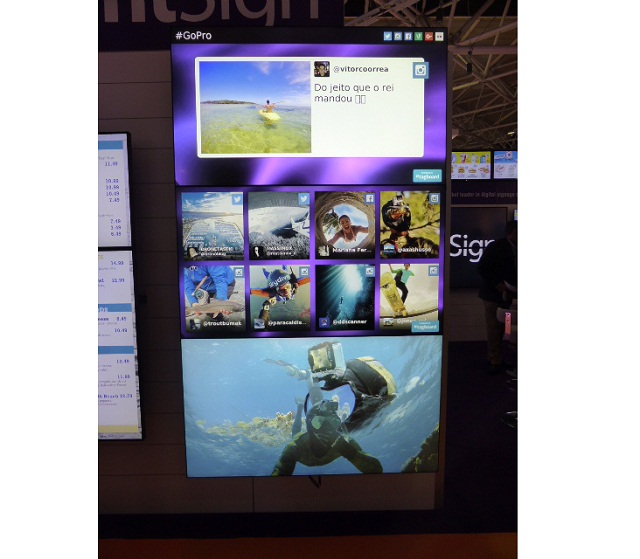 We began at a demonstration area, where BrightSign was highlighting ways to use social media in signage. This is a big area with lots of potential, but monitoring and promoting it are problems. BrightSign is working with social media aggregators, like TagBoard, and showed three examples. The first display highlighted a single large Instagram post; the second showed a constantly-updating feed from Twitter and Instagram; and the third had a long-form video.
BrightSign envisions all three examples being used together, but also recognises that social media can be harmful and complex. Retailers have the option to only show content from people that they have white-listed. All that a retailer has to do is plug a BrightSign player into a display and point it to TagBoard.
Next, BrightSign highlighted the scalability of its players, which cover prices from $300 – $800. Three were set up performing a broadly similar task, but in different ways. The first was an entry-level unit, with static images and background and a text ticker at the bottom of the screen. Next was a mid-range player with animated content in the background and smoother text. Finally was the top-end device, with an animated HTML widget; pop-up, larger video; pinch-to-zoom; a social media feed instead of the text ticker; and the ability to scroll through content instead of using buttons.
Version 6.1 of BrightSign's firmware will add HDR 10 support to its players this year; as the players already deliver 10-bit colour per channel, a firmware update will enable HDR. Another feature added in v6.1 will be support for Bluetooth beacons, connected through USB. The update will roll out in Q2, we were told.
---