BOE came to the SID last year for the first time. This time, the company was back with an impressive display from the low end to the high end. As the company explained in its Business Conference keynote (Business Conference Kicks Off Display Week (BC1), it is looking for value added markets. As we reported from CeBIT in March, BOE is increasing its marketing efforts outside China.
In the middle of the booth was the star item, a 104″ 21:9 10K (10240 x 4320) TV display. Although a "technology demo" and not yet commercially available, staff told us that it could be in mass production "soon". Then again, we also heard that the display was taking 1100W of power, so probably wouldn't fit a domestic environment. Brightness was just 350 cd/m² and the panel uses BOE's IPS/FFS equivalent that it calls ADSDS. There was also an 82″ 10K display. We asked about how content was captured for these panels and were told that BOE used a "special" 8K camera.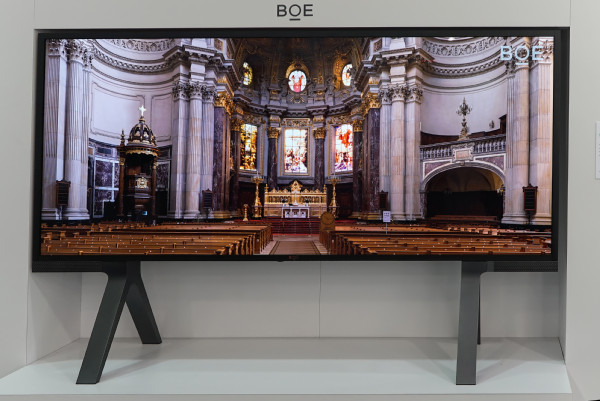 BOE's 82 inch 10k TV Panel
Moving to smaller sizes, we looked at a 13.3″ 2560 x 1600 (16:10) OLED that might be used in a tablet. BOE told us that it was not using a White/Filter approach, but depositing RGB pixels and with a "new oxide" backplane (CBrite? – Man. Ed.). We looked again at the 13.3″ 2560 x 1440 notebook, 23.8″ UltraHD monitor and 27″ 2560 x 1440 LCD panels that we reported on from CeBIT. (CeBIT 2015 Round Up) New on the booth was a 10.1″ UltraHD tablet panel.
There was a demonstration of a panel with processing to help the colour blind. We tried to understand exactly what BOE meant, but the language difficulties made it impossible! (We must improve our Mandarin – Man. Ed.)
Next we looked at transparent and flexible displays. There were 5″ and 9.55″ transparent panels that were described as tech demos, with production "soon". The OLED panels use LTPS and are built on polyimide substrates, with the plastic being detached from the glass after patterning. The 9.5″ reached transparency of 30%, but there is a direct trade off between resolution and transparency, so it was just 640 x 432.
A 4.8″ flexible OLED is intended for "armband" applications and a very thin 5.0″ FullHD OLED, that is claimed to have a 100% coverage of NTSC as well as 20,000:1 contrast.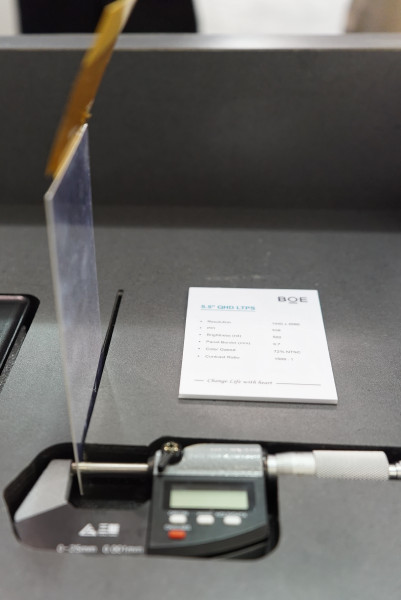 Turning to phone displays, the focus here was on UltraHD. The company had the smallest UltraHD LCD panel that we saw at the show at 4.7″ diagonal (941 ppi) and with 500 cd/m² of output. Gamut was said to be 92% of NTSC and contrast ratio of 1,500:1. Similar products were also shown at 5.5″ and 6.8″.
Finally, we looked at a 5.5″ FullHD panel and a 4.7″ 2560 x 1600 panel that were unremarkable except that they are made using amorphous silicon, rather than LTPS. That suggests that they should be very competitively priced.