38 new products were launched by Blackmagic Design at the show, although only a few were relevant to us.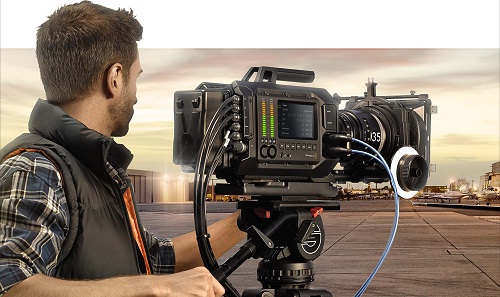 Last year, Blackmagic introduced a high-end digital film camera called URSA, which was designed to be upgradeable. The reason was the new generation of sensor technology introduced at NAB 2015, which is compatible with last year's URSA. The sensor will cost $2,000 (EF lens mount) or $2,500 (PL lens mount) to buy separately.
The new sensor has a resolution of 4.6K (4608 x 2592), with 15 stops of dynamic range. It is Super 35 size and supports 120fps. Two new URA cameras were launched alongside the sensor, which will be bundled. The EF ($7,000) and PL ($7,500) will begin to be shipped in June, ramping to full availability in July and August.
With the launch of the new cameras, Blackmagic also announced a $1,000 price reduction on its existing models. A new OLED viewfinder was also introduced for URSA cameras, with 1920 x 1080 resolution. The unit has custom-designed precision glass optics, an adjustable dioptre and built-in digital focus chart. A sensor is also featured so that the OLED will only turn on when the viewfinder is being used, to preserve OLED lifetime. The display will be available in July, for $1,500.
The URSA cameras are heavy-duty products, not as portable as Blackmagic's original Cinema Camera, so the company also introduced a new, smaller unit called the URSA Mini. It is a portable digital film model, with most of the features of the larger cameras. It is designed using magnesium alloy, so is both small and lightweight.
Featuring the same UltraHD and 4.6K sensor options and 15 stops of dynamic range as the original URSA cameras, the Mini is also compatible with the new OLED viewfinder and can reach 60fps. It also has a 5″ touch screen that folds out and angles.
Four URSA Mini models will be available: the 4k EF ($3,000); 4k PL ($3,500); 4.6k EF ($5,000) and 4.6k PL ($5,500). The camera will be launched in late July.
Following in the small-camera trend, the Micro Cinema Camera is a handheld digital film model (Super 16mm), with a new expansion port for PWM and S.Bus model aeroplane remote controls to operate the camera wirelessly. This means that the same controls used for model aircraft can be used to operate this camera! Different features can be mapped to different channels. An HDMI port is featured, as well as a composite NTSC/PAL output. There are 13 wide stops of dynamic range. Blackmagic will launch the unit in July, for $1,000.
By removing the built-in recorder and digital film sensor cooling – replacing them with SDI connections and an UltraHD image sensor – Blackmagic was able to use the same chassis for another new camera: the Micro Studio Camera 4k. This is a broadcast-quality studio camera. It can be used with an external recorder, but is designed for live production. A 6G-SDI connection means that the unit supports UltraHD to 30fps and 1920 x 1080 to 60fps. The Micro Studio Camera will be launched in July, for $1,300.
Blackmagic also had various 12G- and 6G-SDI products, including converters, recorders and switchers. The company also showed two new versions of existing software: the DaVinci Resolve 12 editor; and an updated version of Fusion 8 Studio, support Mac and Linux operating systems.