Barco Residential highlighted HDR projection using its high-end Thor projector, which is RGB laser-based. The company also announced a partnership with Meridian, covered separately. (Meridian Audio Teams with Barco to Add Video Solutions)
As usual, Barco Residential constructed a theater on the CEDIA show floor that was a stand out. Powered by the $350K Thor projector, a 17' (5.2 M) Stewart Director's Choice masking solution with a StudioTek 100 matte white screen (gain 1) screen and a powerful sound system, the demo footage was very good to say the least.
Barco was one of the few companies at CEDIA that seemed to understand the issues with HDR projection. Namely, you need to know the screen size to know the peak luminance levels so you can create a tone mapping solution for that configuration. This is exactly what Barco did.
According to Hamish Neale, Business Development Manager – EMEA at Barco Residential, ANSI contrast was measured to be an incredible 940:1 and peak luminance in the DCI-P3 calibrated mode was 70 ftL or about 250 cd/m². This allowed Barco to create a custom tone mapping setting that made the HDR content look good given this specific dynamic range. Content is believed to have been a cinema-grade DCP so it would have been mastered in the DCI-P3 color space. The RGB 6p projector can easily achieve this with only modest color volume remapping necessary to account for the higher luminance levels than was used in the mastering process.
Barco's Thor (the hammer wielding god of lightning) projector brings true, direct laser projection to the most exclusive homes for the first time. It offers 15,000 lumens with a 3-chip 4K DLP sealed light engine. It is coupled to Barco Residential's new Alchemy server, with HDMI2.0 / HDCP 2.2 connectivity on board and HDR compatibility, which served up the content for the demo. Steinway Lyngdorf provided an Auro-3D 11.1 system for the theater. This is a completely concealed immersive audio solution featuring IW-26 and S-16IW main speakers and six 2×12 LS Boundary woofers.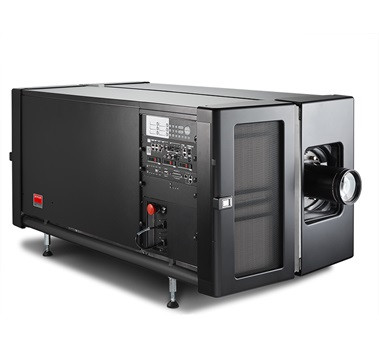 Overall, Barco Residential offers home theater solutions in three classes: T, M and C. The T class offers lower levels of light output and Rec. 709 compliance. The M class offers higher lumen output levels while the C class is essentially DCI cinema-grade product.
At CEDIA 2016, Barco was highlighting two other series in its residential line: the 4K Loki and 4K Wodan projectors.
The 4K Loki projector features a dual-laser light engine, a 0.9″ single-chip 4K DLP chip and world class optics. Contrast is rated at 4500:1 and there is HDMI 2.0a support with HDCP 2.2 for HDR10 playback at 60 fps. There are motorized lenses, auto aspect ratio detection and significant lens shifting. The new Loki projector has ditched the air cooling in favor of liquid cooling, which means it can also be mounted at any angle. It is offered in 8500 lumens (T class) or 12000 lumens (M class).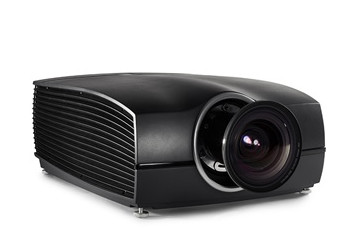 The 4K Wodan projector builds on the DLP 3-chip 20K lumen Apollo 20 platform moving to UHD-4K resolution – with pixel shifting. Wodan is designed for large screens or bright ambient light environments, like outdoor entertainment spaces and contemporary glass home designs. What's new? Wodan has completely new processing electronics that can serve up 4K content at 120 fps! New connectivity included DisplayPort 1.2, HDMI 2.0a with HDCP 2.2 for HDR10 display and there is even more powerful built-in warping functions. Wodan features motorized lenses and lumen output is variable from 8 to 16000 lumens, but it is powered by a 2.5 kW Xenon lamp with a 1000 hour lifetime, which can also be quite noisy. This projector should easily support the DCI-P3 color gamut. -CC