At the annual National Association of Broadcasters (NAB) Conference in Las Vegas this past week, promoters and implementers of the emerging ATSC 3.0 standard left no doubt that it is becoming a key driver of the next phase of broadcasting in the United States.
A centerpiece of this initiative was the "NextGen TV Hub" situated prominently in the Grand Lobby of the Las Vegas Convention Center. Demonstrations there showed live over-the-air local news and entertainment combined with over-the-top Internet content, providing a seamless viewing experience.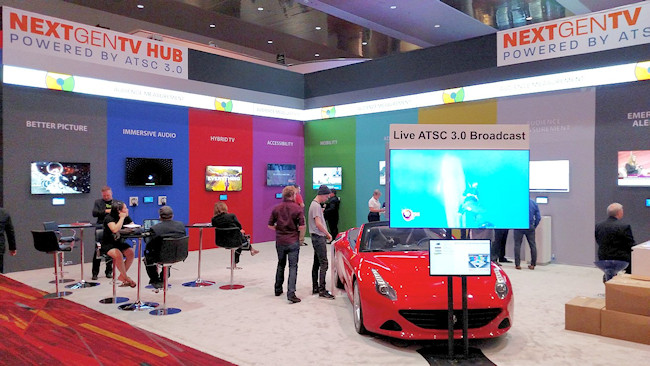 ATSC 3.0 was being broadcast live at NAB
During the NAB Show, a live ATSC 3.0 broadcast originated from local station KLSV-LD on Black Mountain in Las Vegas and transmitted a variety of Ultra HDTV programming. The broadcast was received and displayed on an LG Electronics Ultra HDTV set with an integrated ATSC 3.0 tuner at the NextGen TV Hub.
NextGen TV features showcased at the Hub included Better Picture (UHD), immersive audio, hybrid broadcast, mobility, addressable advertising, audience measurement, and advanced emergency alerting. Automotive business opportunities, including navigation and telematics updates delivered by ATSC 3.0, were also featured.
In addition to the NextGen TV Hub, ATSC 3.0 products and services were seen throughout the 2017 NAB Show floor. In the North Hall Futures Park, nearly a dozen companies were exhibiting specific ATSC 3.0 technologies in the ATSC 3.0 Pavilion. The NextGen TV Hub was a collaborative effort of NAB, the Consumer Technology Association (CTA) and the Advanced Television Systems Committee (ATSC). Major sponsors included Pearl TV, Sinclair Broadcast Group, LG Electronics and others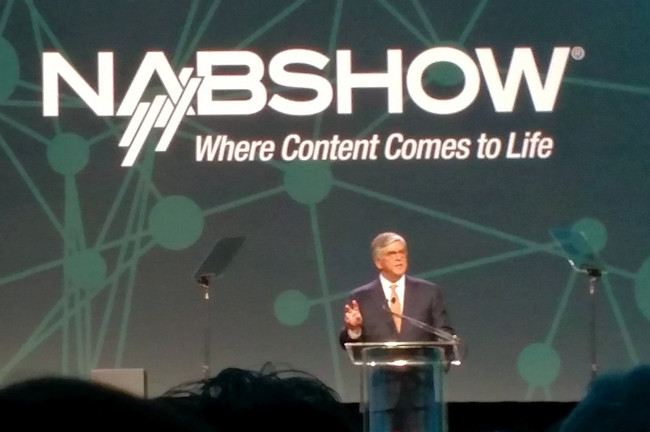 NAB's President & CEO – Gordon Smith
Speaking at the opening keynote address, NAB President and CEO Gordon Smith pitched the new business opportunities being made possible with "Next Gen TV," the more consumer-friendly catchphrase for "ATSC 3.0." "Through Next Gen TV," he said, "broadcasters can deliver the benefits of ultra high definition TV to viewers, as well as interactive features and customizable content. Viewers can also look forward to more choices, more channels and more flexibility, along with improved reception and building penetration."
"With Next Gen TV," he continued, "we see the seamless convergence of over-the-air and over-the-top – in other words, increasing the efficiency and value of our remaining spectrum."
He also alluded to the imminent startup of the new broadcast service, saying that, "We are pleased that the FCC is carefully considering our request that broadcasters be permitted to voluntarily adopt Next Gen TV – just as the wireless industry is permitted to move from 3G to 4G to 5G, as technology improves."
In a separate session, Anne Schelle, managing director of the broadcast technology alliance, Pearl TV, described ATSC 3.0 as "the world's first Internet Protocol broadcast system, which is a key asset of NextGen TV technology." She also headlined that "NGTV is accelerating as the path clears." She backed this up with the following timetable:
FCC Spectrum auction is complete – today
FCC issued a Notice of Public RuleMaking (NPRM) on NGTV – in process
Station assignment phase and reimbursement schedule – underway
Test markets are operational (Cleveland and Raleigh)
Post auction repack schedule released, clock starts for 39 months
Full ATSC 3.0 standards (NGTV) to be completed by Summer 2017
Early "Lighthouse" markets will test transition process by Q3'17
NGTV rollout with phased station repack in 2018-20
NGTV enhanced viewer experience will be cleared for release in 2019
(Schelle previously wrote a Display Daily for us – Next Generation Broadcast TV Platform Coming Soon). — agc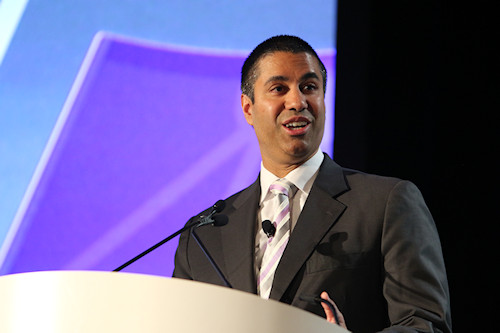 FCC Chairman Ajit Pai has said he hopes the Commission can issue a final authorization of the standard later this year. [Photo credit: Robb Cohen Photography and Video]