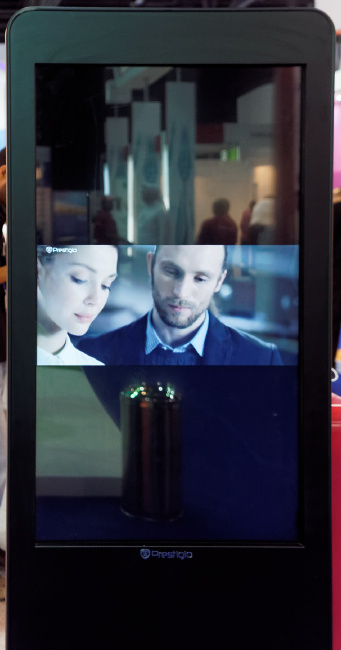 Distributor, Asbis, has a strong presence in Southern and Eastern Europe as well as MEA with its Prestigio brand. The firm was sponsoring touch systems around the venue that were providing wayfinding and directory services.
One of the main features of the booth was the emphasis on its interactive LFD products which are available in 55″, 65″, 70″, 75″, 84″ and 98″. The sizes up to 75″ have FullHD resolution with sizes above having full UltraHD support. The displays have integrated processors that can run Android or Windows 8.1 and are targeted at business and education applications.
The front surfaces of the displays have received particular attention and have anti-glare and anti-scratch treatments. Prestigio gave us a brief demo of its "Easi" applications, its mTeacher application and also showed us how the LFDs can connect to meeting/classroom mobile devices. The firm highlighted that the system can support up to 50 client devices for monitoring or for "broadcasting" content from the display. Touch support is via infrared technology and supports 10 touch.
Asbis was also showing its kiosk/totem solutions which support 4/6 and 8 point touch and are available in 42″, 55″ and 60″ sizes. The company told us that it believes it wins business as it has "A" brand technology at B to C brand pricing. As with the LFDs, there is the option of Android or Windows operation.
In the mobile phone category, Asbis is moving down market into featurephones in order to meet the demand in the region for lower cost solutions. It had no new products in its smartphone range.
The company told us it is seeing success in the UAE, Kuwait, Qatar, Egypt and Saudi Arabia.