IDC data indicates a significant decrease in the global shipment of augmented reality (AR) and virtual reality (VR) headsets during Q1'23. The AR/VR market declined by 54.4% compared to the same period in the previous year. VR headsets dominated the market, making up 96.2% of the total headsets shipped.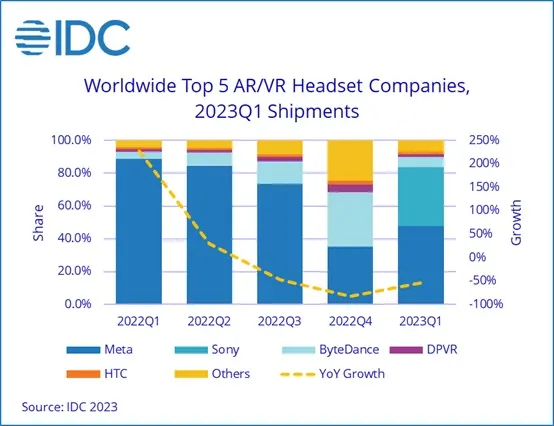 Among the top five AR/VR headset manufacturers, Meta was in the lead, owning 47.8% of the market share. However, Sony's PSVR 2 gained ground, capturing 35.9% of the market share. ByteDance (Pico) increased its share from 4.4% in the previous year to 6.1% because of the introduction of new products and expansion into new markets. DPVR and HTC rounded out the top five, each with less than 2% of the market share.
| Company | Market Share in Q1'23 |
| --- | --- |
| Meta | 47.8% |
| Sony's PSVR 2 | 35.9% |
| ByteDance (Pico) | 6.1% |
| DPVR | < 2% |
| HTC | < 2% |
Despite the current decline, the expectation is that the market will pick up again with the introduction of new players and next-generation headsets, mostly due to the particular interest in Apple's upcoming headset, which is days away from being presented to the world. Apple's headset is being touted as being apart from others, although volumes may be low due to its rumored high price tag.
AR headsets, which have see-through or semi-transparent displays, had a solid quarter with a growth of 12.6% year over year. The growth was largely driven by basic headsets from companies like Nreal (now Xreal) that function as external displays for other connected devices. However, more sophisticated AR headsets that feature simultaneous location and mapping (SLAM) and 3D object manipulation saw a decline, mainly due to issues faced by Microsoft.