CES 2020 has a lot to offer when it comes to AR / VR. Besides some presentations, there are plenty of exhibitors that identify with AR/VR in one form or another. Filtering the exhibitor list by the product category 'Augmented and Virtual Reality', creates 354 results, enough to keep one busy for the available hours! This is by no means a complete report on what is happening at CES, but a reflection on some news that seem very interesting to me.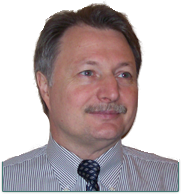 Samsung has been in the VR business early on, but without any commercial success besides the smartphone-based viewer. In this year's press conference they were not announcing any products, but showed how AR glasses maybe used in the future. It was not clear if this was a hint of a future release of hardware or just a general interest in the AR / VR field by Samsung. The future will tell.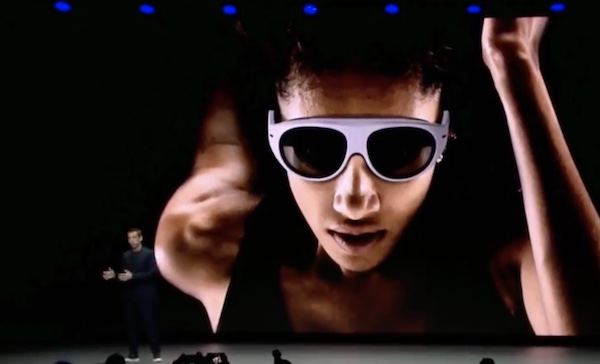 Hint at Samsung AR Glasses during CES 2020
Another interesting tidbit came from Sony during their press conference. Discussing the PS4 game console and its commercial success they revealed that they have sold 5 million VR units so far. Since the unit came to market in October in 2016 we are looking at a run of a bit over three years. The last number from Sony mentioned 4.2 million units in March 2019. Since then they sold another 0.8 million headsets. Many believe that the Sony headset is the most successful headset in the market today.
Here are my concerns with the Sony numbers. First of all, in the first 2 1/2 years they sold 4.2 million units, which translates to over 1.6 million units per year. The last 8 months only yielded sales of 0.8 million (translates to about 1 million per year). Does this mean the VR sales have slowed down? In addition, they say they have about 100 million active users per month. The upper limit of VR users would be if all VR headsets users are actually using the VR headset actively every month. This means that the VR attach rate among gamers is about 5% in the application that many believe is the best application to date. To me it looks like today's VR headsets are not becoming a high volume consumer gadget any time soon.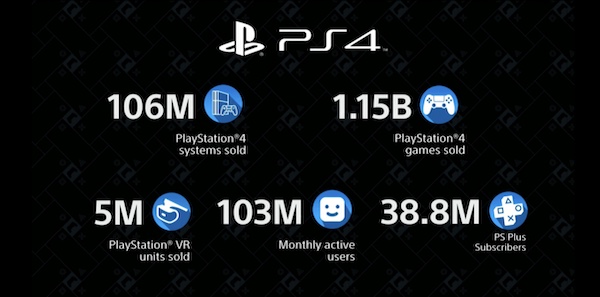 Sony VR Results released during CES 2020
Vuzix was an early innovator in the AR / VR hardware field and was one of the first to focus mainly on the professional market – a smart choice for a rather small company with limited resources and quite the opposite of Magic Leap and their market approach.
For many years Vuzix has been winning innovation awards at CES and this year is no exception with winning the '2020 Computer Peripherals & Accessories Innovation Award' and the '2020 Wearable Technologies Innovation Award'.
With the Vuzix M400 and the Vuzix Blade available since last year, the new products are the Smart Swim Glasses (available in the first quarter of 2020) and the M4000 (available in the second half of 2020). The Smart Swim Glasses are a waterproof version with simpler optics aiming at the sport enthusiast market with a consumer price of $500. The M4000 features clear waveguide optics in a monocular design that can be used with the right or left eye aiming at the enterprise market with a price of $2,500. (The waveguide optics are Vuzix's own and looked very good when I had a brief chance to try them at CES – Editor)
Vuzix M4000 announced at CES 2020
The M4000 is still under development and specs may change before the final release date.The waveguide optics is field replaceable, showing an image with WVGA image resolution (854×480) generated by a DLP display. The diagonal FoV is 28 degrees, by no means industry leading in this regard. With a brightness of >1000 nits and a see-through contrast of 500:1 and 24bit color, it becomes clear that in field viewing ability trumps consumer expectations for large FoV.
The headset has various mounting options, adopting to different applications. While it has a small internal battery pack, there is a USB-C connectsted external battery pack providing power for the enterprise market with up to 12h of use time depending on the battery pack.
Of course it comes with various controls (including voice control), head tracking, camera, and provides USB, WiFi and Bluetooth 5.0 connectivity. It uses an 8 core Qualcomm XR1 processor with 6GB RAM and 64GB flash memory running Android 8.1.
There is a video showing the M4000 in use in various enterprise applications including a short view of the Vuzix Blade manufacturing In case you are interested.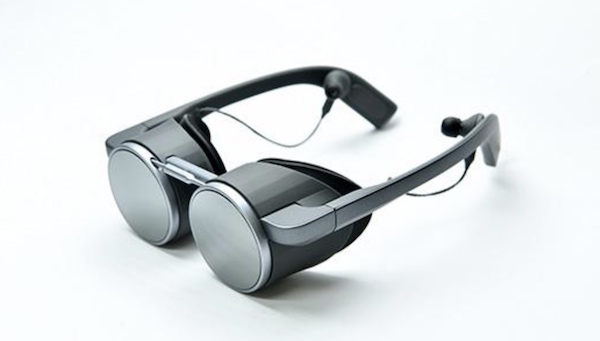 Panasonic VR Glasses Prototype at CES 2020
Another highlight was a VR prototype shown by Panasonic. While it is not clear if Panasonic wants to release this headset any time soon or what market they want to address is not clear at this moment and a little bit early for sure. However, looking at the headset gives you the impression that Magic Leap has gone to the VR side. The form factor is more like the one from Magic Leap or Mini for that matter. The interesting part is the HDR capability of the UHD OLED imager used in the headset.
While there are no specs available at this time, Panasonic announced that the imager is a development from Kopin and will not show any screen door effect. This means that the lines between the pixels must be very small indeed. I am looking forward to learning more about the capabilities of this imager.
A different approach to the AR market is shown by Futurus Technology, a Chinese development company that is demonstrating a Light Field HUD for the car. While this a non-wearable form factor it still is a mixed reality display that takes the existing HUDs to the next level. It creates two images in front of the vehicle, the first image is 25″ in size and appears about 5 feet in front, with the second image appearing about 150 feet in front as a 390″ display. The image sizes go beyond the typical HUD used today thanks to the used display technology.
It is way to early to see when this technology is ready to appear in a car, but they are already talking to major car manufacturers like Toyota and Hyundai.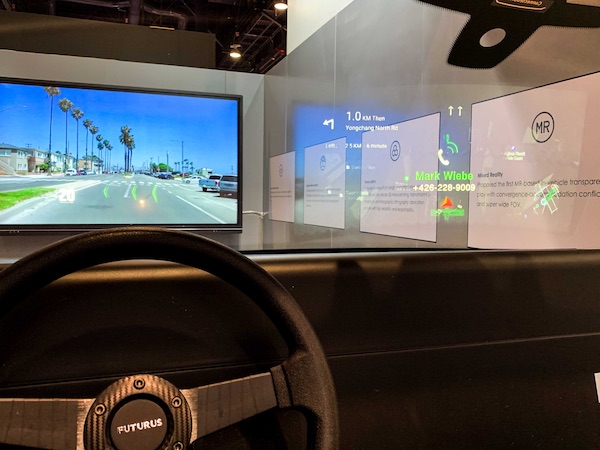 Futurus HUD demonstration at CES 2020
Of course there are many more evelopments in the AR/VR field at CES but the DD format is not meant to be all inclusive and there is only that much space to write about things, especially when the topic is CES. – NH