The new iPhone models recently launched by Apple all feature the GF2 touch sensor, a double-sided indium tin oxide (DITO) film that relies on touch sensors on the top and bottom sides of the film substrate to provide better touch sensitivity.
Used previously in the Apple iPad, the GF2 can now also be found in Apple's three latest iPhones-the XS, XS Max, and XR.
For five years until 2017, Apple relied on its proprietary in-cell touch LCD technology for displays. The in-cell touch structure, first deployed on the iPhone, integrated the touch sensor circuit in the TFT array layer within the panel structure, resulting in a slim and lightweight profile with better sensitivity.
While the new iPhone XR still utilizes an LCD display, Apple chose to go with GF2, not in-cell touch, as the new phone's touch panel structure. Apple's use of the GF2 in new iPhone models will have an outsize effect on the market for capacitive displays, with Apple's patronage expected to now halt what had been an ongoing decline in shipments of capacitive touch displays.
Overall, capacitive touch displays made up 43% of the total displays market in 2017. The "Apple effect" will now spur a slight increase, bumping up the share of capacitive displays to 43.3% in 2018, according to the new IHS Markit Touch Panel Market Tracker Report.
With the early-generation iPhones, the touch sensor structure relied on a glass-glass (GG) structure, which had an additional glass substrate patterned with touch sensors on the top and the bottom. Apple next developed the in-cell touch sensor structure and applied it to the iPhone 5 in 2012, because in-cell touch offered better display transmittance and decreased thickness. Even so, there are drawbacks, including a tradeoff on touch sensitivity and competition with TFT circuits in a time-sharing issue.
In-cell touch TFT LCD was deployed on all iPhone models before the iPhone X, and its pervasive use on the iPhone resulted in the touch technology accounting for a big 13.3% share of all touch display shipments in 2017.
Leaping Into The Present
The iPhone X was the first smartphone to adopt the GF2 touch sensor structure in Apple's products. The new 2018 iPhone models-the XS, XS Max, and XR–then followed suit. As a result, the share in shipments of GF2 among all touch displays is projected to rise from 3.6% percent in 2017 to 8.6% this year.
The chart below shows the percentage share in shipments of various touch technologies projected to be utilized in mobile phones until at least 2022, based on IHS Markit forecasts.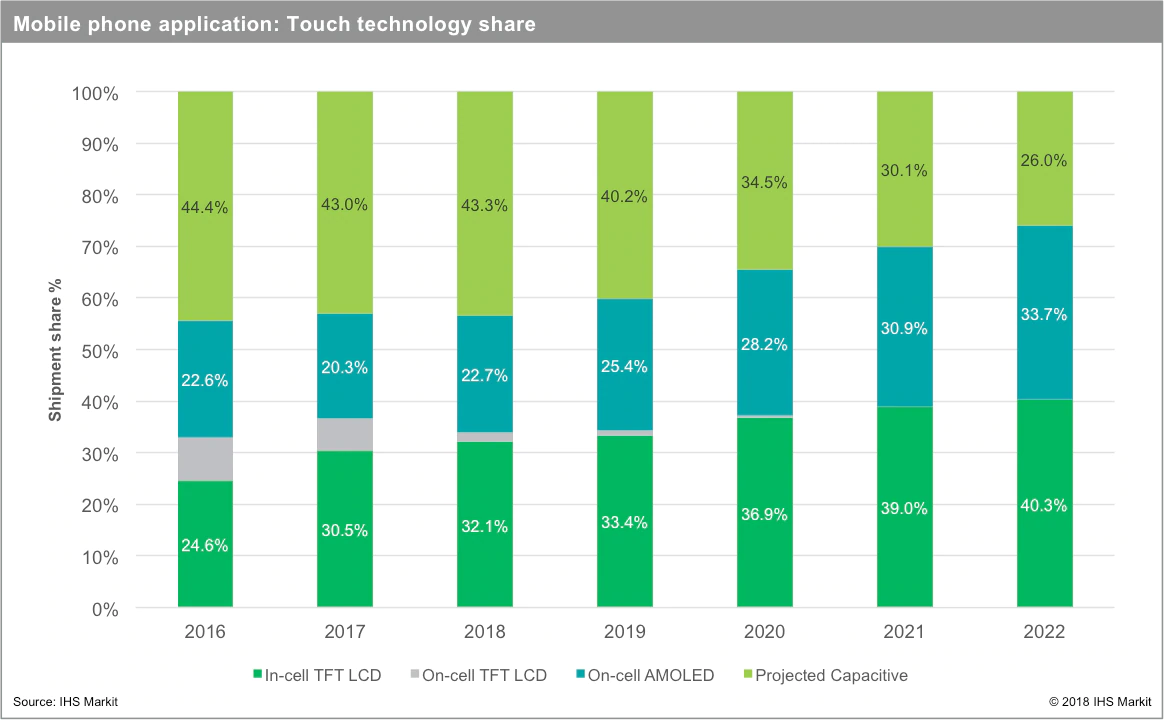 Despite Apple's shift to the GF2, we believe that its GF2 deployment will likely be temporary. Although GF2 has a mature supply chain for film substrates, sensor patterning, and touch-module bonding, its thickness and display transmittance means Apple will not adopt it for the long term.
While Apple is in the process of establishing its own supply chain for AMOLED displays to be used on the iPhone, Apple's choice of GF2 could cause AMOLED panel makers-except Samsung Display-to quickly raise their yield rates. This is because OLED panel manufacturers need not be concerned with touch issues, freeing them to focus their efforts on areas including the quality of the display and raising production yields.
However, once Apple manages to acquire additional sources for AMOLED displays to safeguard supply, customization of its touch sensor structure will almost become inevitable and a foregone conclusion. Apple did something like this in 2012 when it dealt with customized in-cell TFT LCD displays, which leads IHS Markit to believe that Apple will do the same with AMOLED.
For reference purposes, we are providing the specifications and other particulars for the display and touch structure of Apple's new iPhone X series in 2018. This information can also be found in the IHS Markit Smartphone Display Intelligence Service.