AMD had a booth at the show and, as usual, had both plenty of news and enthusiasm.
We first talked with Ventuz, a German company based in Munich and that specialises in live AV including 3D processing. We first reported on the company when its software was shown by AMD at IBC in 2015. This time, we got to talk to the company, which was highlighting its real-time 3D rendering which looked very high quality, to us.
The company has three 3D products, a 3D Designer and a RunTime player. One of the key features of the technology is that multiple 3D displays can be synchronised, with each of the displays running at full resolution, when running using professional graphics cards. Video can also be synchronised and scaled and either system can support up to 128 displays. The system can also be developed to run using touch and elsewhere at the show, Eyevis, the German A/V integrator was apparently showing a touch table that used the system.
An unusual feature of the software is that the company has its own 3D engine and does not use the Unreal Engine or others. That allows high speed and supports graphics feature such as sunlight effects and live depth of field processing as well as a variety of blend modes that can be used on imported Photoshop psd files. There are a number of sophisticated lighting techniques that are executed in real time. As well as 3D objects created in the designer, video surfaces can be used and the video output quality can be up to broadcast standards.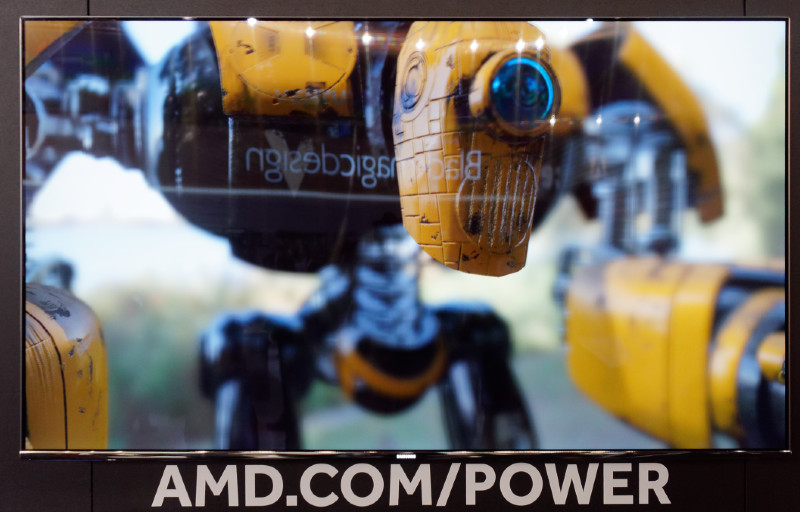 Ventuz' 3D images looked cinematic and almost ray-traced to us. Image:Meko
In broadcast, one of the key advantages is that the engine can support the rendering of high quality broadcast graphics in real time from a wide variety of sources, including XML, JSON, MySQL databases and text files. The system can monitor files so that the graphic is instantly modified if the content is changed, making it, the firm told us, ideal for sports results and other live applications. The software has a live link to Maxon Cinema 4D that allows a live import and immediately updates any changes made in C4D scenes inside Ventuz, even across a network.
The basic player costs €2,500 and the Designer costs €7000. However, if you need support for SDI output (for broadcast), the pricing goes up to €17,000-€20,000. (Whisper it quietly, but although the company was on the AMD booth, it told us that it is able to support Nvidia cards as well and is 'agnostic' on which is used.
Next we moved on to look at GPU rendering of video. As we have reported, AMD has enabled some of its high end cards with up to 2TB of SSD local memory that can be used to cache rendered video. Once the video is initially cached, it can be played back from the cache and that dramatically boosts the speed of the render which is especially important now that much content is being created in UltraHD. AMD was showing the Maxon Cinema 4D Release 19. There is no set up needed, the software recognises the card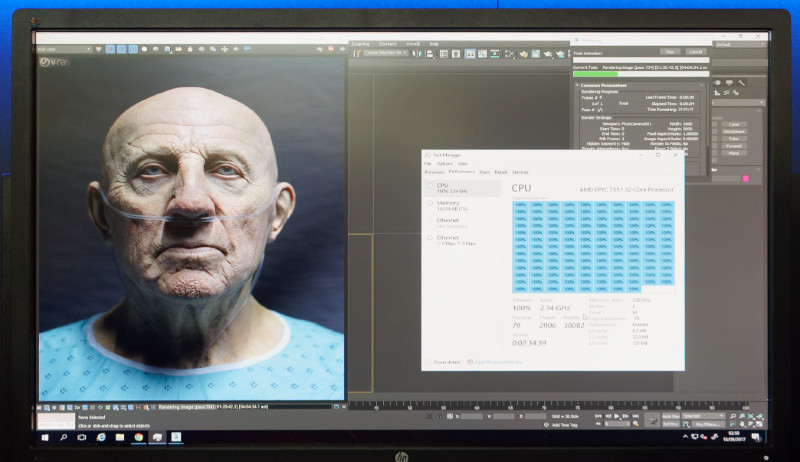 AMD was using the VRay benchmark to compare its Epyc CPU to an Intel Xeon. Image:Meko
AMD was also very happy as it had been running some V-Ray benchmarks using a dual Epyc processor and hit some high numbers. Intel, apparently, saw the numbers and showed that its Xeon processors can beat the Epyc. However, AMD told us that the CPUs that Intel was using cost $7,000 each – 3X the cost of the AMD CPUs.
Analyst Comment
Bizarrely, Nvidia was not on the exhibitors list, which was a shame – we usually enjoy what they have to show. Still, AMD wasn't complaining.