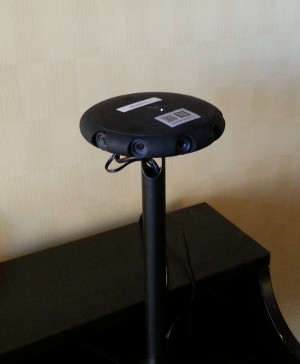 Altia panacast cameraWe met with Altia Systems in a private suite at the Westgate at CES and learned more about the company's PanaCast system. This is a 200-degree capture camera and image processing system that it is targeting toward video conferencing applications.
The camera itself is composed of three individual cameras with the total FOV being about 200 degrees. These cameras are oriented to capture a wide panoramic image. Using internally developed stitching algorithms, the final image is 2560 x 540 in resolution. This wide aspect image is then cut and stacked into a 1920 x 1080 video frame for encoding and distribution.
Altia says it uses an H.264 encoder that is optimized for low latency. From photons in to encoded video out takes about 30 ms.
The video can then be transported over LTE cellular networks or a WAN. Adaptive bit rate streaming is used to maintain visual connection.
The decoding and unwrapping of the video is done locally and does not require a lot of horsepower. Users have the ability to switch between the three cameras or display the full panoramic image on two monitors or a blended projector. Altia says the solution works really well on the Delta multi-blended short throw projector wall, for example. But users can also use their tablet, smartphone or laptop to collaborate as well.
The company is backed by an investment by Intel ($10.5M) and is currently running trials of its solution with technology companies and Fortune 5 companies. The PanaCast camera sells for $800 and works with popular collaboration platforms like, Microsoft Lync, Skype, Cisco WebEx, Citrix GoToMeeting and Google Hangouts.
Altia Panacast image stretched over two monitors
---