Westinghouse Digital is now Westinghouse Electronics Limited, according to representatives of the company that we met with at CES 2015. The name change reflects the new ownership by a big Chinese conglomerate – an organization that owned the factories that made the Westinghouse products previously. Operationally, much will remain the same, however.
Westinghouse is trying to beef up its professional display sales and the focus of its CES suite demo was on both professional/commercial and consumer users. The first thing they showed was a 10.1" tablet with a Bluetooth keyboard they plan to sell for $199 to $249. It will have a Windows OS so they see it being well targeted for college students or as a business productivity tool.
In monitors, a new curved 34" unit is coming along with two 4K-UHD monitors. They see these are being useful for the design, architectural and financial services industries. Becoming available will be 4K-UHD resolution 16:9 aspect monitors in 40" and 28" sizes that can refresh at 60 fps. Incorporated connections include DisplayPort 1.2, HDMI 2.0 and dual link DVI-D input. MSRP for the 40" 4K UHD monitor is $699 with the 28" 4K UHD monitor at $499.
The 34" curved version features a 21×9 aspect ratio with 3340 x 1440 pixels and includes DisplayPort 1.2, HDMI 2.0 and dual link DVI-D input as well. MSRP for the curved monitor is less than $999. All should be available in April, 2015 and will be sold though IT resellers.
In TVs, Westinghouse is offering products between 42" and 85". New models will include both HEVC and VP9 decoding and will have Netflix access built-in. YouTube and Amazon content access will come in July as well. HDMI 2.0 with HDCP 2.2 is included.
Westinghouse will include a 4K media box as an external component with some TV and build it into other models. The outboard box will have WiFi and a hard disc drive connected via USB 3.0. It uses a Broadcom chip set as Westinghouse felt it had better upconversion technology than some of the budget TV SoCs from the likes of Mstar, Sigma and others.
Pricing for a 42" smart TV starts at $599 MSRP with a 55" 4K smart TV running $1199 and a 65" UHD smart TV at $1699. Jumping to 75" is a big cost premium ($5,000 MSRP) with the 85" going for $8499 MSRP. These sets will be available though outlets like Best Buy, Target and on-line.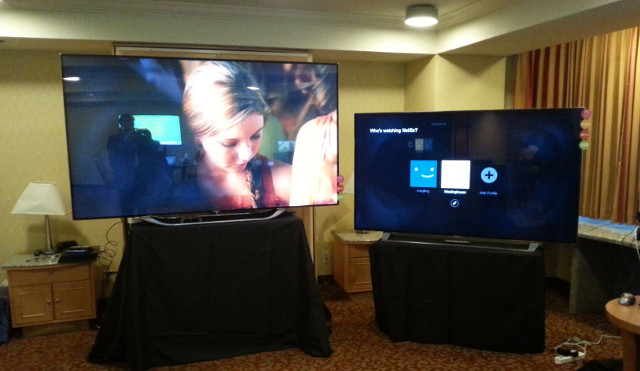 ---