Acer got in early with its IFA press event and it started several hours before the 'official' opening Press event. We've seen that Acer has not had a good time in business in the last several years and has pushed in a number of directions to try to fix this.
Jason Chen of Acer, who is chairman and CEO of Acer, obviously enjoys these events and came on stage with enthusiasm. Chen pointed out that a year ago, Acer announced Pawbo, the Acer pet business which is now in 11 countries and clearly remains a priority for Chen. Apparently 'products have improved'. A new product is the Pawbo iPuppyGo, which is a 'pet wearable' – think FitBit for dogs and cats!
Six months ago, Acer announced the Holo360, a 360º camera that is self-contained and can be used stand-alone, without a smart device. The range will be expanded to include a 360º 4G UHD 360º in car camera backed up with cloud connected services, which means that it stays on when nobody is in the car, so the camera can be used to monitor the securit. It can also help you find it in a big car park!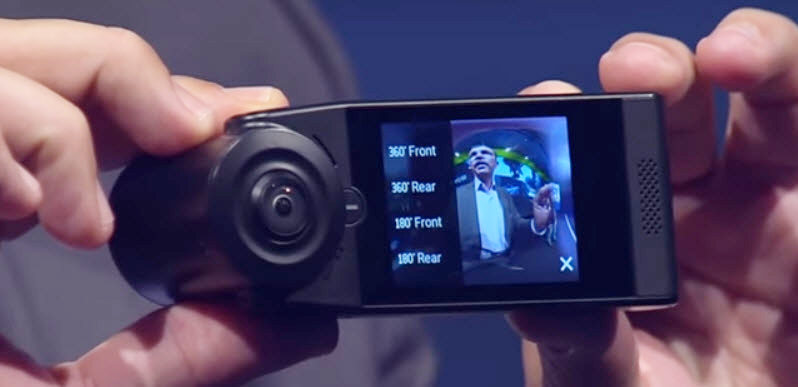 Acer's 360 in car camera works even when the car is parked for security reasons
The Xtro 360 is a new 360º camera with a big display and processor with 360º sound recording and with live streaming. It has improved editing over the Holo360, Chen said. It is like a smartphone, really, with a special camera.
In the last year, the company has introduced a number of firsts into the gaming market including the most powerful (Predator 21) and most powerful 'thin & light' gaming notebook (Predator Triton 700) as well as the Swift 7 thinnest laptop. There have also been new fanless AIOs. Chen said that there have been 50,000 uploads to YouTube by owners and reviewers of the Predator 21!
The Aspire S24 is a new AIO product which is just 5.97mm thick with a three side borderless display and with 8th generation Intel Core i5 & i7 processors (the first AIO to have this generation) and with a sub-woofer in the base. There is also Qi wireless charging area in the base.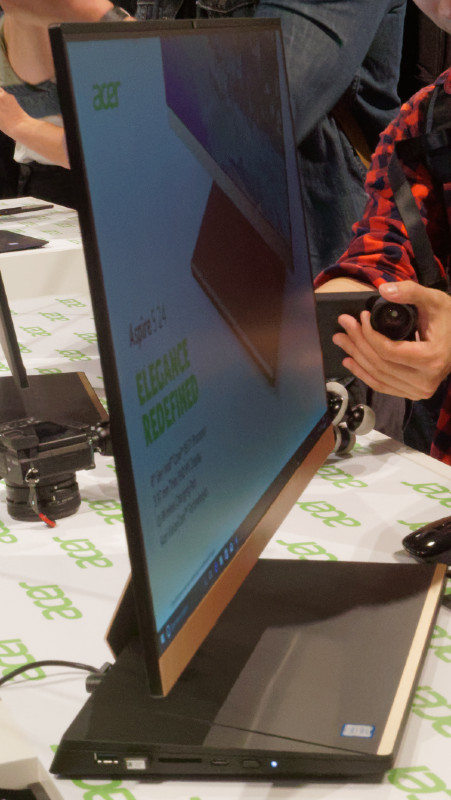 Acer's S24 All in one has a three side narrow border display
Chen said the firm has a 'loop heat pipe' cooling system using liquid cooling and called "LiquidLoop". It's a closed loop system and there are no fans to collect dust or use energy and the latest version is a 'Dual LiquidLoop' that has two separate systems for different components. It is used on the Switch 7 which includes an under glass fingerprint reader and a stylus as well as a GeForce Mx150 graphic system (which uses the second LiquidLoop system). The convertible has a special stand that automatically pops out from the back when the display is put down on edge on a surface.
The Spin family is the 360º convertible line. The Spin 5 is a new model with Dolby Audio and GTX 1050 graphics from Nvidia and up to 13 hours of battery life. It also has front facing speakers and there was special design emphasis on the audio to ensure that the speakers are always directed at the user, however the system is configured. There is a software controlled amplifier that adjusts the volume in line with ambient sound levels.
The Swift series is design-led and the Swift 5 weighs less than 1kg – the lowest ever from Acer and the lowest in its 14″ FullHD computing range. Acer keeps pushing the products to be thinner, Chen said, and the Swift 7 is now less than 0.9mm thick, includes a Core i7 processor and is available with LTE connectivity for 'always connected' functionality.
Chris Walker,VP of the Client Computing Group of Intel and GM of the Mobility Client Platforms then came on stage. Walker highlighted the message of last week's 8th gen launch that there are many old PCs in the field. The technology in the new CPUs is 14nm and there have been boosts in power (see our article Intel Updates the Core Range to Gen 8)
Next onto the stage was Peter Han of Microsoft who talked about the boost that Microsoft wants to see from the Creators Edition of Windows 10 which will be available from October 17th, the company announced later during its keynote. There are also opportunities for Mixed Reality and Chen showed a demo of a new VR game based on 'GhostBusters'
Gaming a Big Topic
Gaming is a big topic for Acer and Chen brought up a gaming specialist. Chen claimed that Acer's sales of gaming hardware in the first half of the year were up 90%, with Predator up 60% on last year The Predator Triton700 was launched six months ago and there has been a good reaction from gamers and market influencers. The mechanical keyboard is exclusive Chen said (although we saw a release about a new MSI notebook with one of those this week (MSI 17″ Notebook is for Gaming) and the GTX1080 from Nvidia can be internally overclocked. Chen said that 'thin and light' gaming notebooks are a new trend and the company claims a leading position both in sales and performance.
Gaming monitors have done very well for Acer, Chen continued, and the company claims to be 103% up on last year, with strong demand for professional eSports. There is a new 35″ Predator X35 curved (but there are already 35″ curved monitors from the firm). The curve is 1800mm radius. New in the X35 is a 200Hz refresh rate with 4ms response time and 3440 x 1440 resolution. The bezel has been shrunk for users that want multiple display setups. Strangely, the only X35 monitor at the press event was not even powered on, but it was being shown in the booth and we got the picture, below. The company says that the monitor supports HDR and it also supports G-Sync. The monitor has 'underglow' LED lighting and there are dual 9W speakers.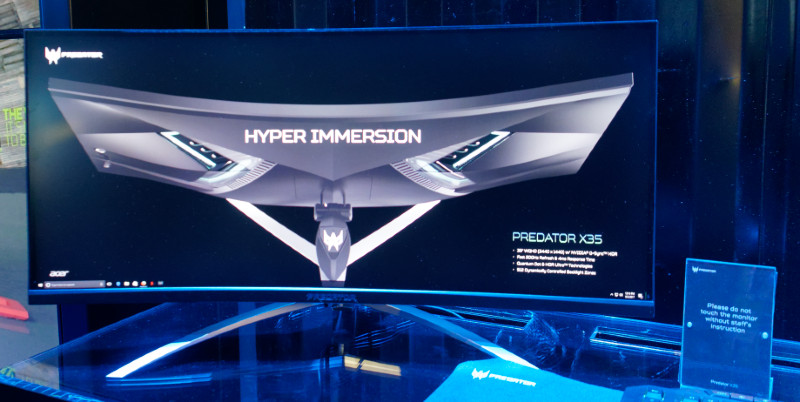 In the gaming desktop area, sales are up in the Predator line by 51%. Gamers like to have self-assembled systems and now there is an Orion 9000 PC, designed to be a centrepiece of a high end gaming set up. Acer designed its own chassis to reflect the concepts from products in the DIY area of the market. There are wheels on the back to help move it! The product ships with the Core i9 Extreme Edition 18 core chip from Intel with liquid cooling (from CoolerMaster) and four PCI slots. A choice of Nvidia and AMD GPUs will be available.
The fans can be customised and changed and the zones of the PC are separated (e.g. the PSU is separately shrouded) to allow customisation of the cooling. Chen said that most transparent covers for PCs are not EMI certified, so there is a metal mesh on the Acer panel to ensure compliance with RFI regulations. There are lots of programmable RGB LED lights inside. Entry pricing will be from $2000 to $3000.
Chen then introduced the Acer Predator gadgets including a gaming headset that can move the direction of sound sources to maintain the positioning of sounds when the user moves – which Acer calls 3D Soundscape technology.
eSports Supported by Acer
Next up was a representative of League of Legends, a professional eSports promoter and claims a peak 43 million unique viewers for a World Championship event and with a peak of 15 million simultaneous viewers. The company is a partner with Acer and will continue the partnership for next year, where Predator PCs and monitors are used.
The company sent out a press release about two new projectors – including one that is said to be for home use. That reminded us that Chen did not mention projectors at all in his talk. That made us think and when we checked back, last year he had said that Acer would be working hard to develop special services for 'seniors', but there was no mention of that this year.
We did get a brief trial of the Acer 'Mixed Reality' headset that the company plans to launch in October. Unfortunately, the game that was shown was a VR game, there was nothing 'mixed' about it. The speed of the display was quite reasonable and quality of the image was good in the middle of the view (apart from the obvious pixelation) but there was quite a lot of optical distortion when you looked away from the centre of the displays. There was no sign of the big display-based Starbreeze technology that the firm was highlighting last year. The controllers (which are standard on all the different Microsoft 'mixed reality' partner headsets) seemed responsive and mapped well to appear in the VR world, but the game was somewhat complicated for the short demo.
Booth Visit
We met up the company in its closed booth – the second year that it has that kind of configuration. The company told us that it has a policy of trying to promote its dealers, but given that IFA is an end user show, as well as for dealers, if I was Acer, I think I would have my key products on show. If I was a big Acer fan as an end user, I would be disappointed that there was no chance to see the latest products or talk to staff from the firm.
On the booth, the company had the StarVR headset that was missing at the press event. Last year, we were not over impressed with the headset, although it has a wide field of view as it is based on dual displays. In particular, it didn't seem to deal well with the area that is visible when you look to one side or another and the nose intrudes on the image. Unfortunately, when we went on the booth, there was a big line to see the headset. We said we would come back, but when we did, the demonstrators had packed up and gone home! Acer told us that the 5K StarVR headset is still expected to be shipped 'this year'.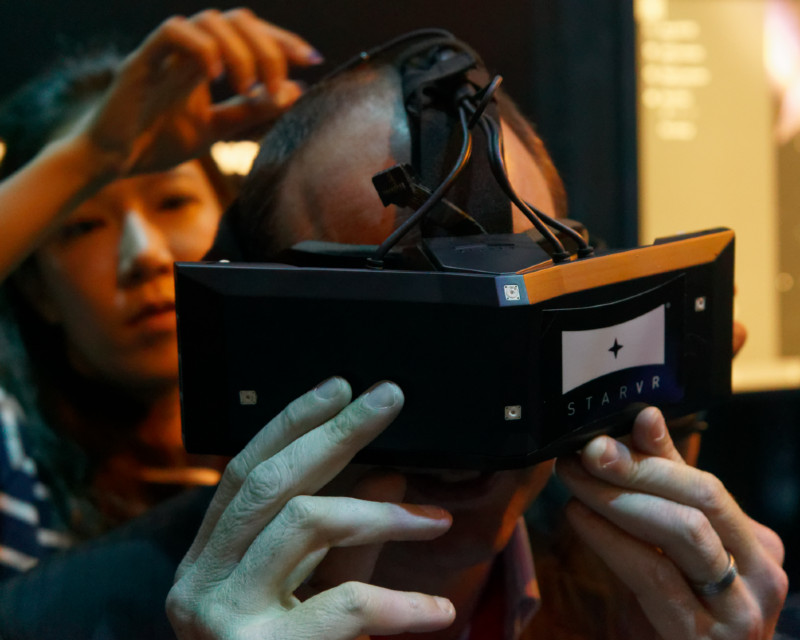 Acer's StarVR was at IFA, but not on public display. Image:Meko
In our meeting, the company told us that the delay in bringing in HDR monitors was because of delays in obtaining volume production of HDR panels (we believe that the company is getting most of their high end HDR panels are coming from AUO). The company also told us that it is introducing USB Type-C monitors that can support USB Power Delivery at up to 85W of power for recharging devices.
One of the 27″ HDR displays in the back of the booth is said to have 380 addressable backlight zones which means good perfomance in HDR applications. The monitor will be launched in Q4, with pricing TBD. Also on display was a 31.5″ UltraHD monitor with 550 cd/m² of output and with 85W of power delivery.
There are also 'entry level' monitors in 27″ with FullHD and QuadHD resolutions with 'edge to edge' three side narrow bezel designs. The company also has a new 28″ UltraHD monitor and the company told us that the 35″ X35 has 512 local dimming zones. It has QD technology and uses a VA panel with 4ms response time. Staff told us that it would ship at the end of 2017.
The HDR27T has UltraHD resolution and 1,000 cd/m² of output. There is also a version of the 27″ with QuadHD (2560 x 1440) resolution and supporting the Tobii eye tracking technology.