Earlier this year, top tier automotive supplier Continental announced a new technology that it called 'Shytech' – the idea being that the display in a dashboard disappears behind a 'natural' (wood, leather etc) surface when is powered on. (Car Companies Are Hiding their Displays) At Display Week, the firm gave a bit more background on the technology.

The firm started by explaining that the displays in vehicles have been getting bigger and bigger over the last twenty years at up to 50″ diagonal and because all of the display is not always on, it potentially leaves a 'bland, black glass surface", to quote the firm. The displays can also be distracting to the driver. ShyTech is designed to solve these challenges. Wood-like surfaces are attractive, but also have advantages in minimising reflections, as do surfaces such as 'carbon', brushed aluminium and leather.
When I wrote about the technology earlier, I thought it might be more optically complicated than it is. I thought it might use some kind of collimation or LCD louvres, but no, it's simpler than that.

In the Continental approach, the whole dashboard is divided into three areas, each with a 12.3″ LTPS LCD with 1920 x 720 resolution and local dimming backlights. Over the three is a single foil surface that has a fine 3D structure to represent the look and feel of a natural material and with output of 800 cd/m² (after the film). Different optical stacks between the display and the film can be designed with thicker substrates adding mechanical strength and stiffness but with potential disadvantages in the optical performance.

The centre and passenger displays can be supplied with InCell touch technology. The firm said that it has worked hard to ensure a full colour range and with 'minimal' colour shift.
However, there is some colour shift depending on the colour of the foil. Grey foils (figure 8 below) can be designed to give a very neutral colour result, but if you use a brown wood design, there is a colour shift to yellow (figure 9 below). Transmittance in the demonstrators is about 30% and reflectance is around 10%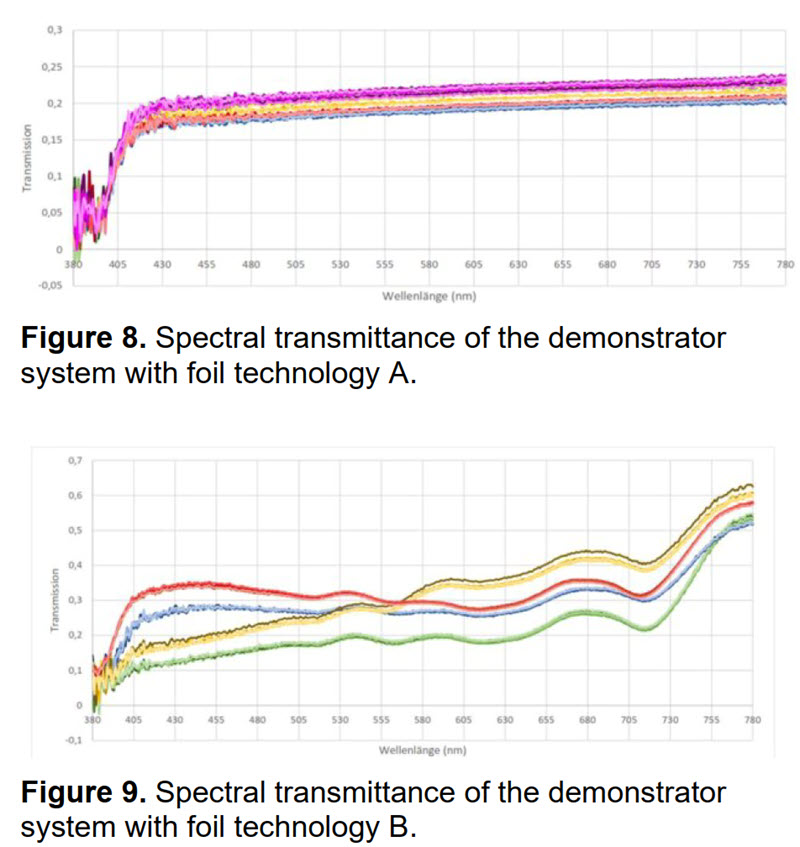 The foil system uses a number of different layers including two layers of OCA for optically bonding. Each layer can affect the sharpness with some scattering and edge blurring and so the group did tests of the MTF. The minimum Contrast MTF for legible text is 0.5 and for video it's 0.25. (larger is better). The ShyTech foil developed after some optimisation is about 0.8 for the grey demonstrator and 0.6 for the brown one, so is considered practical for automotive use.
Looking at overall contrast, the local dimming (240 LEDs) achieved IDMS corner box contrast of 75,000:1 and the local dimming also means that for darker and more minimal displays, the power consumption is around the same as a typical edge backlit display (8-12W vs 12W) while for content with more brightness such as video, it might be around 25% to 50% more. (16W – 18W vs 12W). The firm thinks that there might be even more efficiency with more optimised materials and an optimised interface design. It also expects better backlights using more miniLEDs to better match the backlight illumination to the desired image. That should also boost the contrast.
(I will confess here. I was certain that I had seen a 'ShyTech'-like display at Display Week, however, digging through my photos I can't find one! I had a suspicion that it was Innolux or AUO, but I don't have a picture if they did! Feel free to contact me if you know better!)
AUO was also at Display Week showing an alternative approach to reducing driver distraction. The firm had a dual display system where the second (passenger) display has an active layer that stops the driver being able to see the image displayed. This is essential in some markets as there are legal requirements that drivers are not allowed to be able to see certain kinds of images such as videos.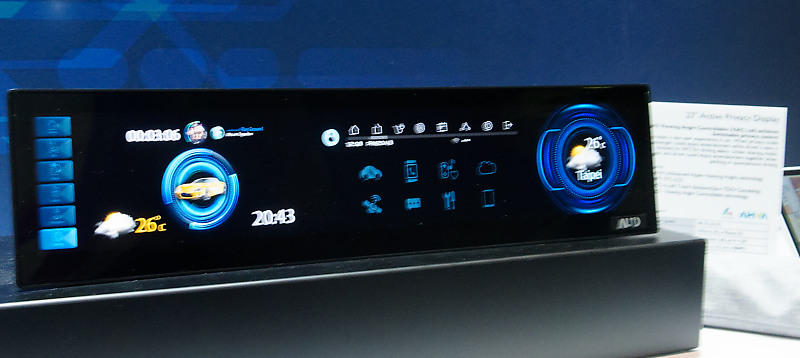 AUO's active privacy filter (apologies for the camera shake in this image). Image:Meko
Image:Meko