Camera/Camcorder – ARRI Rental recently announced the Alexa 65 camera, with a 54.1mm x 25.6mm sensor about 65mm in diagonal that has a resolution of 6560 x 3102 pixels. This is equivalent to 6.5K resolution, compared to the more common 4K resolution of 4096 x 2160 or the UHD resolution of 3840 x 2160. The sensor has 20.3 million pixels, 2.3x as many as 4k and 2.5x as many as UHD. That's also a whopping 9.8x as many pixels as HDTV. It also has a wider aspect ratio than other systems, 2.11 compared to 4k's 1.90 and UHD's 1.78 (16:9). At 10.5 kg (23.2 pounds) the camera can, at least in theory, be carried on the shoulder.
Left: ARRI Alexa 65 camera, Right: Camera and accessories can be shoulder mounted.
Who would want a camera like this? Not the average user, to be sure. The camera is targeted at film makers who used to use 65mm film as the acquisition format, as opposed to the more common 35mm film. ARRI says, "With a sensor larger than a 5-perf 65 mm film frame, ALEXA 65 harks back to the golden age of 65 mm widescreen film making in the mid-20th century, when this newly introduced format captured the imagination of cinema audiences around the world". According to ARRI, a number of movies were made with ARRI's 765 65mm film camera, which was first introduced in 1989 and has been used over the last quarter-century by major cinematographers on feature films including Far and Away, Little Buddha, Hamlet, Sunshine, The International, Shutter Island and Gravity.
I've heard people at SMPTE meetings say, "The best camera for HD content is a 4k camera". Oversampling of the image will eliminate certain artifacts that occur when an HD camera is used to acquire HD content. By oversampling 4k, the ARRI Alexa 65 camera can bring the same benefits to film makers who want to produce high-end 4k content.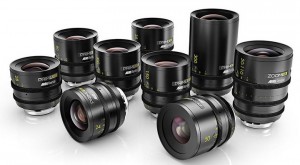 One Zoom and eight Prime lens are available for The ARRI Alexa 65
Of course, a camera body and sensor does no good without lenses to match it. ARRI has a series of eight Prime 65 and one Zoom 65 lenses that feature an XPL mount equipped with the ARRI Lens Data System (LDS). These lenses utilize state-of-the-art optics from Hasselblad, housed in classically robust and uniform lens barrels co-developed with IB/E Optics. In addition to these new lenses, the camera will also use vintage 765 range lenses originally designed for film. At this point, no third party lenses are supported.
This LDS allows frame-accurate metadata about focus, iris and zoom settings to be recorded with the image stream. This data can be used on set for wireless remote lens control, but it can also be used to help match a virtual lens with the recorded image in post production, reducing the time and cost involved in generating complex visual effects shots.
The camera's primary output format is ARRI RAW. If your post-production hardware won't handle ARRI RAW, you can rent an ARRI Rental Vault S or the new high performance ARRI Rental Lab 65. The camera will also generate ProRes 4:4:4:4 HD dailies masters in real time for monitoring and for review. The uncompressed ARRI RAW format is recorded internally in the camera using removable Codex XR Capture Drives with 480 GByte capacity and 850 MByte per second data rate. This is enough for 11 minutes of uncompressed 24 frame/second content. The camera will acquire images at frame rates from 20 to 27 frames/second.
The camera is not yet available, pending FCC certification, but when it is available, it will not be for sale and will only be available to ARRI rental customers. The upgraded Codex XR Capture Drives with the 11 minute capacity are expected to be available in Q1 2015. If you are planning on 65mm acquisition for a feature film, the planning cycle typically is pretty long, so this isn't really a limitation. – Matthew Brennesholtz