4K – On September 23, Vizio rolled out its new line of UltraHD TVs at an art gallery in lower Manhattan. We'd been expecting these to show up ever since pricing was announced way back at CES in January, and there weren't any real surprises in the line-up: five models, ranging in size from 50" to 70" with 5" (diagonal) increments.
Unlike recent UltraHD product launches from Seiki and TCL, the Vizio line-up sent a few tremors through the industry – in particular, at Samsung, LG and Sony. Consider that each one of the Vizio TV models is a "smart" TV, and each uses full-array LED backlighting. You'll find a bevy of HDMI 1.4 connectors on all of them, along with a single HDMI 2.0 interface. And the sets support HEVC H.265 decoding, too. (Can you say "Netflix 4K streaming?")
In other words, these aren't bargain-basement models, like the aforementioned Seiki. But what will raise a few eyebrows is the retail pricing: the 50″ P502ui-B1 retails for $999, while the 55″ P552ui-B2 goes for $1,399. The 60″ P602ui-B3 is ticketed at $1,699, while the 65″ P652ui-B2 will cost $2,199. And the "top of the line" 70″ P702ui-B3 will be available for just $2,499. (All prices are in USD)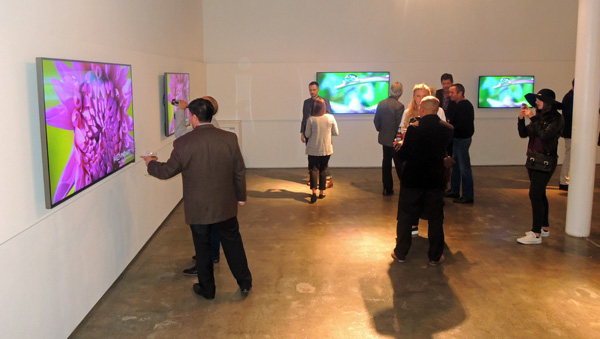 Vizio's new Ultra HD TVs were "hung" just like modern art at the line show.
To see exactly what impact that could have on the market, look at current prices for Samsung and LG 55″ UltraHD TVs. The current HH Gregg sales flyer for October 5 shows Samsung's UN55HU6950 55″ Ultra HD set for $1,599, and that represents quite a drop in price over their previous 55″ model – about $1,400.
LG also started lowering prices on its UltraHD sets in the late spring. The company's 55″ 55UB9500 Ultra HD set is now listed at $1,999, which is also a big markdown from earlier this year. How about Sony? The HH Gregg flyer shows the 65″ XBR65X850B with Triluminous quantum dot backlight (by QD Vision) for $2,999, which (according to the flyer) represents a $1,000 discount. That's still $800 more than the comparable Vizio model, which uses conventional LED backlights.
So why should any of this matter? Simple: Vizio is an established national brand that has enjoyed strong sales in large LCD TV screen sizes for several years. And it has expanded from its original bases in Costco and BJs to Wal-Mart, Sears and now Best Buy.
That latter brick-and-mortar chain is where Samsung, LG, and Sony have been running an aggressive in-store promotion for UltraHD TV since early August, playing back clips of 4K footage and raffling off UltraHD TVs in an attempt to stir up business. TV sales have declined worldwide for the past two years and the major TV brands are clearly hoping that UltraHD will re-start the engine.
The decline in UltraHD TV prices has been breathtaking, to say the least. One year ago, you could expect to shell out upwards of $4,400 to buy a new Samsung or Sony 65″ UltraHD set. 55″ models were retailing for about $1,000 less. And now Vizio has pulled the rug out from under its competitors with a line of 4K sets that looked impressive at the NY event.
What does this mean for UltraHD TV pricing down the road? Given the scramble to find any profit in manufacturing 2K LCD glass – a challenge even for the Koreans – and the determination of China to be a major player in 4K glass manufacturing, we can expect prices to drop even lower by next year's Super Bowl. Right now, you can buy a nice 55″ 2K LCD TV for $600, and I'd expect a 4K version to sell for just under $1,000 by late January.
Long term, the profit in manufacturing 2K LCD glass will mostly evaporate, leading fabs to switch to 4K glass for larger TV sizes. As a consequence, you will see most TVs larger than 55″ utilize 4K resolution glass in a few years, just as the industry shifted from 720p and 768p panels to 1080p glass in the mid-2000s.
According to NPD DisplaySearch, more UltraHD sets were sold in the second quarter of 2014 (2.1 million) than in all of last year (1.3 million). But we're still talking about a small percentage of all TVs sold worldwide in 2013 (208 million). So it is surprising to see price wars already starting up this early in the game.
Who will blink next? – Pete Putman