Broadcast and Distribution – Think of this as "Part 2" of my last Display Daily on September 10th, where I discussed Canon and its upcoming support for ITU-R BT.2020. In that DD, I said, "lamps, LEDs and laser/phosphor systems simply cannot make the full [BT.2020] color gamut".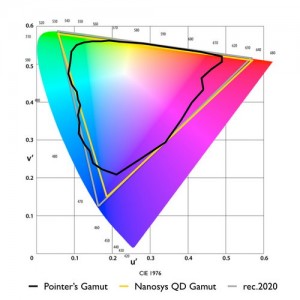 Nanosys believes that by adjusting the blue filter on LCDs, they can reach 97% of the BT.2020 gamut
I heard from Jeff Yurek, Corporate Communications Manager at Nanosys Inc (Milpitas, CA). Nanosys and their quantum dots (QDs) can't do it either, but Yurek says they can come close. Currently, Yurek says they can do 91% of the BT.2020 color gamut with the standard color filters on the LCD. He believes they can do up to 97% of the BT.2020 color gamut with their current quantum dots and optimizing only the blue color filter used on LCD panels.
He added, "It'll be interesting to see how this plays out in the market and if Rec.2020 can see widespread adoption. True 100% coverage may not be possible without lasers but QDs may help to move us closer and drive adoption with a more practical solution that can be easily deployed today".
He also pointed me to his blog post, where he discusses the BT.2020 spec himself. In a second blog post, he gives an example from the real world where the HDTV color gamut (Rec.709) is simply not large enough. If your favorite soccer player is Lionel Messi, you simply didn't see him right in the World Cup broadcasts. Or, rather, you didn't see his soccer boots right.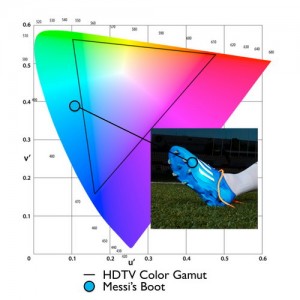 Messi's soccer boot cannot be encoded or displayed by the world-wide HDTV color system
While only the HDTV Rec. 709 gamut is shown, Messi's boot probably won't be able to be reproduced by the BT.2020 gamut, either. Yet the BT.2020 gamut is perhaps the largest color gamut that can be generated using 3 primary colors. To enlarge the cyan portion of the gamut, the green primary would need to be moved to a shorter wavelength. While this would allow Messi's boot to be shown, it would start to eliminate some equally important colors in the yellow/gold region. To go beyond the BT.2020 color gamut it would be necessary to use more primary colors. Cinema is already dipping its toe in this direction with 6P laser projectors from Christie and Barco. The six primary colors in these projectors are intended to show good (Very good!) 3D, but if all six primary colors were used to show 2D content, the color gamut would be significantly expanded compared to the DCI (SMPTE P3) color gamut.
Note that "Pointer's Gamut" on the Nanosys figure is meant to show the gamut of all real surface colors, i.e. colors you would see when looking at white light reflected off a real surface. BT.2020 covers almost all of these colors, but so did the HDTV Rec. 709 gamut. There are three main problems with the Pointer gamut, however. First, Pointer published his color gamut data in 1980 and I suspect there have been new materials developed since then with colors outside his gamut: How about Messi's boot? Second, surface colors aren't all the colors content creators want to show: How about the green of a traffic light? Finally, real colors aren't all the colors content creators want to show: How about the red of a light saber?
One of the reasons BT.2020 sticks with a 3 primary color gamut is it goes with the legacy broadcast color difference encoding of colors. While, in theory, color difference encoding can be used with multiple primary color (MPC) display gamuts, it would be, probably, messy.
One solution to this problem, proposed by Charles Poynton, Jeroen Stessen and Rutger Nijland in a paper presented by Poynton at the recent IBC conference, is to dump the legacy color difference encoding and go to encoding u'v' colors directly. This would allow broadcast television to encode any color, regardless of the color gamut of the target display. In fact, a defined color gamut isn't strictly necessary when you do u'v' encoding – all possible colors become the content creator's color palette, including Messi's boot, green traffic lights and light sabers. These colors can already be encoded by Hollywood using either DCI or ACES encoding. Should the broadcast industry settle for anything less? – Matthew Brennesholtz