After the 3IT panel sessions, there was a socialising event with groups of delegates being allowed to have a look at the TiME (Tomorrow's immersive Multimedia Experience, we think) 180° immersive environment which is run by the Fraunhofer HHI.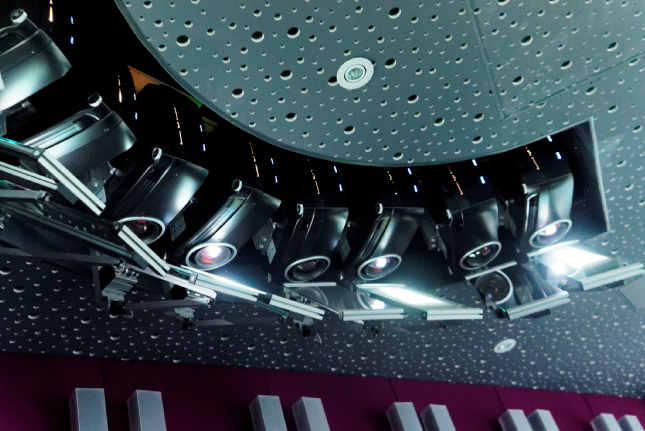 The room can take around 20 people in reasonable comfort and has 14 projectors (7 for mono, all 14 for stereo) to show 180° immersive content from videos and computer imagery. There are also 128 speakers to allow sound to appear as though it is in or out of the room. The facility is used for artistic and commercial applications. For example, auto makers use it for visualisation and Deutsche Bahn has used its position in Berlin to bring in politicians to demonstrate the effectiveness of noise suppression techniques.
The screens used have a gain of 1 and are not polarising as they have to be acoustically transparent for the immersive audio which uses wavefield synthesis. The S3D facility exploits Infitec narrow wave band stereo viewing (as licensed by Dolby for cinema use).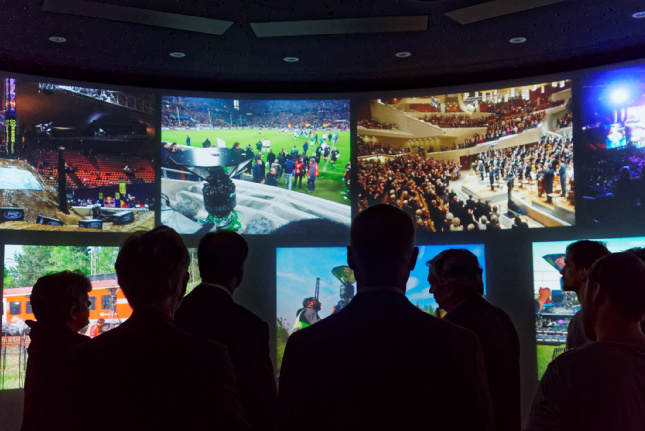 Of course, the facility can really exploit the content from the HHI's Omnicam and there were some very impressive demonstrations, especially one of a choral work which was choreographed so that the choir was moving around the viewer. Stereo viewing (there was one demo) was also very good.
Analyst Comment
The experience of the room was very good, the quality of processing, stitching and delivery all combining to mean that it was easy to concentrate on the immersive experience without being distracted by the technology – which is a testament to the good control of the very complex technology by HHI.
Access to the facility is available commercially and HHI is interested in users and also technology partnerships. (BR)