Over the last couple of years, LG has been intensifying its push into the medical space, with a range of displays for clinical review and surgical applications. Recently, as we saw at ISE, the company has been also including thin clients that can be used in the medical field and now the company is expanding to the diagnostic field. LG makes image detectors for radiology, so it wants to be able to support the complete medical image pipeline from the sensor to the radiologist, it told us. It also wants to supply displays for administration – it just wants everything!
We had a quick look at the 19HK312C 19″ clinical review monitor that we saw at ISE (LG Starts with Transparent OLED). One of the features that we didn't spot at ISE is that the plastic of the monitor is treated with a special coating that has anti-microbial properties (and is certified to ISO22196).
The company also had the 27″ 27HJ710S surgical monitor that was the first to be launched when LG entered this area. The monitor has a 'deep red' mode, but we couldn't get details of how the deep red is produced. (LG Enters Medical Monitor Market (Updated)).
The 27HJ712C is an existing and similar monitor, with UltraHD resolution that has 350 cd/m² of output and is suitable for clinical review (that is, it supports DICOM Part 14, but is not approved for diagnosis).
The big news at the show was a preview of a new diagnostic monitor, the 21HK512D which is in process to be approved to FDA 510(K) and supports 3 megapixels (1536 x 2048) and with 1,000 cd/m² on the 21.3″. Inputs are DisplayPort and DVI as well as USB (1 up 2 down). The monitor has hardware calibration with an integrated sensor and both ambience and presence sensors.
More details will be released when the monitor is approved.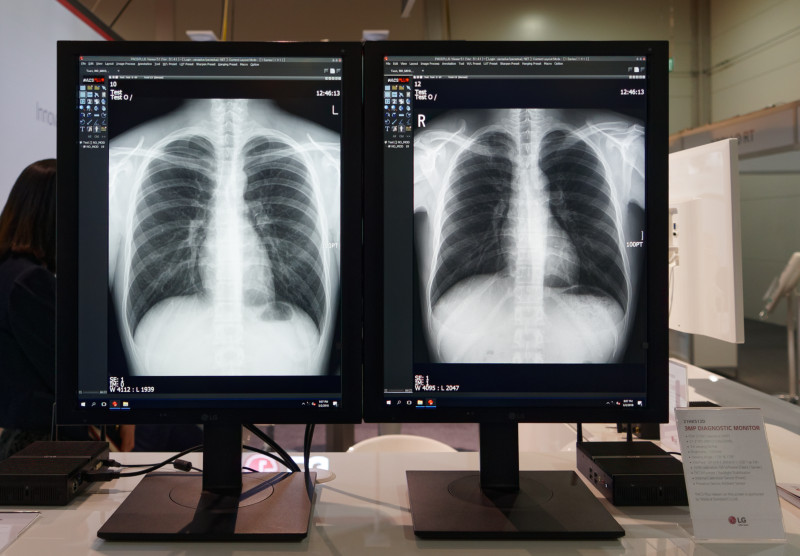 LG's first diagnostics monitor is the 21HK512D which is undergoing approval at the moment. Image:Meko
In thin clients, LG had an external fanless box that supports VMWare, Citrix and Microsoft protocols and can support dual 4K monitors. It also had the notebook format thin client that it showed at ISE, but we got a bit more information here. The 14Z980 unit looks fairly flimsy as it is very light and built on the LG Gram notebook chassis, but it is actually tested to Mil-Std 810G for drop testing. Athough staff told us that many people assume the chassis is made of plastic, it is actually made of a 'nano carbon' magnesium alloy. It has USB Type-C, but without the DisplayPort alt mode, so external display support is via HDMI, but is, anyway, only rated to support 1920 x 1080. The notebook should be available in June/July and pricing will be decided then.
In discussions about thin clients, LG told us that it has done very well in thin clients in the US, selling a lot via CDW in health care and in education, where the thin client architecture is very popular. The firm also has had quite a lot of success supporting the PCoIP specification from VMWare and with integrated Teradici chips, although that is a niche market. LG estimates that 10% to 12% of all clients in the US are based on thin client architectures.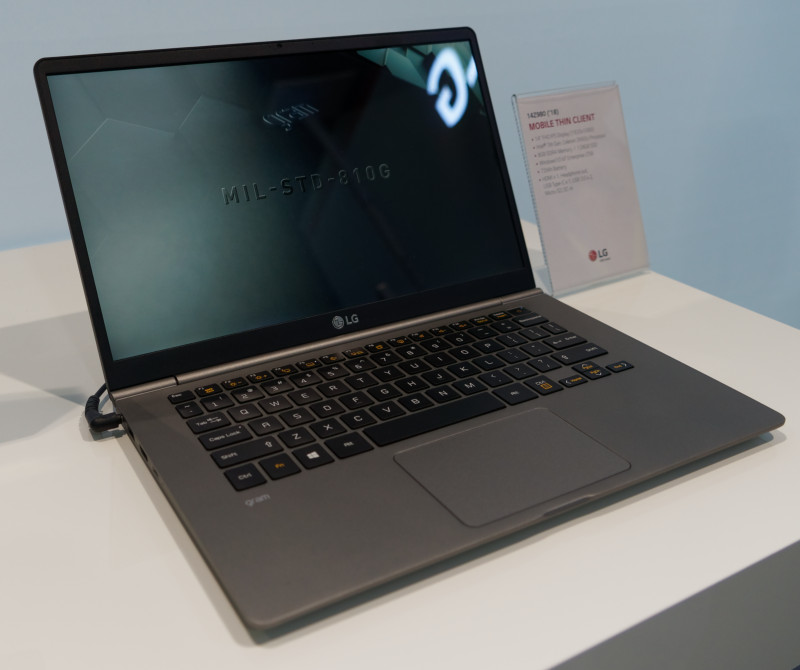 Although very light, the LG 14Z980 is rugged. Image:Meko