As with previous years, LG Electronics organised its ISE presence based on a number of vertical applications. However, at the front of the booth was a transparent OLED that was getting a lot of attention. LG Display has been showing the concept for a couple of years, but this was the first time that LG Electronics has shown this kind of panel.
The unit is a 55″ panel with FullHD resolution and brightness of 400 cd/m² and claimed transparency of 40%.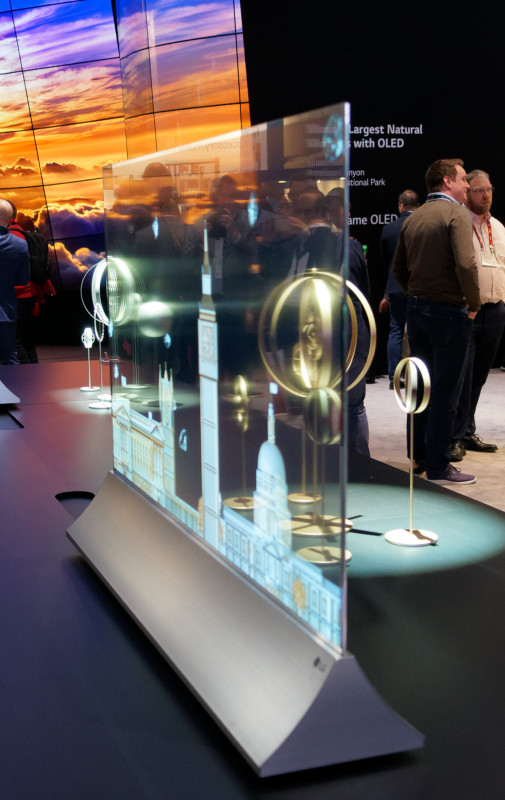 LG had a new Transparent OLED monitor with 40% transparency. Image:Meko
The company also had a big display of curved with 1.5m or 2m radius open framed monitors based on OLED panels. The company was highlighting that the curve could be applied and re-applied in-situ and on-site and that after a particular installation was over, different curves could be applied.
Retail a Priority
Quite a large area of the booth was devoted to different retail applications, where the high visual impact of the OLEDs would be especially appreciated.
As well as OLEDs, there were LCDs on display and one of the highlights of the LCDs shown were the new 0.6mm even bezel video wall displays, the SVH7E which is a 55″ unit with FullHD and 700 cd/m² of output. It is rated for 24/7 use.
Also in the retail and QSR area, high brightness displays up to 3,000 cd/m² (in 49″ & 55″ with FullHD and 75″ with UltraHD. The 32″ FullHD version is 1,500 cd/m²) were being shown as well as the latest stretch displays in 86″ and also the 88″ (based on the panel shown by LG Display at CES (LG Display Surprises with Roled and 8K). The high brightness displays are cased and designed for external use, with IP56 certification for difficult conditions. LG said that the enclosures have been tested for solar-loading. The company also had the 55VX1D 1,500 cd/m² video wall display that was first shown at Infocomm last year.
There was a big bus shelter fitted with displays that was developed by LG-MRI.
Last year, we reported several times, at ISE and also at PTE, on the monochrome film-based LED system that LG was developing. This year, this was upgraded, as expected to colour.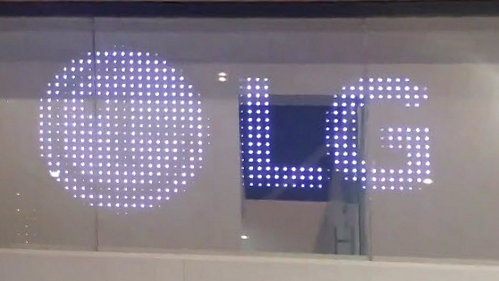 LG upgraded its LED Film to colour from monochrome last year. Image:Meko
Also on display were a number of interactive displays. The first that we looked at was the 86TR3D 86″ UltraHD display which supports 20 touch points using the FlatFrog InGlass touch (LG added to our confusion by labelling the glass-embedded dual OLED displays In-Glass!) There were also 55″, 65″ and 75″ displays featuring PCap touch and a range of 42″, 43″, 49″, 55″, 65″ and 75″ LCDs using infrared overlays to touch enable. LG was highlighting the advantages of each of the touch technologies.
On the side of the booth were areas devoted to hotel TVs and also to desktop monitors and thin clients. In the hotel TV area, the emphasis was on OLED TVs for high end locations and the integration of voice control into the sets. There was a new 49″ UltraHD set, the 49UU761H which supports both the Pro:Centric and Pro:Idiom technology.
The first unit in the monitor area that we looked at was the 24CK550W which is a 23.8″ 1920 x 1080 all-in-one thin client device that can support protocols including VMWare, Citrix and Microsoft and can run dual UltraHD displays (DisplayPort V1.2 and HDM) . It is based on an AMD Prairie Falcon CPU with 4GB of RAM and 32GB of memory. The operating system is WIndows 10 IoT Enterprise.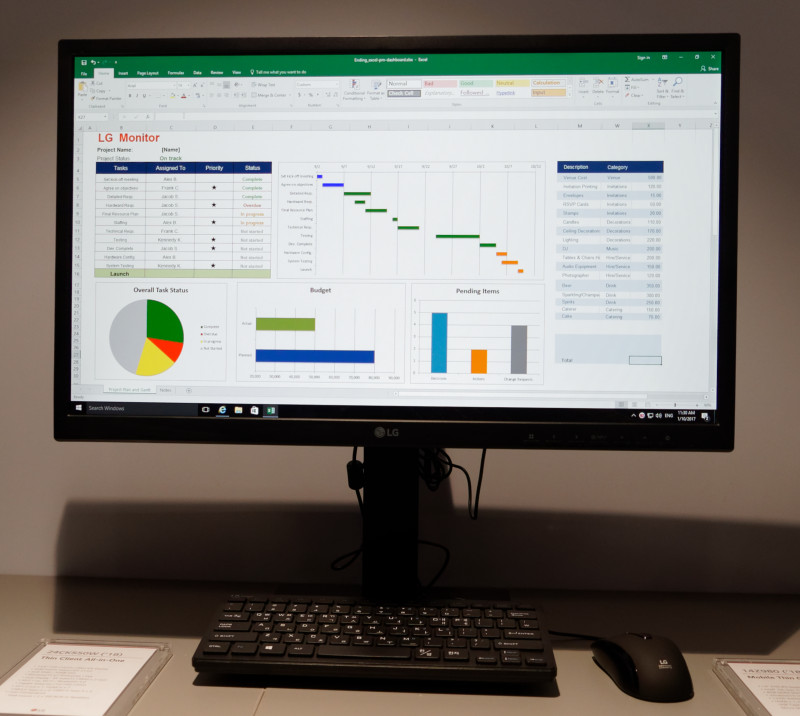 LG's Thin Client 24CK550W
LG also showed the CK500W which is a thin client box that can be used with other monitors, with enough power to support UltraHD resolutions. There was also a 14″ notebook form-factor thin client, the 14Z980 which weighs less than 1kg, has a FullHD display and uses a KabyLake Celeron processor. LG drew attention to long battery life (the battery has a 72Wh capacity).
The 38CK900G is an all-in-one cloud thin client that uses the 38″ 21:9 display with 3840 x 1600 resolution from LG Display.
Medical Monitor Range is Extending
There were a number of monitors on display, but they were the same as the units shown at CES last month (LG ThinQs about the Future) The company also had the 27HJ712C clinical review monitor that it released at the end of 2016 and showed at ISE last year. (LG Enters Medical Monitor Market (Updated)) It also had the 19HK312C, a 1.3MP 1280 x 1024 clinical review monitor with 330 cd/m² of output and with unifomity compensation and with factory calibration. The 21HK512D is a 3MP diagnostic monitor that has 1536 x 2048 resolution and a 21.3″ diagonal with 1,000 cd/m² of output and an integrated calibration sensor as well as presence and ambience sensors.. The monitor is in the process of being cleared for FDA 510(K) clearance.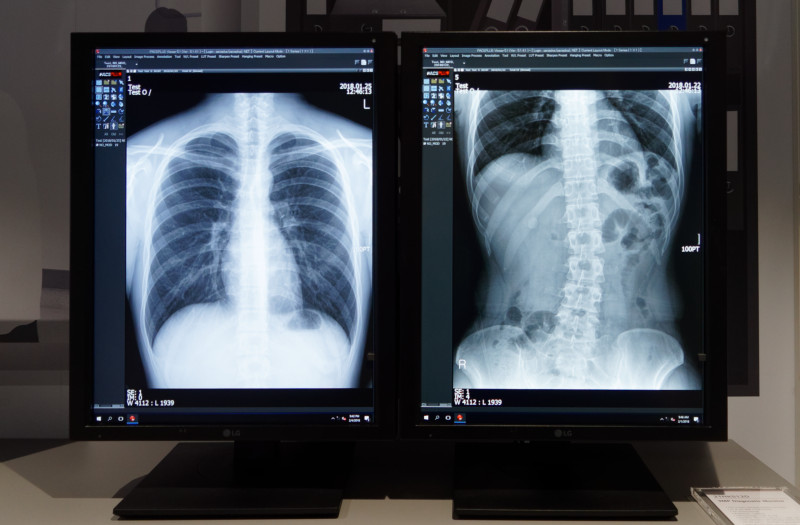 LG showed this new diagnostic colour monitor. Image:Meko
The back area of the booth was a 'partner area' where mainly software companies were showing the applications that are compatible with the LG smart signage WebOS platform. (Samsung did this for a couple of years when it started to emphasise its B2B credentials, but seems to have stopped now – Man. Ed.)
Analyst Comment
The level of 40% transparency for the LG transparent OLED is pretty good, considering that the display continues to use the colour filter-based OLED technology that LG Display uses for its TV panels. However, the panel is not UltraHD, like the TV panels and has relatively limited peak brightness, well below that of the TVs. That suggests to me that the design uses an RGBW architecture with a particularly large white (or clear) segment of the filter, which would enable better transparency, although this is behind the level that Samsung was aiming for when it was developing its transparent OLEDs. We did get a close up photo of the panel, but the result was not clear enough to be certain in our analysis. (BR)