We have a big issue for you this week. Our publishing break coincided with the peak of the financial results reporting season, so we have a lot this week. By my estimation, in terms of profitability, 23 results are better than last year, while 18 have worse results and one the same. It's hard, then, to draw a simple conclusion, although I noticed that a number of Japanese companies, other than Sharp and Canon, did better than last time. While Sony's business was helped by the sale of imaging chips for cameras, Canon was down because of the abandonment of the compact camera market by smartphone owners.
We have covered Sharp this week, with the news that it is getting out of the TV business in the US completely and with Chris's Display Daily on the B2B business in the US. The TV exit is not a surprise, the company was already half out of it and my opinion was always that the mixed "own brand" and licensed brand business model that it has been running in the US recently, with Best Buy, would not survive in the long term. Strong brands come from consistency and having two managements using the same brand was always going to be in conflict with that principle.
Having said that, it could be argued that Philips has achieved some consistency in Europe in licensing its brand to TPV, with most consumers unaware that the consumer electronics they are buying are not produced the medical and lighting business that owns the brand. However, the level of control that Philips has depends on a lot of work and enough market share to support that work. Sharp didn't have the level of share in the US to support that.
The other point that I noted this week was that, of course, companies that are invested in the PC business are having a bad time at the moment. That also applies back through the supply chain where weak demand for notebooks and monitors is having a knock on effect on panel suppliers.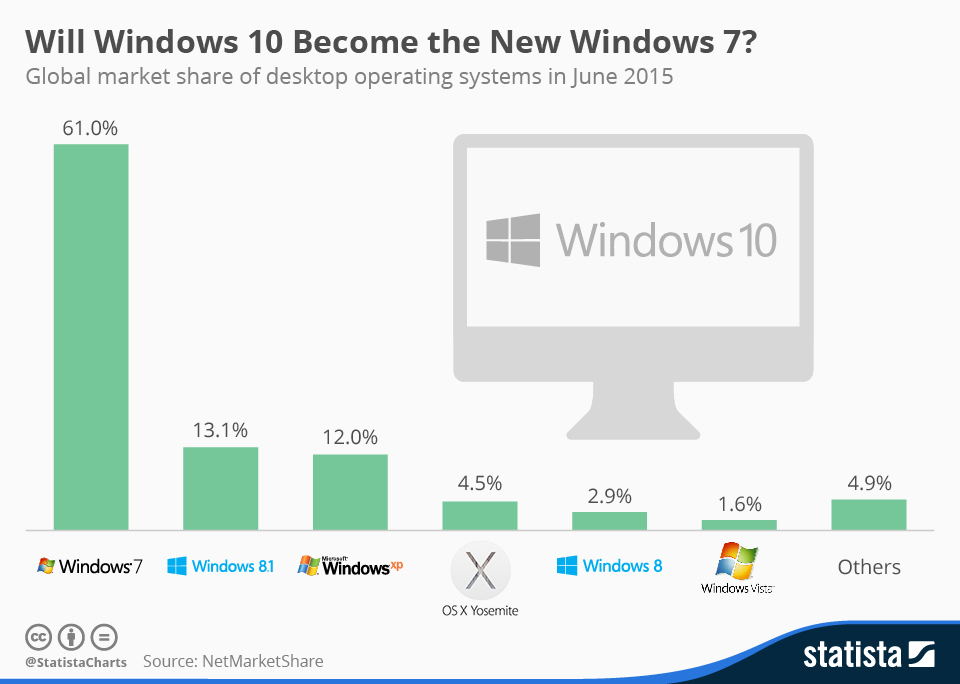 It seems to me that the stress on the PC business at the moment is going to lead to a significant consolidation in that industry. Companies that are not at the very top, such as Samsung were already reducing their targets and those below the top three (Lenovo, Dell and HP) including Acer and Toshiba are struggling, for their own reasons.
The top three PC makers are all looking focused, Lenovo on the back of its success in smartphones, especially in China. Dell is back in Michael Dell's hands and HP's PC business is finally able to focus on issues other than its internal organisation.
Windows 10 seems to be getting a reasonable reception, which should take away a potential barrier to upgrades and PC adoption. Taking the data in the chart, 77.5% of the installed base of PC users is using an old version of Windows. Getting that market to make the change to Windows 10 on a new PC will be the key to reviving demand, I think.
Bob