"Experience" is the term used to describe your adventure in VR. In most cases at CinemaCon, this was more like a virtual ride, sometime augmented with 4D or 5D effects. I tried the Mummy experience, as well as ones at MediaMation and CJ 4DXPLEX. I missed one from Nomadic VR, but describe it based on other press reports.
The Mummy experience was the most sophisticated but a little disappointing. The idea is to present a behind-the-scenes documentary on how Tom Cruise and team filmed their weightless scenes in the upcoming Mummy movie. You first see some footage of the shooting of the weightless scene on a TV while the details of the experience are explained. You then walk past a mummy casket to a room where there are 12 "pods". These are hemispherical-shaped chairs that have some movement. You wear a headset and headphones for the experience.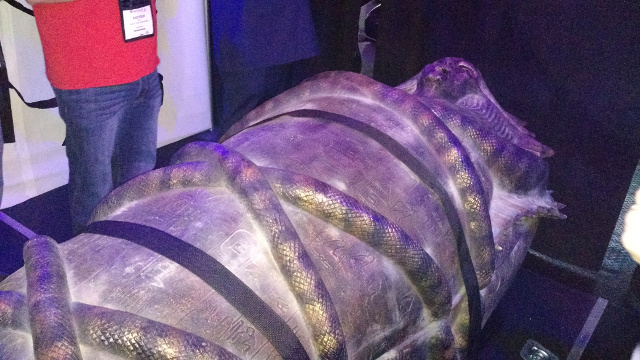 The content is documentary style, which seems a bit odd for a VR ride. Once in the airplane, the images switch to 3D 360º. You then see multiple takes of the shooting of the weightless action scene interplayed with the final movie footage.
The motion of the chairs is up/down and swivel, so there is not a lot of movement. The swivel motion is nice as this helps direct your attention to the part of the scene the directors wants you to look, and the chair can then pan, like conventional film making. The up/down motion kicks in to simulate weightlessness, but was not very effective. I would have been disappointed if I had paid $20 for the experience.
CJ 4DPlex had two personal VR riders which included a motion-controlled seat and a motion-controlled bike. I rode the bike with the content a ride in an Army jeep trying to avoid dinosaurs and collapsing buildings. There was a lot of movement along a fixed path. Younger audience would probably appreciate this ride, which was very much in an amusement park style.
MediaMation also showed a commercial VR pod they call MX4D Pod. It can be deployed in the theater lobby or other venues. It is a two-person system that looks like a big ring with the riders in the middle, each with their own VR headset.
In addition to the motion seats, this one includes scents, wind puffs and ankle ticklers, all of which were used effectively in the short demo. The ride concludes with the spraying of a coke scent, which had the desired effect – I wanted a coke, which was easily satisfied in the booth.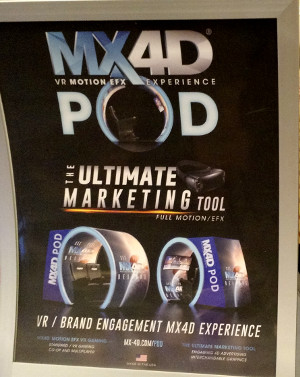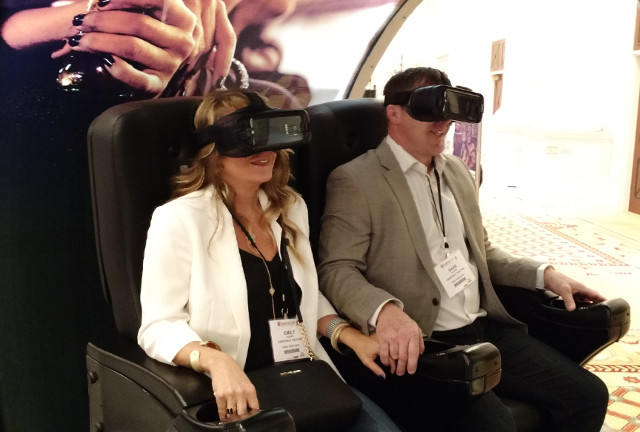 This pod was used recently at a Dave and Busters with great success as well as at two other venues where the Coke content was featured. MediaMation offers it for sale, lease or rent. In a theater lobby, it might feature upcoming movies and would be used to drive advance ticket sales and concessions (like Coke). They are also looking at showcasing travel vacations in the pod or race car driving experiences. Content is an issue, as this can take a lot of effort to create, so the payoff needs to be pretty clear.
Also announced at CinemaCon were new VR experiences to be developed by IMAX and Warner Bros that will revolve around the upcoming Justice League movie. The VR project Warner Bros. has planned includes a series of original VR experiences, created in partnership with IMAX and with an exclusive first launch window in IMAX's new VR centers.
The two will also be creating unique VR features for Aquaman, and for a third DC comic's movie adaptation to be revealed later. These will provide content fodder for IMAX's VR Centers, the first of which launched in LA in January, with five more planned for NYC, California, the UK and Shanghai. These are all pilot spots, designed to help IMAX refine the concept ahead of a broader rollout.
Just coming out of stealth mode at CinemaCon was Nomadic VR. They took a different approach to the VR experience. In their case, they developed an experience where the user dons a headset, PC pack and is armed with some haptics and accessories to accomplish a mission (like the Ghostbusters experience described in companion article). But instead of a purpose built facility, Nomad VR takes these components and makes them modular and scalable, includes doors, partitions, and wind generators, so it can be easily assembled in a location, then repurposed for the next experience.
As these demos suggest, tying a VR experience to a motion platform is starting to be explored – and sometimes with very good effect. As the studios seriously consider shortening the distribution window, morphing the theater from a movies and popcorn venue to an entertainment destination with other attractions, full advertising, promotional and merchandising support and upscale seats, food and services, seems to be the direction these venues are moving in. VR is one component of this change. – CC