Research by Ampere Analysis indicates that video viewers have been rapidly switching from tablets and PCs to smartphones and smart TVs. As the number of internet users that enjoy video content online grows, the way they consume it is changing, analysts said.
Ampere's data shows that consumers are gradually replacing their PC viewing experience for a smart TV, and tablets are being swapped for smartphones with larger screens. It also reveals interesting insights into which audience groups are watching on smart technology and which are hanging on to the older technology.
Smartphones are making the tablet redundant for movies – almost
Smartphone usage for video viewing has dramatically risen as mobile devices begin offering larger screen sizes, more capable software, better data packages and video apps.
In 2015, 10% of respondents used their smartphone every day to watch videos.
By August 2018, this figure had jumped to 26% for daily use and 42% for weekly use.
PCs and tablets outsmarted
Since 2017, the number of internet users who use a PC or tablet to watch videos daily has declined by over 10% each.
Smart TVs have made huge inroads in the video viewing space, as performance continues to improve and support for video apps expands further.
31% of internet users now watch videos on smart TVs or streaming boxes/sticks on a daily basis and 51% on a weekly basis.
Students stick with PC
The research has identified core differences in device use across a range of demographics:
Tablets are better suited for communal living and are 60% more likely to be used by a household with young children.
PC use stands strong with students and recent graduates, who opt for the more multi-purpose PC.
Daily smart TV viewers are more likely to be affluent, with an average household income of more than $100,000.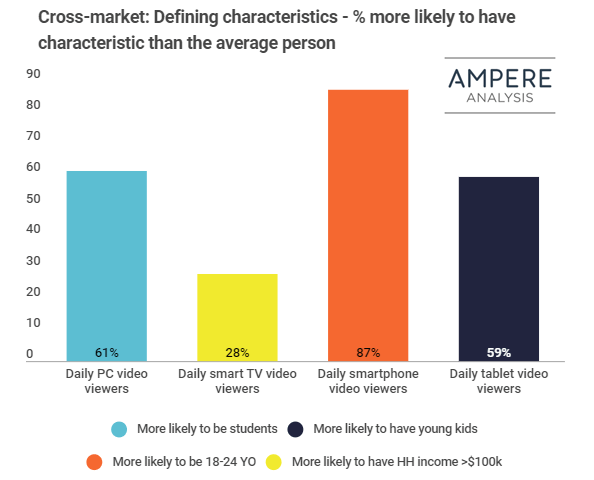 Richard Broughton, Director at Ampere Analysis commented:
"The last three years have witnessed a rising demand for daily and weekly viewing of video online. This has supported the growth of larger screen sizes on smartphones and the innovation of smart TVs, to some extent driving out other viewing platforms, especially the tablet.

However, there are consumer groups with different needs and lifestyles that are still perfectly happy with PCs and tablets, such as families with young kids and students. So, although our research on viewing gels with data that companies such as Netflix have released about the migration of viewing, video services and manufacturers shouldn't ignore these other important, active audience bases (which are still reliant on PCs and tablets) in their strategy and development planning".