Valens Semiconductor, a premier provider of high-speed connectivity solutions for the audio-video and automotive markets, today announced that it will be unveiling new products and capabilities at ISE 2023 in Barcelona, Spain that address growing needs in the corporate, education and digital-signage markets, among others. The company will reveal a proof of concept for an innovative videoconferencing multi-camera solution, a professional grade extension solution for USB Type-C interfaces, a next-generation multi-user videoconferencing product.
"Valens Semiconductor is once again spearheading the advancement of the high-speed audio-video connectivity market globally as it continues to develop its product portfolio and will be highlighting its newest offerings at ISE 2023. The substantially larger number of manufacturers exhibiting HDBaseT 3.0-supported products is a testament to the market demand for Valens Semiconductor's VS3000 products," said Gabi Shriki, Senior Vice President and Head of Audio Video at Valens Semiconductor. "Furthermore, the new videoconferencing multi-camera VA7000 chipset is a good example of how we leverage our core technology across multiple business segments. Overall, demand for audio-video solutions is extending into new applications and verticals – from corporate, education, and government, to industrial, transportation, medical and more."
To be showcased by Valens Semiconductor at ISE 2023
Groundbreaking videoconferencing multi-camera solution – Valens Semiconductor will unveil an innovative videoconferencing multi-camera solution with its new VA7000 chipset Camera Serial Interface (CSI) extension technology. The CSI extension technology will enable high-performing, uncompressed distribution of multiple cameras in a very cost-efficient manner. A proof of concept will be revealed at ISE 2023.
New VS3000 Stello chipset family capabilities – at ISE 2023 Valens Semiconductor will showcase new capabilities of its VS3000 Stello Family chipset, which leverages the Dual HDBaseT Digital Interface (DHDI) Chip-to-Chip interconnect. DHDI enables new applications for the growing verticals of Unified Communications & Collaboration (UC&C) and digital signage. The Chip-to-Chip interconnect efficiently extends content in a simplified network topology, over a single cable.  When applied in UC&C applications it can extend signals from multiple media sources, displays, and other accessories, which is key for next-generation videoconferencing installations. It can also be implemented in digital signage applications for transportation, retail, sports stadiums, digital-out-of-home (DOOH) markets and more.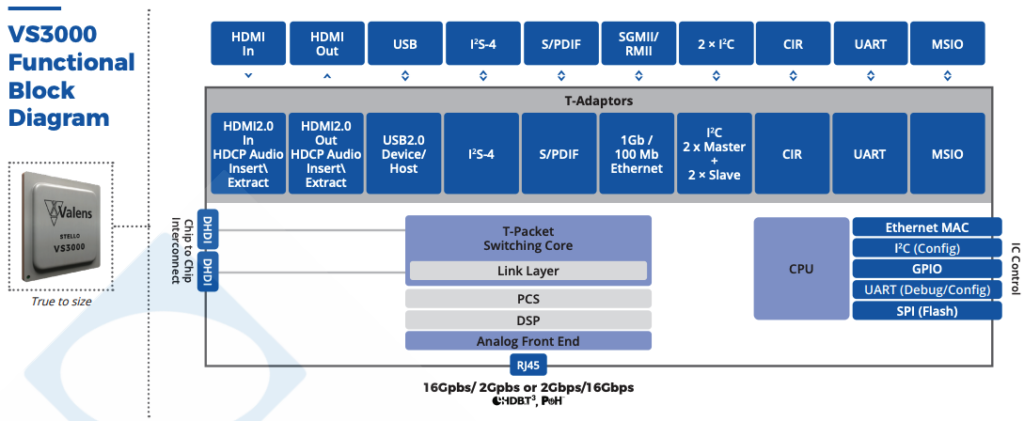 Professional grade extension solutions for USB Type-C interfaces – to further augment the use of USB-C interface in the corporate and education markets, Valens Semiconductor will showcase at ISE 2023 a USB Type-C professional-grade extension solution. The extension solution will enable vendors to develop innovative products for UC&C bring your own device (BYOD). Valens Semiconductor's HDBaseT technology extends the very same interfaces that USB-C connectors carry, making it the perfect, reliable technology-of-choice to enable a single cable experience over longer distances.