Recent research conducted by Parks Associates reveals a noteworthy decline in consumer spending on streaming video services. According to the study, US internet households reported spending an average of $69 per month on over-the-top (OTT) services in the third quarter of 2022, a substantial drop from $90 in the first quarter of 2021. However, streaming remains prevalent, with 87% of US internet households subscribing to at least one service.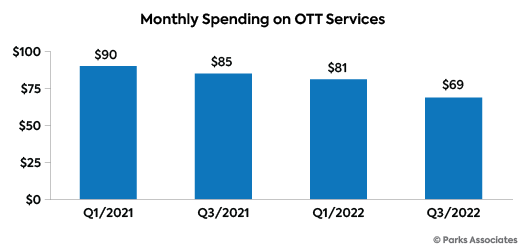 Interestingly, 45% of US internet households now have five or more OTT services, and their streaming habits are influencing spending on other services. For example, 60% of households that recently upgraded their broadband service cited streaming as the primary reason for doing so.
"Consumers are experimenting with new services, hopping in and out of subscriptions based on seasonal sports, fresh content offerings, and available deals and bundles," said Elizabeth Parks, President and CMO of Parks Associates. The study estimates that about 32 million US internet households are engaging in this "hopping" behavior, making retention and churn ongoing challenges for the industry.