See Projection Round up from CES 2018 for details of other projectors at the show.
ChangHong was showing two different ultrashort throw projection TVs. The first is a new prototype of a RGB laser TV – not laser phosphor TV. Specs include 2200 lumens and 180% of the NTSC color gamut coverage. Unfortunately, there was quite a lot of speckle evident. However, the company is trying to mitigate this by vibrating the screen, which they claimed was "the speaker." We are not sure if the vibration is done with the content audio track or a separate track. If using the content audio, what happens to the image if there is silence – more speckle? The light engine is built by Ricoh. The company plans to start selling this in China for around $15K.
The prototype appears to be a modified version of a current projector that uses a more conventional laser phosphor engine. It also appears to use the 0.66" 4M mirror DMD with an image shifting optic to create 8M pixels on-screen.
Three models, coupled to specific screens are bundled together. The B5W use a 0.65" DMD with 1280 x 800 resolution, 2500 lumens and 100" Fresnel optical screen. The B5F increases the resolution to 1920 x 1080 and goes to a 120" fixed frame screen. The A5F uses the same 0.65" FHD DMD but coupled to a 120" electric tab-tensioned screen.
A second laser TV solution was also on display with a very Chinese design. Called an all in one laser cinema, the system includes projector, screen and audio. We think this is a laser phosphor engine with similar specs as the B5F but in a different package.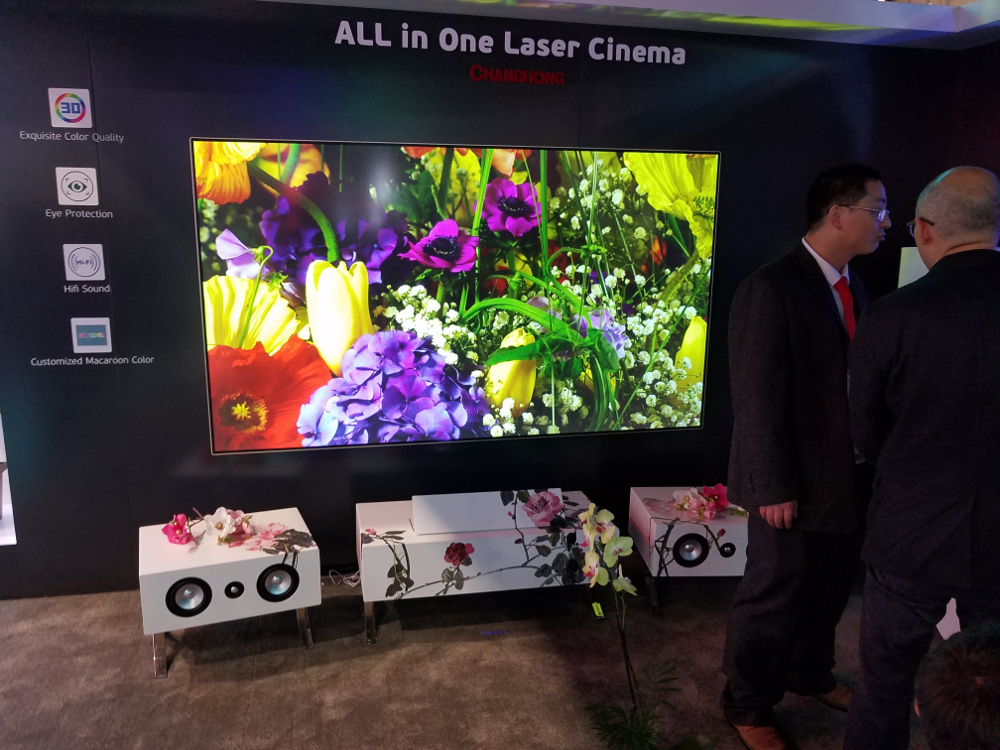 Currently, Hisense offers a 100" Laser TV that is bundled with an ambient light rejecting screen and a Harman Kardon audio solution. It is a fully functioning Smart TV platform. It uses the 0.66" 2-shift DLP imager solution to deliver 8 million pixels on screen. It uses a blue laser and yellow phosphor wheel to deliver a color gamut that is around rec. 709 but there is decoding for HDR10 content. Brightness is speced at 3000 lumens typical to deliver 350 cd/m² for the 100" screen. The price is $10K.
At CES, Hisense announced this Laser TV product would be extended to an 80" and 88" screen size. Apparently, the company intends to maintain the 350 cd/m² on-screen specification, but will do so with the smaller 0.47" DMD with a 4-shift option. This system will output around 2000 lumens.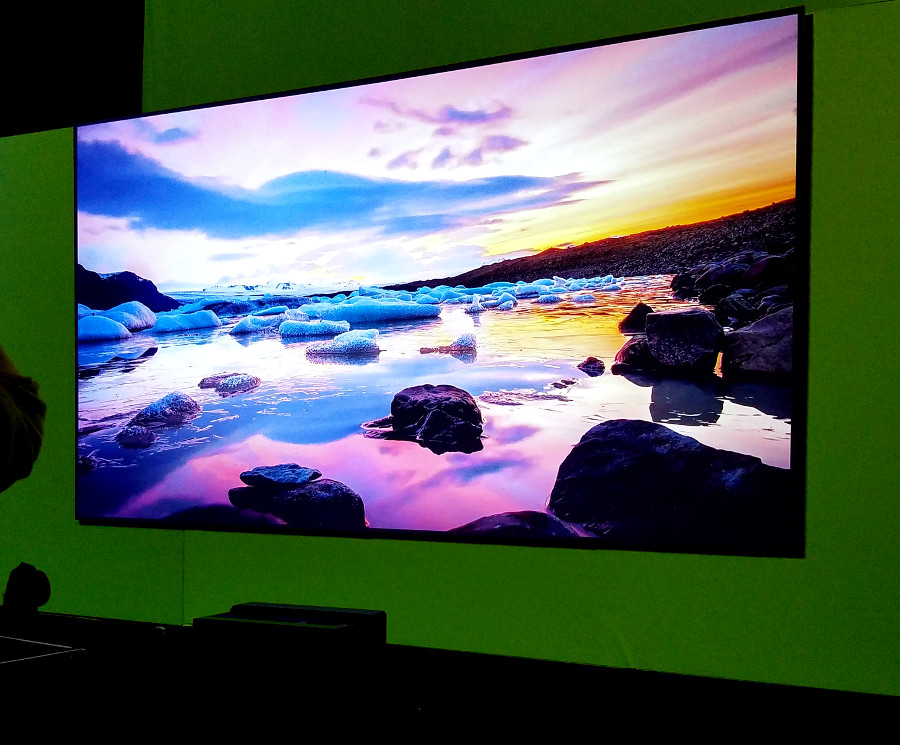 At IFA 2017 and again at CES 2018, Hisense showed an upgraded version of this Laser TV. Called "Dual Color", it adds a red laser to the solution to improve the color gamut to >90% of DCI-P3. At IFA, a 100" version of this was shown but at CES, a 150" version was debuted at the press conference and in their booth. This will go on sale in China in the spring, but plans for distribution in the U.S. have not been determined yet.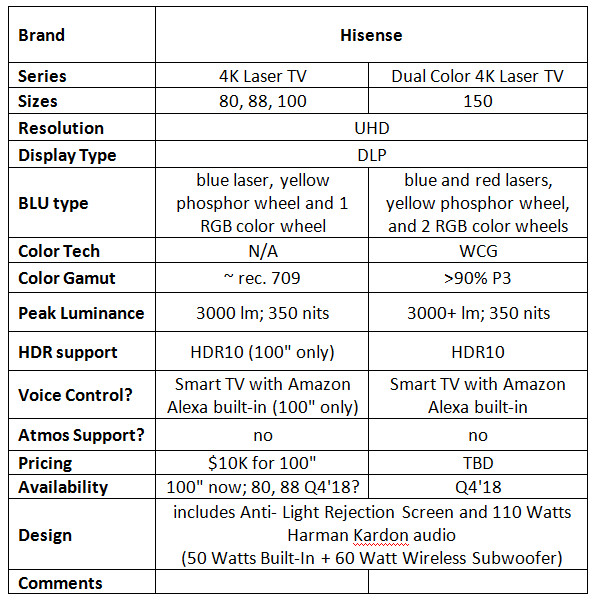 Sony does not call their short throw laser-based projectors aimed at the home market "Laser TVs" because they do not include a tuner. However, with the ability to connect a set top box, streaming service or a gateway to pull in over the air content, this arbitrary definition of a TV seems a bit outdated.
At CES, Sony announced a new projection product – the 4K Ultra Short Throw Projector (LSPX-A1). The specifications are very good, but not necessarily exceptional. The product is being positioned more as a lifestyle device that enhances your mood and ambience – and also plays great content.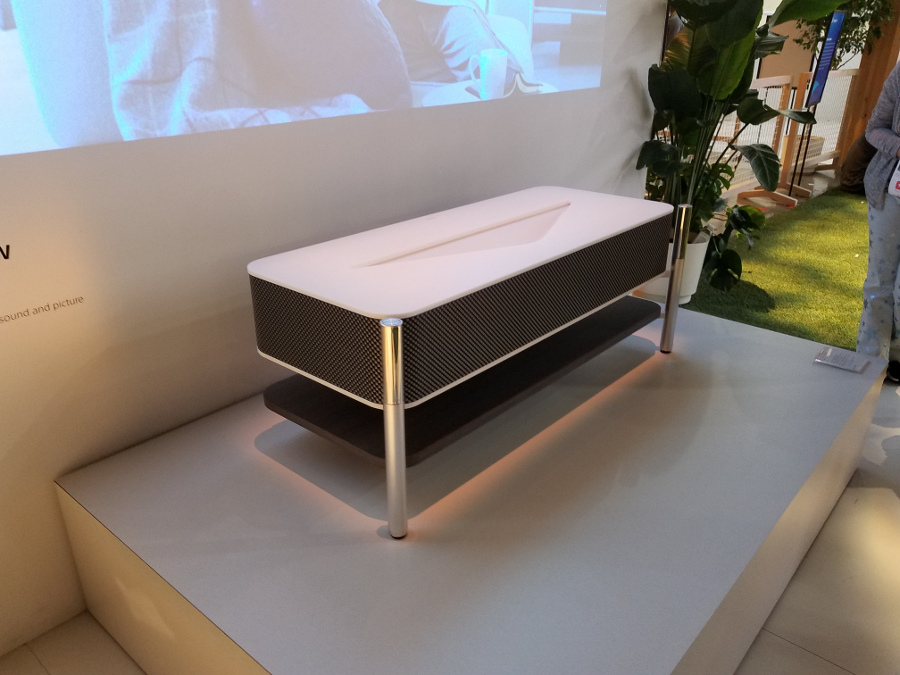 This is all under Sony's Life Space UX concept launched in September 2014 – a new concept in which Sony "seeks to help the individual unlock the potential of their home through innovation, high design and imagination." A number of products have now been included in this category and a new interface was showcased at CES. In the demo on the show floor, the "universe" of media can be displayed on the LSPX-A1 where "galaxies" represent different genres of music today, but may be expanded to movies, TV shows, art and more in the future. The user can simply click on a "star" to see some of the titles in this sub-category. The idea is to create a clever way to explore other musical genres in a more graphical way. It was actually pretty cool but is not yet commercially launched.
The projector features a trio of Sony's 4K resolution SXRD imagers and a short throw lens such that the back of the unit is 9.6 inches (24cm) from the wall. With 2500 lumens, Sony suggests creating a 120" diagonal image. However, the projector is underpowered for this screen size and looked dim in the demos. There is HDR support (probably HDR10 and maybe HLG) but it would be wasted for a 120" image as there is just not enough luminance to create much dynamic range. Apparently, the smallest image size is 85", which would be far more desirable for HDR content.
The projector essentially sits on a table with a shelf below it. In the front are two slender towers that contain innovation new speaker technology. Dubbed Advanced Vertical Drive Technology, the Glass Sound Speaker generates crystal clear high frequency sound in 360º by vibrating the two organic glass tweeters installed on the front legs. The addition of dynamic bass produced from a separate subwoofer and three midrange speakers (left, right, and center) will fill the room with sound. The center speaker, positioned in the rear of the device is intended to create center audio by reflecting on the wall to elevate the sound field. It was actually quite good.
LSPX-A1 will be available in the US in Spring 2018, and price is expected to be around $30,000.
Sony also introduced a pico projector called the MP-CD1. Outputting only 105 lumens, Sony says you can create 120" image from 3.5m – well, only in a dark room. But it is light and compact at 9.9 ounces. This is a DLP-based model, with a resolution 854×480. With a 5,000 mAh battery, it can play a movie for 2 hours. It will be available in the spring for $399.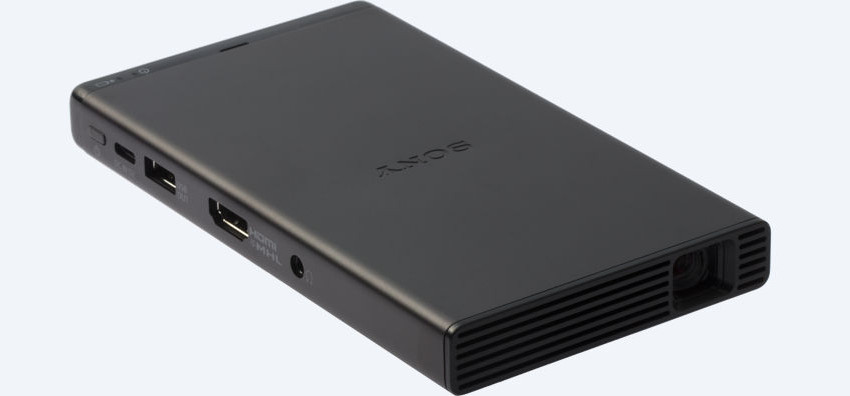 Wireless Movi Solutions came to CES to show off its Movi Smartphone, which contains an embedded pico projector. This a laser-based projector with 720p resolution based on the MicroVision PicoP scanning Engine technology. We did not see it at the media-only Pepcom event, but it is an Android-based phone with all the features of a higher end model including biometric security. No details on the projector were offered, nor product availability.