Key Messages
At TCL's CES press conference, the company first highlighted their sales success in 2017. They are a top three global brand having sold 23M TVs, up 16% globally and 131% in North America. They have a global footprint with over 150 active overseas markets.
VP Kevin Wang identified three key trends: AI, big screen and better viewing experiences. TCL sees quantum dots as the key to a better viewing experience as they were one of the first to launch a TV product in 2015 (H9700). They followed in 2016 with the X1 and in 2017 with the X2/X3 and X6.
They see the evolution of the Smart TV to the Intelligent TV is being driven by AI – and they will participate.
The third trend is bigger screens. TCL owns a panel fab – CSOT, which is now building the world's largest mother glass size – G11- which will be optimized to produce 65" and 75" displays. Production is scheduled to start operations in March, 2019 following its $7 billion investment.
Chris Larson said they have plans to make TCL a top three TV brand by the end of the decade and he described a number of steps the company has taken along that path. But they want to be the main TV in the home and have owners be proud to buy a TCL TV.
To support this, they are investing considerable resources to improve their brand recognition via major sporting sponsorships, like NCAA football, the Rose Bowl and specific sporting teams in the US. The naming rights for the Chinese Mann TCL theater in Hollywood, the official TV sponsor of the Ellen show and event sponsorships are other examples. They monitor on-line reviews and want to be sure a customer will recommend a TCL TV. In a survey of recent US-based P6 TV set owners, 95% answered 7 or above to the recommendation question.
TCL was an early partner with Roku starting back in 2013 where they worked together to design new TVs. In 2017, Roku announced that they now have 19M active accounts. Roku CEO Anthony Wood came on stage and described Roku's expansion into audio products for 2018. He said the TV is often used to play music and/or music videos, so being able to send the audio to other speakers in the home makes a lot of sense. As a result, Roku will now expand its licensing program and will offer reference designs for audio solutions. TCL is the first to sign up and they announced the TCL Roku smart soundbar at CES (smart means it is easy to set up and talk to).
On the voice front, Wood noted that they have had simple voice control in the Roku platform for some time, but they announced the Roku Entertainment Assistant, which will focus on home entertainment. That will release later in 2018 and will be a free upgrade for existing active accounts. To get the attention of the voice assistant requires the user to say "Hey Roku."
TCL also talked about their environmental responsibility citing the fact that they paid to recycle 7 million lbs (3.18 million kg) of ewaste in 2017 – and will double that in 2018. Their goal is to recycle more than 40% of older products by 2020 and set up centers in all 50 states.
Aaron Drew described the company's TV strategy and 2018 line up. With the G11 fab coming soon, TCL will focus on large screens. He described three key elements: picture performance, design and easy access to content as critical elements they need to get right. He thinks their Roku TVs are already delivering in these areas at a mainstream price.
New Technologies / Upgrades
NBP Photon technology is a name TCL used to describe the ability to deliver vivid colors. NBP stands for Nano Band Phosphor, which clearly refers to the red KSF phosphor solution. This was introduced in the 6-series last year and will expand down to the 5-series line in 2018. TCL says it can achieve 100% of the DCI-P3 color gamut.
Contrast control is another picture performance metric. For the 6 series line, representatives at the press event said there are 150 contrast zones for 2018, up from 72 zones in 2017. However, placards in the booth said there were 120 zones for the 65".
New for 2018 is an iPQ Engine that will "intelligently tailor each color based upon the capabilities of each TV and maximize coverage of the P3 color gamut." This appears to be a more accurate red, green and blue gray scale calibration feature. A Delta E of less than 1 was suggested by signage in the booth. The idea is to offer a much more calibrated display out-of-the-box. Since TCL is vertically integrated, they can capture panel data from their CSOT subsidiary and use this data to feedback to the beginning of the HDR processing chain for a more accurate display. This is like the by-pass mode on LG displays for a calibrator to get to the native panel characteristics, except that TCL can deliver this with the panel. (That's nice in my view – CC)

HDR Pro Gamma is a new feature designed to adjust the picture based upon the ambient light in the room. It allows the user to choose one of three settings (dark, normal or bright) based on the light in the room. This will adjust tone mapping. It is designed to address feedback from customers who say HDR10 mastered content can look too dark in a brighter room.
Dolby Vision and HDR10 were supported last year on the 6 series and this will expand to the 5-series in 2018.
On cosmetics, TCL described their "stealth metal" on the 6 series which is a brushed metal material.
The easy access to content component is solved with the Roku partnership and the lastest Roku OS8. It integrates many viewing options from a variety of streaming services. A new Roku voice remote with Roku Entertainment Assistant will also be included with P6 series TVs and select P5 series TVs via software update in the fall.
LCD TVs
TCL is a global TV brand but the company customizes features for various regions. For example, edge lit TVs are preferred for Europe but FALD models are prioritized for the US market. Curved versions are targeted for the China market. QLED quantum dot models will be sold in China and Europe, but not in the US in the first half of 2018. Roku platforms are for the US but Android TVs with Goggle Assistant will be used in China and Europe. 100 Hz refresh panels do better in Europe. Dolby Vision is offered in the US but not in Europe.
Wide color gamut TVs typically use quantum dots or KSF phosphor. TCL and others have been hoping to move QD technology more downstream, but the price of KSF has come down faster than QDs. But KSF models are typically lower luminance than QLED models and can have issues with a red shift, due to their slow decay time when fast dynamic dimming is used. TCL says their series 6 and 5 models will offer quite good performance, however.
TCL sees three luminance segments: 300 cd/m² entry; 400-500 cd/m² step-up and the 1000 cd/m² and above, premium. Only 50% of sales are in the premium segment.
For the US market, TCL seems to be focused on the 5-series and the step-up 6-series. The table summarizes the sets aimed at the US market.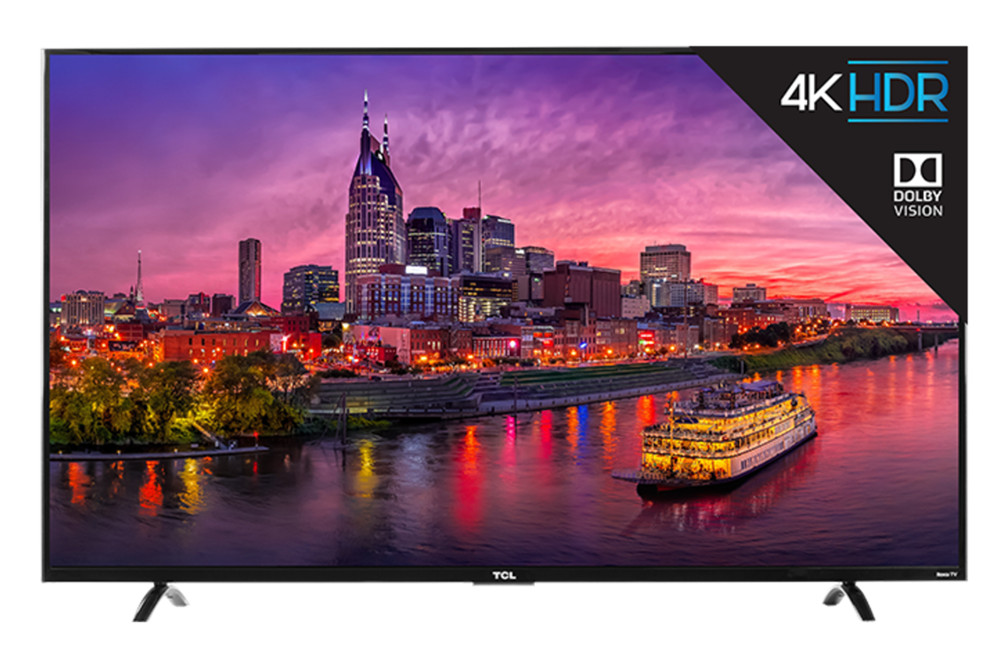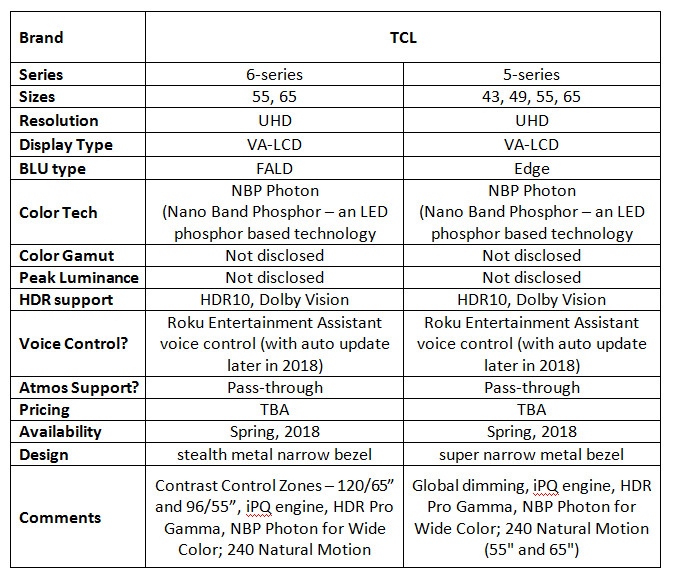 TCL also showed a number of other TVs to demonstrate its wider range of technologies and TVs for other regions. For example, there was a prototype of an "Ultraslim Local Dimming" TV. This has 288 zones and is only 9.9mm packaged as a TV. Peak luminance was speced at 1200 cd/m² and it uses quantum dot technology.
For the non-US market, TCL will offer the 85″ QLED X6, an Innovation Award Honoree at CES 2018, with QD technology, Dolby Vision and Dolby Atmos immersive sound technology. It also comes with a Harman Kardon sound system.
The C6 is a UHD smart TV featuring WCG, HDR Pro and Micro Dimming. It features Harman Kardon soundbar and DTS Premium Sound. Powered by Android TV (launching with 7.0 Nougat, upgrade to 8.0 Oreo in the coming months), the C6 offers a range of entertainment options.
The P5 is a curved UHD smart TV. The super slim profile and 6.9mm narrow frame is design highlight.
OLED TVs
The company also showed OLED TV but none appear to be destined for the US market.