Toshiba held a press event on its booth that clashed with the Sony event, so had a relatively limited turnout from journalists. The Toshiba brand is currently run by Vestel in Europe, although Hisense has done a global deal to take over the Toshiba TV brand over the longer term. Vestel has never publicly confirmed how long its current licence for the brand is, but we assume just another two or three years. In talking to staff at the booth, we got the sense that Vestel's management may have some ideas for a future relationship that may not be simply 'hand the brand over to Hisense' and Hisense might be interested different.
(The brands of Sharp and Toshiba are getting quite confused. Vestel has the Toshiba TV business and the Sharp white goods business, while Sharp has the Toshiba PC business, or will do from October!)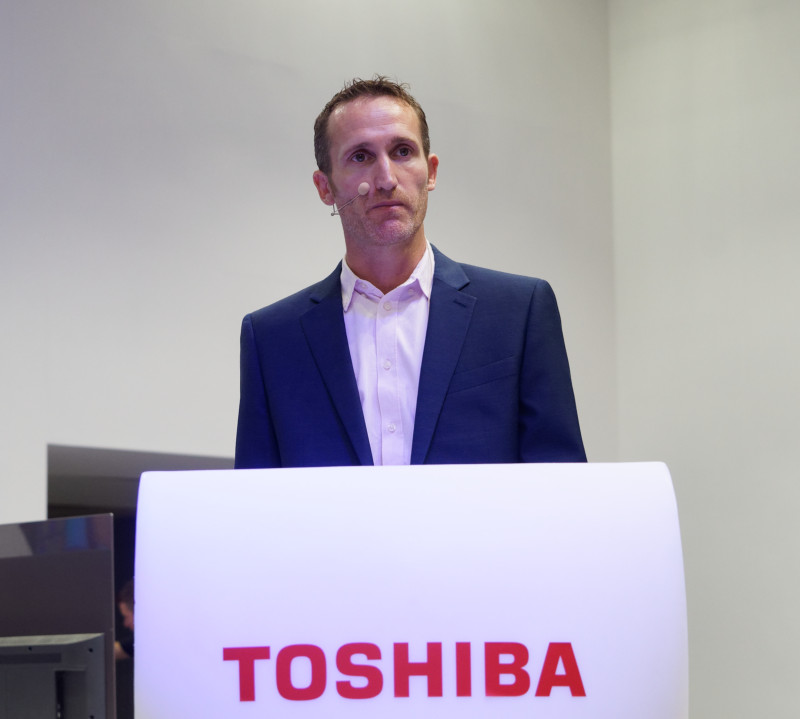 Part of the reason for this is that, as European Sales and Marketing Director for Toshiba TVs, Bart Kuijten said, the Toshiba brand has been doing well and is said, on the basis of GfK data, to be the fastest growing brand in Germany, France and Spain and is said to have a 8% in UK market share.
TV used to be the centre of the home and "What does it take to continue that in the future?" is the question. 8K is in infancy (almost Chinese only) and only 84″ and above is in the market, but Toshiba is working on 65″ which the company believes are a better fit for the home, especially in Europe. People are mostly watching SDR with a lot of FullHD, but more and more are seeing UHD HDR. Micro-dimming has been an important technology this year for better display performance. Toshiba has full-addressed local dimming (FALD) 4K HDR for its premium products.
At the show, Toshiba was showing Bezel-less 4mm set with full array local dimming (FALD) and with a target of 900 zones and Dolby Vision and a 65″ 'Wall Art' TV with 2.5mm bezels and based on an OLED panel. HLG HDR is also supported and 10 bit colour.
Sound can be a big challenge, as many brands said at the event, and Toshiba in Japan has developed a long tube speaker system that it is calling the 'Bazooka' that was developed in conjunction with audio specialist, Onkyo. It is claimed to have the best sub-woofer performnace in the market. It is designed to be part of the TV case, along the bottom at the back.

The 'Bazooka' concept, developed with Onkyo, is a tubular sub-woofer on the back of the TV. Image:Meko
The Smart TV operation is becoming increasingly important and Toshiba wants to deliver a "smart lounge" experience. Toshiba has a new customisable menu bar with a new UI and a one-click remote for Netflix etc. A feature that was highlighted was that the TV and the remote support the "Amazon Dash Replenishment" service. When a low battery level in the remote is detected by the TV, it can order a replacement battery direct from Amazon.
The company is working with Amazon and will introduce Alexa voice-controlled TVs in 2019 using far-field microphones, rather than voice-enabled remots. Toshiba also plans to introduce full Android TVs later and Kuijten quoted an IHS forecast of 25% market penetration in Europe by Android TVs. The company said that most of the OLED, 4K, HDR and FullHD Smart TVs will be Alexa-enabled.
In questions, it was said that 8K is now being promoted by at least two consumer companies but the question is "do we really need 8K?" Except for manufacturers, nobody is really interested in 8K, was a view that was expressed. It will take a lot of investment in content production for the market to really develop. However, Toshiba will have a 65″ 8K TV that will include an HDMI 2.1 port and 8K upscaling. It will also support 99% of the DCI-P3 gamut, HLG and Dolby Vision.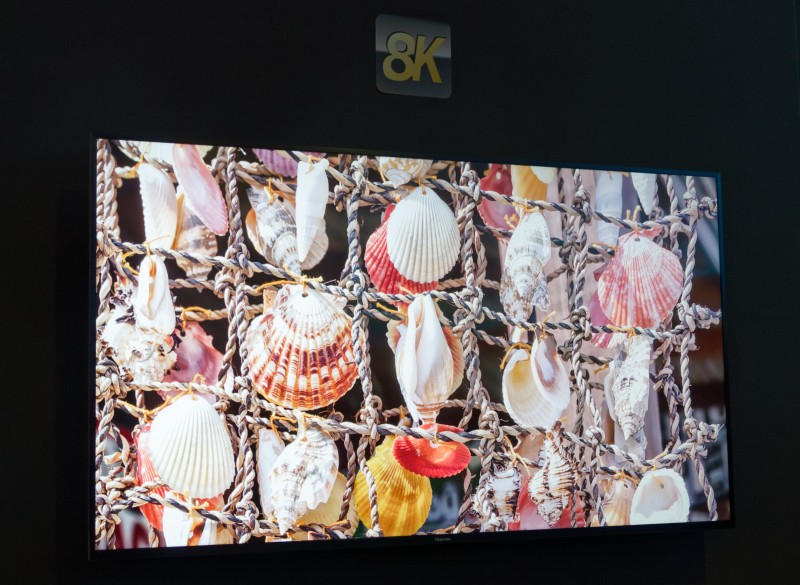 Toshiba's first 8K set will be a 65″. Image:Meko
Around the booth there were a number of new concepts and the plan is that they all appear in the range in the next 12 months. The company told us that it is applying for the UHD Alliance Premium logo for all TVs that are able to meet the requirements. There were new 49″ and 55″ 'High bright wide colour' TVs that are said to be up to 30% brighter than other UHD TVs.
Analyst Comment
Often in technology, features are called a 'solution looking for a problem' and the Amazon Dash Replacement feature (mentioned several times in the conference and press tour) seems to be just one of those! Really, every several years, the system will re-order, I guess, a couple of AA batteries. As if you were unlikely to have them in the house, anyway! (BR)