The white LEDs used in conventional LCD-TV backlight units — which are actually blue LEDs with a broadband yellow phosphor inside the package — produce a white light that has insufficient output and purity in the green and red. All current approaches to improving LCD-TV color gamut and purity involve improving the intensity and purity of the red and green light that is produced by the BLU and makes its way to the matrix color filter.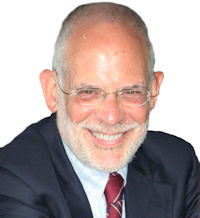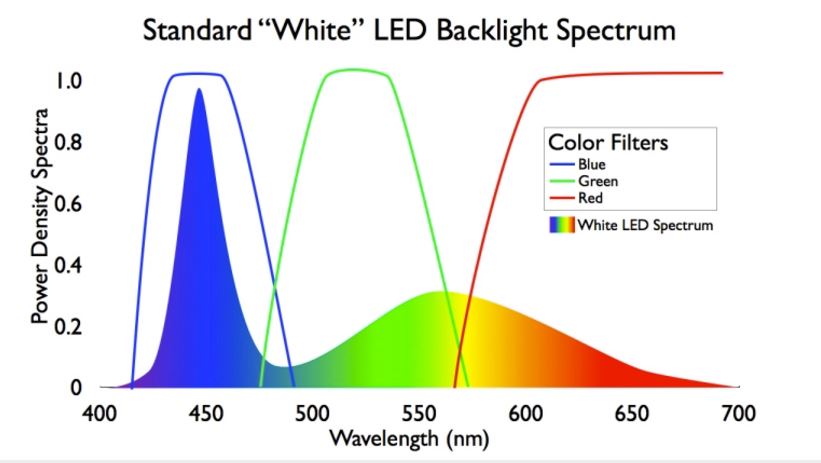 Interestingly, three premium 2017 sets now on the market adopt completely different approaches to solving this problem.
Samsung's "QLED" Q Series uses a new type of quantum dot (QD) for converting some of the light from the backlight's blue LEDs to red and green. The novelty here is not the architecture of the QD-enhanced backlight, but the design of the Nanosys-developed QDs. Samsung says the QDs are fabricated with a metal alloy and end up with a light-transmissive metal alloy shell. Industry sources say the fabrication process produces "perfectly spherical" dots, which produces a purer chromatic emission.
The top-of-the-line Q9 model delivers a peak white luminance of more than 2,000 cd/m² and a color gamut of more than 100% DCI P3. The luminance of the Q7 and Q8 models is slightly less. In side-by-side comparisons with an OLED-TV and a non-QD LCD-TV, the Q9 was impressive. And it should be. With an MSRP of nearly $6000 for the 65-inch version, this is a super-premium TV that costs only a thousand dollars less than the 65-inch LG Signature OLED TV G.
LG Goes Another Way
LG does not use QDs in any of its LCD-TV sets, but it had do something if it was to compete in the new world of high-dynamic-range and enhanced-color-gamut premium LCDs. LG's solution is "Nano Cell" technology, which panel supplier LG Display (LGD) calls "IPS Nanocolor I." The technology consists of a film having a uniform distribution of 1- to 2-nanometer particles. The film, which sits beneath the front polarizer, acts as an additional color filter to produce an RGB distribution with increased purity. The film also appears to act as a diffuser for improved viewing angle. Says LG: LG: "accurate colors maintained at any angle…colors look truer and black levels look deeper."
But the additional filter necessarily absorbs light, making for a less efficient display. LG Display claims 90% of DCI P3 in gamut, while an industry source says the peak white luminance is less than 450 cd/m². LGD says the color gamut at an 80° viewing angle is 91% of what it is when viewed straight on, a benefit of the Nano Cell film. The MSRP of a 65-inch Model SJ8500 is just shy of $2,800.
And Samsung has More than One Way
Samsung reserves the Q and QLED brands for sets with QDs in them, but it needed a premium series to fit below the Q sets with a more affordable pricing. This role is filled by the MU series, which gets its improved chromatic performance from using red and green phosphors in the LED packages rather than broadband yellow. This is not a new idea in shipping TV sets. Sharp, calling it Spectros, used the technology in its 2015 premium UH30 series, and claimed a color gamut of 100% of DCI P3. (for more on this see the earlier DD, (There's More than One Way to Make a WCG LCD) )
An older "white" LED intended for TV backlighting. The broadband yellow phosphor provides the yellow color when the blue LED is not on. (Source: Sharp) – Click for higher resolution
My sources tell me that Samsung gets just a bit more than 94% of DCI P3, together with a 1000 cd/m² peak white luminance, in its MU-8500 models, which has an MSRP of just under $2200.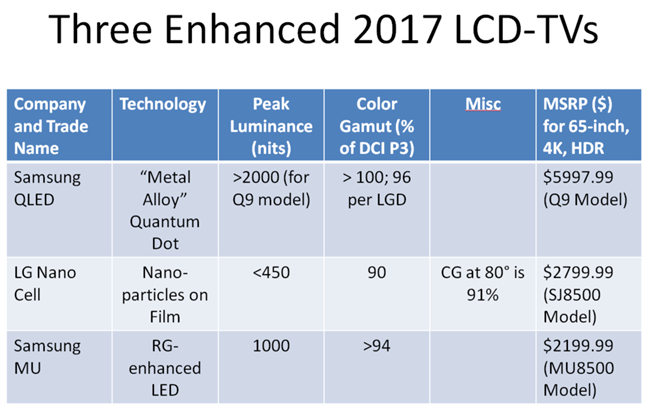 But There are Others
These three technologies don't exhaust the possible approaches for further enhancing LCD-TVs. LGD is working on "IPS Nanocolor II," which will place a film containing red and green phosphor nano-particles between the backlight and the LCD cells.
Dot-on-chip, which places the QDs right on the LED chip, is under active development. The issue is that QDs are sensitive to heat and high luminous flux, but TCL's Ranjit Gopi says that TCL's product plans include a dot-on-chip set "sooner rather than later."
And using quantum dots to replace the color filter for an estimated doubling of LC module efficiency is also under active development. The issue here is that to be patterned for a MCF replacement, the dots must be stable in air. However, both Nanosys and Crystalplex have demonstrated air-stable technologies.
So, now and in the future, we have multiple technologies for enhancing LCD-TV performance substantially. Will OLED be able to retain its reputation as the display technology par excellence? We'll save the answer to that question for a future Display Daily. – Ken Werner
Ken Werner is Principal of Nutmeg Consultants, specializing in the display industry, manufacturing, technology, and applications, including mobile devices and television. He consults for attorneys, investment analysts, and companies re-positioning themselves within the display industry or using displays in their products. He is the 2017 recipient of the Society for Information Display's Lewis and Beatrice Winner Award. You can reach him at [email protected]