Much of the news from the Apple press event this week was not a surprise as there have been an uncharactertistic number of leaks. However, there were some surprises from the company in the iPhone X (pronounced 'Ten'). As expected, the device has an OLED display with 5.8″ diagonal and with resolution of 1125 x 2436 (458 PPI) in an unusual aspect ratio of 19.488 to 1. The display covers the front of the phone and that means no room for the 'home' button or a fingerprint reader.
The corners of the display are rounded and there is a notch in the top edge, but as expected the flexible display does not wrap around the edge of the phone as it does on Samsung and LG products. DSCC reports in a blog post that Samsung is supplying the X/Y touch panel and cover glass as well as the OLED and that the cost of the full package is $120. Apple said that the glass is a new generation, so, given that Gorilla Glass 5 is already widely used, we have to assume that this is a new formulation and is used on the back of the phone as well as the front.
The HDR display supports Dolby Vision and HDR10 wide colour support with what is claimed to be the best system-wide colour management in a smartphone. (as Ray Soneira has said in the past, the colour management of Apple's previous phones was excellent and good enough for monitoring broadcasts! – Man. Ed.) In fact, we heard at IBC that the phone will also support HLG (see the Analyst Comment for more on this).
The fingerprint reader has been replaced by a facial recognition system (although it didn't work during the launch event on the first phone tried). The home button functionality has been replaced by the use of the power button, which can be pushed upwards.
Other features of the X include a new A11 Bionic processor and wireless charging (based in Qi) as standard. It runs a new version of the operating system, iOS11. Like the announcement from Huawei at IFA, the X has a new A11 Bionic neural engine which is a dual-core design and performs up to 600 billion operations per second for real-time processing. The A11 Bionic neural engine is designed for specific machine learning algorithms and enables Face ID, Animoji and other features. The X has a new GPU that was designed by Apple (which will be of interest to Imagination Technologies, no doubt – Man. Ed.)
There is an improved rear camera with dual optical image stabilisation. There is a 7 MP TrueDepth system front camera that has a 'dot projector' with more than 30,000 invisible IR dots, an infrared camera and flood illuminator to capture a depth map. Apple said that the face recognition works by detecting if the owner is looking at the phone which suggests some level of gaze recognition. The availability of a depth map allows for effects such as providing a very short depth of field for selfies.
iPhone X also features a redesigned dual 12-megapixel rear camera system with dual optical image stabilisation. The ƒ/1.8 aperture on the wide-angle camera joins an improved ƒ/2.4 aperture on the telephoto camera. There is a new colour filter, 'deeper pixels' and an improved Apple-designed image signal processor that is claimed to deliver advanced pixel processing, wide colour capture, faster autofocus in low light and better HDR photos. A new quad LED True Tone Flash is said to offer twice the uniformity of light and includes Slow Sync, resulting in more uniformly lit backgrounds and foregrounds.
Apple claims that the new camera also delivers the highest quality video capture ever in a smartphone, with better video stabilisation, 4K video up to 60fps and 1080p slo-mo up to 240fps. The Apple-designed video encoder provides real-time image and motion analysis for optimal quality video. Portrait mode with Portrait Lighting on both the front and rear cameras brings dramatic studio lighting effects to iPhone for better portraits with a shallow depth-of-field effect. With iOS 11, iPhone X supports HEIF and HEVC for up to two times compression and storage for twice the photos and videos.
The cameras on iPhone X are said to have been 'custom tuned' for AR use. Each camera is said to be individually calibrated, with new gyroscopes and accelerometers for accurate motion tracking. The A11 Bionic CPU handles world tracking, scene recognition and the GPU enables graphics at 60fps, while the image signal processor does real-time lighting estimation. With ARKit, iOS developers can take advantage of the TrueDepth camera and the rear cameras to create games and apps that exploit them.
The X is splash, water and dust resistant, and was tested under controlled laboratory conditions with a rating of IP67 under IEC standard 60529.
iPhone X will be available for pre-order beginning Friday, October 27 in more than 55 countries and territories, and in stores beginning Friday, November 3.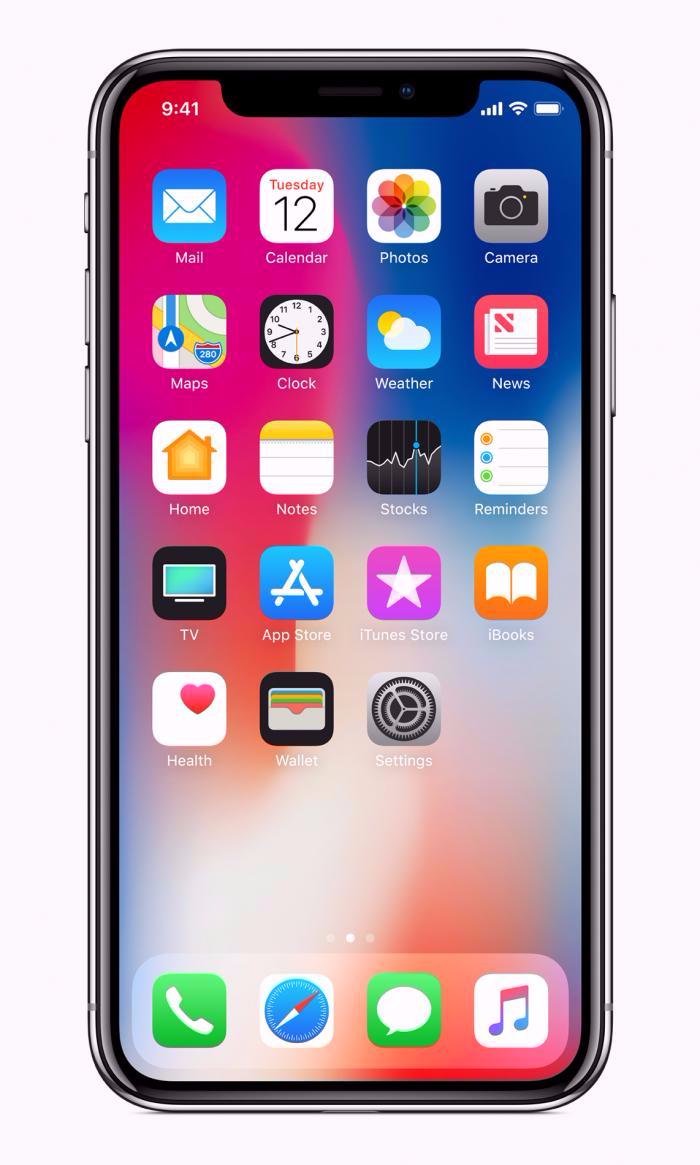 As well as the X, Apple launched the iPhone 8 and iPhone 8 Plus which share the new processor, but retain a more traditional layout and the home button. They have IPS LCD displays with the new glass, and the 8 has a 4.7″ display with 750 x 1334 pixels (~326 ppi pixel density), while the Plus is 5.5″ with FullHD. The 8 has 2GB of RAM, while the Plus has 3GB and they both have 64 or 256GB of storage.. They have single and dual 12MP main cameras and the Plus has 2X optical zoom. Both have the same features as the X to boost AR performance.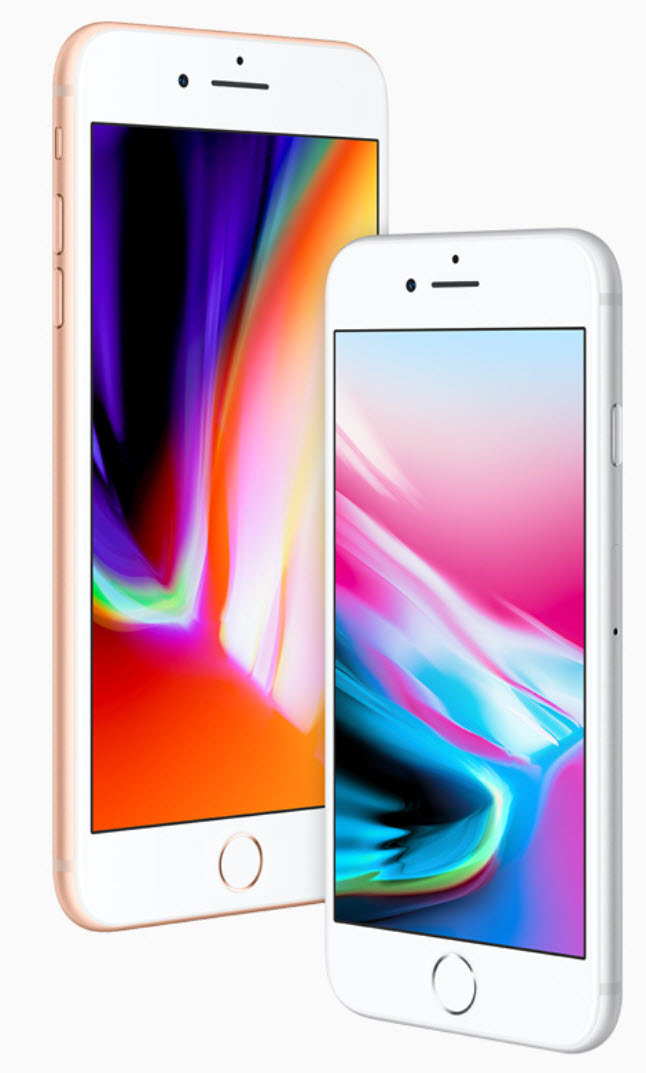 In a busy week, Apple also upgraded the Apple Watch to Series 3. It had been widely predicted that this would add LTE connectivity and there are two models – one with and one without this capability. The display is the same size as the previous versions – 38 mm with 272 x 340 resolution or 42 mm with 312 x 390.
The watch shares the same number as iPhone and carriers are offering special introductory cellular plans at launch. Users can make cellular calls directly with Apple Watch Series 3 (GPS + Cellular). Apple also said that it has pioneered an industry-first antenna design that uses the display itself as both a transmitting and receiving element for LTE and UMTS, while introducing a built-in eSIM that is over one-hundredth the size of a traditional SIM card, making over-the-air activation possible without compromising space.

Beginning Friday, September 15, Apple Watch Series 3 (GPS + Cellular) will be available to order in 10 countries and territories, and Apple Watch Series 3 (GPS) will be available to order in 28 countries and territories. Both models are available in stores starting Friday, September 22.
Apple also released a new version of the Apple TV box with support for UltraHD and HDR. (Apple TV 4K launched)
Analyst Comment
The comments about the infrared face camera that can check if the user is looking at the phone suggests that Apple is doing some level of gaze recognition. Regular readers will know that I'm personally a big believer in the potential of gaze recognition to improve user interfaces. It seems that Apple may be heading in the direction of using gaze. As we reported, Oculus has bought one of the companies that is in this space and that we have been reporting on. (Oculus Acquires Eye Tribe).
We heard at IBC that the Apple Phone (along with the Apple TV) will support HLG. One of the reasons that is known is that companies providing compression service have enquiries from content owners that want to broadcast to Apple phones and TVs, If they want a good SDR image as well, they will have to have both an HDR and SDR stream, unless, of course, they use HLG, as they can then provide a single stream. That is, as they say a 'no brainer'.
An article in the Korean press said that that LG Innotec is supplying the depthesensing module and dual camera module and, of course, Samsung is supplying the OLEDs for the X, but Samsung, Interflex and BHE, all in Korea, are said to be supplying some PCBs. Samsung SDI and LG Chem are supplying batteries for the X as well as the 8 models. Samsung's LSI business is supplying display drivers and Samsung is said to be supplying DRAM and flash memory as well (along with SK Hynix). Korea will have a big win if the X goes as well as expected.
The ET Times in Korea is reporting that Apple will extend its OLED line from one model to two in 2018 and that will put pressure Samsung, LG Display and other suppliers to boost their capacity to meet a significantly increased demand level. (BR)