We had lots of market data in MDM this week, with smartphone and tablet data being released and although there was lots in LDM, especially because of the report from Cinemacon, but there wasn't much in the way of a front page for LDM. There seem to be a lot of TV events at the moment (and we'll be at TV Connect next week), so we have plenty of news about that.
However, my attention was drawn to the article in MDM about VR and AR. (for LDM readers, Digi-Capital has forecast that while the US might stay ahead on VR, China is likely to take the lead on AR in the future). We have another story that BOE claimed top spot in the TV panel market. IHS Markit suggests that BOE is still behind LG Display, but only just. BOE is already top on monitor and notebook panels (and last week's editorial highlighted the lead that China will have on panel capacity).
We also have data on the global smartphone market and the story is really based on what is happening in China – that's the key market for volume, of course.
The Digi-Capital report emphasizes that the strength of the developments in AR in China come from the strong online culture for payments and other transactions. That reinforces a talk that we reported on from IFA in 2015 (China is More than Just a Factory – and still worth a look). Tom Morrod of IHS Markit made the point about the scale and size of the big Chinese technology companies which, at that time, were behind the West, but which were likely to rapidly accelerate as they used the scale and demand of their home market to develop new services.
Now, we're quite used to Asia and China, in particular, developing huge volume and dominating the supply chain, but dominating new and very high technology industries is a completely different matter. AR will not be an easy technology, there have already been several mis-steps in enabling and developing the market, but a huge market of technology hungry users of services is a great base to start from in developing any new technology.
At ProLight and Sound, I met a couple of new Chinese LED suppliers (that's nothing new!) but what impressed me most was that they seemed to have a much better level of sophistication and professionalism in their marketing approach and presentation. Of course, they are still a long way behind the best companies (which are usually the US firms, but also include the best European and Japanese firms) in their marketing, but they were also a long way ahead of typical historic approaches to sales and marketing outside China. They were also managing their own marketing rather than using local contractors, as far as I could see. My experience tells me that the best success is gained by using local sales and marketing staff, but that has a limited benefit if the local staff are not allowed the freedom to operate.
Bob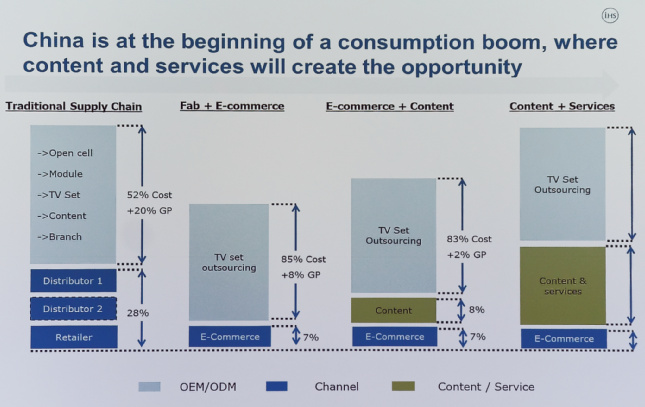 IHS showed this supply chain chart at IFA in 2015 which forecast growing content and services from China