Technology Exposed is an annual UK trade show run by Midwich, the specialist A/V distributor, and its partner brands. It took place just after IBC, but we couldn't miss the chance to get around the show to catch up with the state of the market and to talk to a lot of brands in A/V in a short time. Midwich has had a busy couple of years, going public and acquiring companies including LED specialist, PSCo and we got a chance to catch up with Stuart Holmes who continues to run that group as a specialist division within Midwich. The event took place on one floor of Mercedes Benz World in Brooklands – right next door to LG's office in the UK.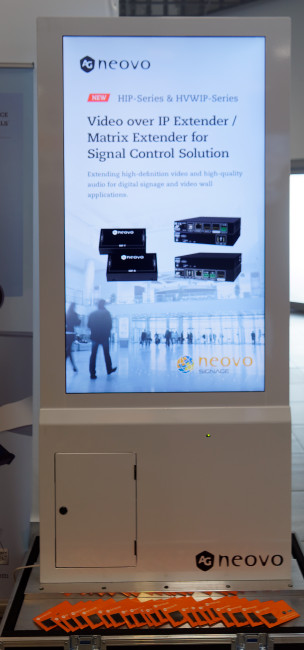 AG Neovo was showing a dual sided totem display that looked good and is a second generation product. The company told us that it is distributing through CCS and Mentor as well as Midwich.
Barco was showing the 13K Ansi lumen F90 laser phosphor projector that we reported on at Infocomm and has just started to ship and will cost around £26,000.
The HDX-W20 Flex projector was being shown. The unit is intended for rental and staging and is modular. It has an unusual feature, which is that it can be internally set for different brightness levels using software protected by a pin code, or even via SMS. The base level of brightness is 10,000 Ansi lumens and can be increased in 2,000 lumen steps to 20,000 (centre)/18,500 Ansi lumens. That means that rental companies can offer different pricing levels at different brightness levels but stock only a single model. The projector uses a 2.5KW Xenon lamp with 1,000 hour lifetime.
We reported on the HDX-4K20 Flex at Infocomm and the unit is now shipping at around £49,000. It supports 4K with a 2560 x 1600 three DLP engine with pixel shifting.
BenQ didn't have any new LFDs at the show and was focusing on its Instashow screen sharing 'dongle' product (think Barco's ClickShare) which we reported on at ISE and Infocomm (image below). The company told us that it is selling well at £899 in the UK for a receiver with two dongles. Watch out for a new version of the system at BETT, early in 2017.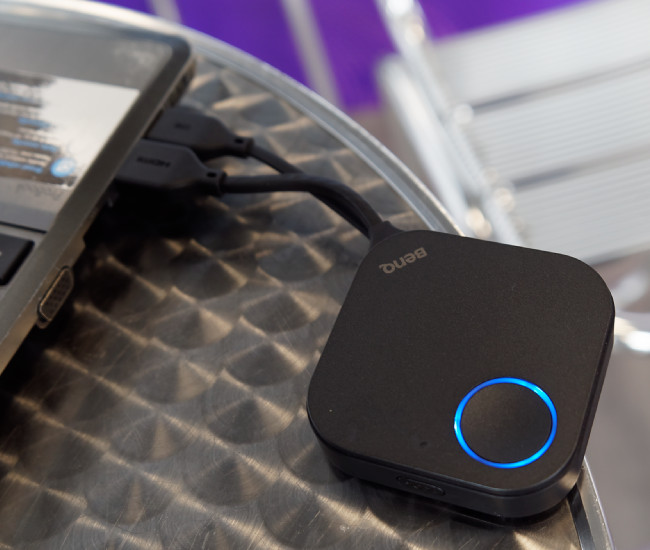 We reported on the new Brightsign range a couple of weeks ago. At the show, the company highlighted that the LS243 entry level unit can be powered directly from USB. The new design has an aluminium top surface which improves heat dissipation. The company also said that the top of the range unit can input content on an HDMI input (it could be broadcast video from an STB, for example) which can be encoded and streamed to other players on the network, which can also support a 'mosaic' mode, so quite a sophisticated signage network can be assembled just using the Brightsign products.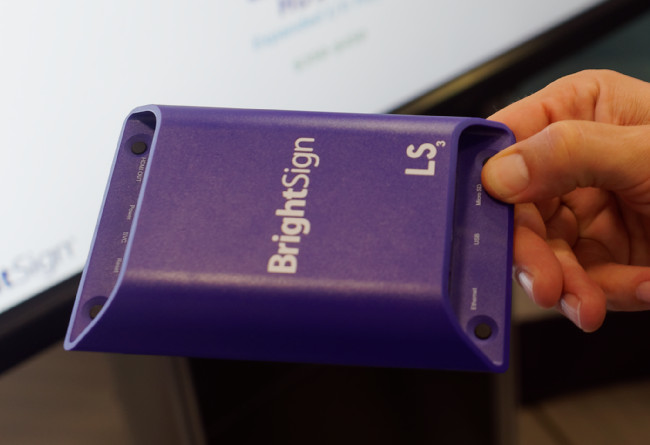 Casio had no new products but was at the event to support Midwich, which is one of three distributors for the company in the UK, the others being Sahara and Medium.
Datapath of the UK, which makes graphics controllers, has teamed up with Layer Logic to support collaboration using video walls running from Datapath's products. Integrated or overlay touch can be supported.
Eizo was a surprising brand to see at the event as it is not really in A/V. However, the company was highlighting the use of its colour-calibrated monitors in the creation of A/V content. More and more A/V is created with video and there is a slowly growing awareness of the importance of accurate colour. We heard at IBC that the market for lower cost colour-controlled monitors has been expanded by the arrival of companies such as BenQ. Eizo told us at the show that it was confident that, side by side, it could beat the new brands, so those that are really critical will stay with the company. Sales have been maintained, despite the entry of others and they seem to have simply helped the market to expand.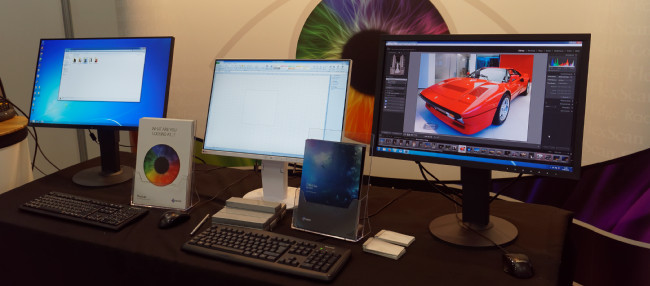 Elo Touch concentrated on its 10″/15″ and 22″ touch-enabled monitors that it is aiming at retail applications. There are options for Android or Windows support and although the standard products use PCap, infrared touch is also an option. It has its own front end for Android to make it more suitable for this kind of application. On its larger sets, it has optional adaptors to support OPS. It can also support NFC, which can make the displays better for retail applications that might be 'transactional', for example, in coffee shops to place orders. Elo has also updated its range of open frame monitors which can now support 10 point PCap touch, or two touches through 6mm glass.
Epson was showing its EB-L1405U, which is in the EB-L1000U series and has 8,000 Ansi lumens of output (and CLO) from its 0.76″ C2 Fine LCDs. Resolution is 1920 x 1200 and native contrast is 2,000:1. The L/P light source means 20,000 hours life and that means that the projector can be used for digital signage applications. We talked about the new rental-optimised projectors that the company developed with Lang and has shown since ISE. Apparently, the chassis of the projector is made of steel to ensure high strength and the heard that an Epson unit survived 10 test drops, while a competitor, which does not use steel, failed after one drop.

Epson showed in the 'shoot out' area that Midwich set up
Hitachi was showing its LED projectors which use the Philips HLD technology to give 'true reds and greens'. The LP-WU3500 is due in the UK at the end of the month, as suggested in our Infocomm report, and has 1920 x 1200, while the LP-WX3500 has 1366 x 768 resolution. Both have 3,500 Ansi lumens of output from single chip DLP engines. Features include blending and warping, but details of the new products were scarce. We were interested in the final gamut of these new products, the first to use HLD, we think, but couldn't get confirmation at the event. Lifetime is 20,000 hours, the zoom goes up to 1.7 and contrast is quoted as 30,000:1. There is an HDBaseT connector and dual HDMI inputs (one with MHL) with one output. Up to seven additional projectors can be connected to the HDMI out. The unit has no fan and can be used in 24/7 and portrait applications, and indeed at any orientation over 360º. It also has a sealed optical engine. Pricing is still to be decided. The company expects to see a range of products with lamps, LEDs and laser phosphor for a number of years, still.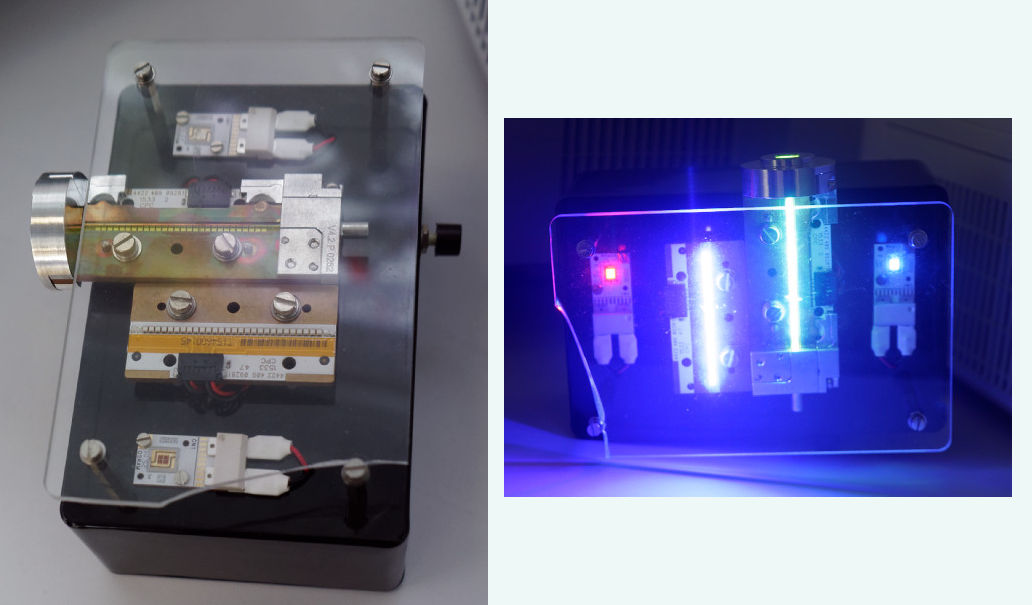 Hitachi's HLD component – Click for higher resolution
Check here for a video that explains the HLD technology.
Iiyama was showing a new 65″ PCap touch display with UltraHD resolution. The TF6537UHSC-B1AG is specified for 24/7 operation in landscape or portrait mode and uses an IPS panel with 500 cd/m² of brightness, natively and 400 cd/m² when touch enabled and contrast of 1,000:1. Response time is 8ms. The monitor has four HDMI inputs to support 2 x 2 FullHD emulation and DisplayPort with a daisy chain option. The touch system supports 50 touch points and is supported in Windows 7, 8 and 10 as well a Linux. It is fitted with protective glass of 6H hardness and 5mm thickness. The product is available now and will cost <£4,000 ($5,400) dealer price. The company is developing an 84″ version that will be released in Q1.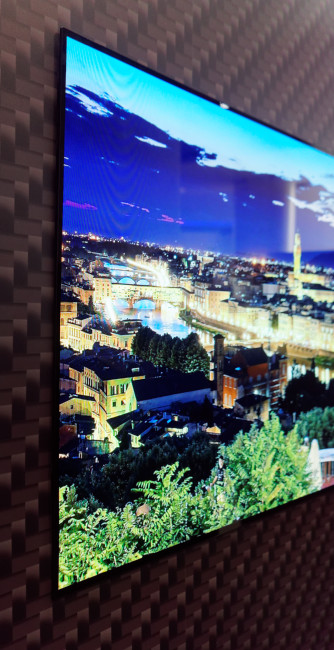 LG's extra thin OLED. Image:MekoLG had basically the same displays as it showed earlier in the year at the Retail Technology event. It was, of course, showing the latest version of the dual 55″ OLED, the 55EJ5C which is due to start shipping at the beginning of October and will cost around 5,500. We asked about brightness and heard that this version will output 450 cd/m² (up from 400 on the 55EH5C). There is no real change in burn in issues and the usage is described as 18/7 (moving video only).
NEC demonstrated the P502HL which has been in the market some time so we focused on the new NP-PX1004UL (a development of the PX803UL) which is a 10,000 Ansi lumen single 0.67″ DLP chip Laser phosphor projector with a resolution of 1920 x 1200 and contrast of 10,000:1. The projector is rated for 20,000 hours and for image sizes from 40 to 300 in. / 1.02 to 7.62m at distances of 1.5 to 179.8 ft. / 0.5 to 54.8m depending on lens choice. A feature that was highlighted was that the unit can accept Panasonic lenses to extend the range of options available. Vertical and horizontal lens shift are supported. Power consumption is 1220W in full power mode, but there is an eco mode that reduces this to 650W. There are a range of inputs including VGA, BNC, HDMI, DisplayPort and HDBaseT and there is loopthrough on the HDMI input. There is an OPS slot and the projector can be used on its side. Features include integrated edge blending and geometric correction to allow projection on spheres, cylinders, corner angles and other shapes. It can also automatically correct for up to four stacked projectors to allow total output of 40,000 lumens. There are black and white cased versions and although staff told us that it expected pricing to be around £12,000, the projector is being listed online at around €20,000.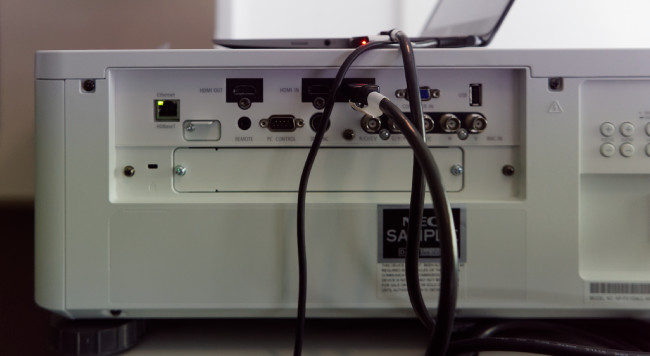 NEC's new projector has an OPS slot. Image:Meko
The company was also talking about its 65″ and 84″ UltraHD flat panel displays. The X651UHD-2 IGT is the 65″ interactive display table that we saw at the NEC Showcase and uses the Flat Frog touch technology.
NEC has eight distributors in the UK including Medium, Exertis and Sahara, as well as Midwich. We heard that NEC will have a 4K projector with pixel shifting in mid-2017. Brightness will be around 7,000 lumens. The company also had a demonstration of VR to attract the attention of delegates.
Panasonic was highlighting the PT-EZ590 3LCD projector that was shown originally at ISE. Lens options now include support for the 1.1 to 1.3 zoom and the unit is shipping now. There was also a demonstration of the latest 'spaceplayer' projector designed for retail applications. The unit was being shown in a mapping application and the latest version has been modified to allow the use of a stand, rather than just a bracket.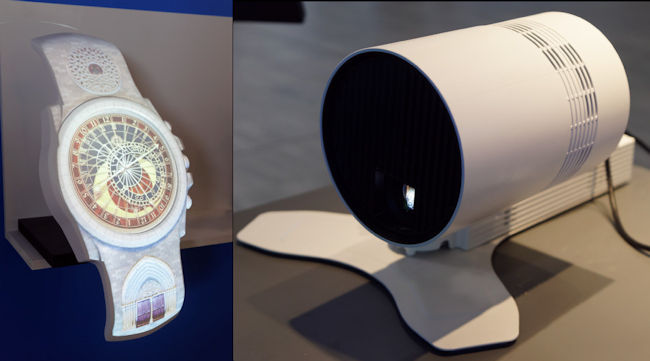 Panasonic's Spaceplayer was being used to projection map onto a watch shape. Image:Meko
Peerless was talking about the new video wall mounts that it has introduced and which we reported on in our report from the Munich digital signage event and which was being shown for the first time in the UK.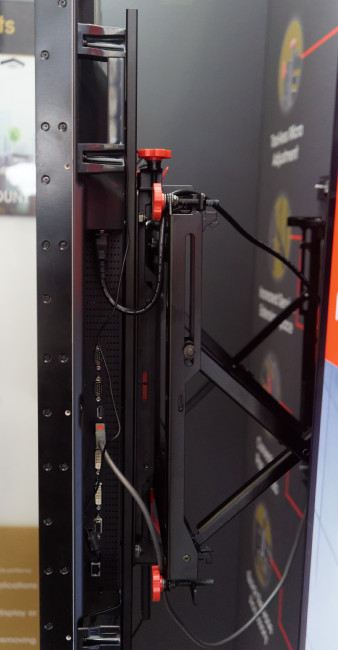 The new Peerless video wall mount has controls in red to make them easier to identify. Image:Meko
Philips focused on explaining how well it has been doing over the last year in the UK in the professional segment and claimed doubled sales of hotel and commercial TVs over the last year. The company told us at ISE about its new CMS software that is designed to allow the support of digital signage and also hospitality applications from the same software. That seems to have hit a key point with the hospitality business, who, otherwise, can struggle to keep in room information in line with the digital signage information. Although there were originally 'Chinese walls' between the TV division (TPVision) and monitors (MMD), there have been changes so that in the commercial space, the sales and marketing groups can sell products across both ranges.
The PSCo division was showing LEDs from its suppliers which are Absen, Leyard and Samsung. Stuart Holmes, who runs the group, said that one of the reasons for this choice of brands is that Midwich is 'taking away the risk' for customers. The products from these companies can meet all the standards needed in the market, such as CE and ROHS, and that's not the case for all suppliers. Holmes also said "Anyone can make one good LED for shows, the question is how good is the worst display". The company is starting to see some a small number of orders come to delivery for the Samsung 1.5mm LEDs and Samsung has also won an outdoor deal based on the Yesco technology. On display was the 2mm and 4mm Absen technology which is very shallow and 'takes up no space'. Holmes is looking forward to getting the sub-1mm pixel technology from Leyard and others.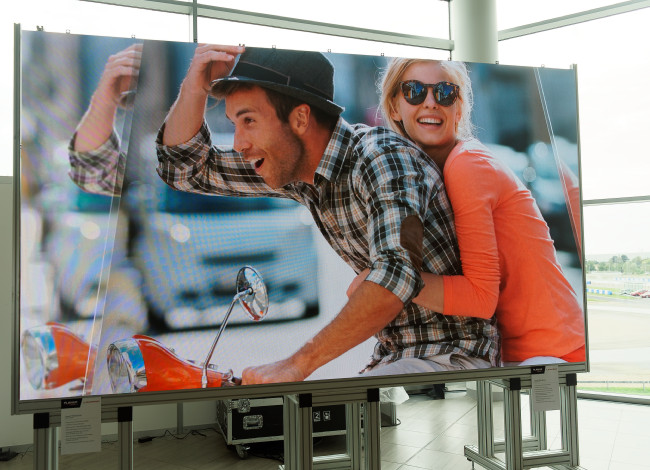 The Leyard LEDs looked good despite the bright surroundings. Image:Meko
Samsung was demonstrating the 49″/55″ and 65″ UltraHD digital signage displays that were announced back at ISE, but are now becoming available. The company also had 37″ and 55″ mirror displays which will start to ship from October. The DB65E-BC is a PCap interactive display. Up to now, most Samsung touch display have been infrared-based, but the company is now starting to promote the faster technology, although it still has three infrared models for more cost-sensitive customers. The product starts shipping through Midwich on 1st October. (The display was more responsive previous Samsung models that we have tried, but compared to, for example, the Microsoft Surface hub, the touch surface is quite a long way from the display, so there is a significant parallax disparity – Man. Ed.)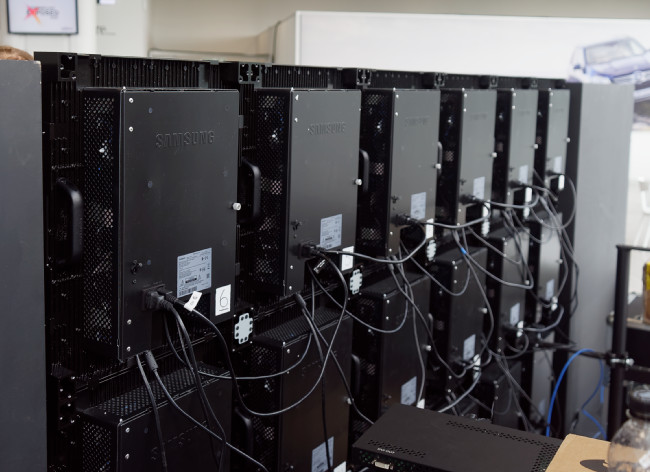 The rear of the Samsung LEDs shows they are simple to connect up. Image:Meko
Sharp was highlighting its 60″ and 70″ TW series of touch 'Big Pad' displays. These are not new but are said to be selling well. Staff told us that the software now allows four people to interact with the display at one time.
Smart had no new hardware at the event but told us that it is planning a lot of new features in a major update to the Kapp IQ software in December. It will add new menus, allow soft keys and screen sharing. Since signing up with Midwich in June, following the fall out with Steljes, the company has got a full team supporting sales to end users (fulfilled through the channel) and also resellers.
Sony was at the event but was not talking about any new products. We talked with the company about the positioning of laser phosphor and lamps, a common discussion with projection companies during the event.
Finally, we couldn't go to Mercedes World without a picture of a car. I like this 'exploded' Formula 1 car.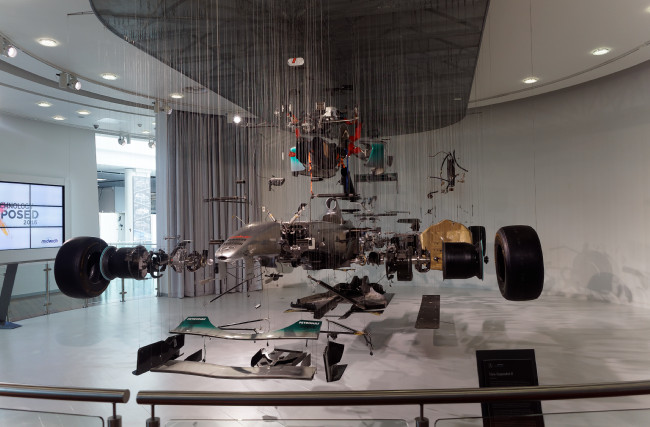 Mercedes World – Image:Meko