The High Lumen Density (HLD) technology developed by Philips was introduced last InfoComm. The trade name is ColorSpark and it was demonstrated on prototype projectors by Optoma and Hitachi. At InfoComm 2016, we had a chance to talk to Philips and Hitachi about the technology and the status of projector commercialization.
By way of background, HLD is a new LED solution for projectors that allows the technology to move from its current lower lumen range into mainstream projection applications in the 3000 to 3500 lumen range. HLD is a packages solution of red, green and blue light with the red and blue LEDs being discrete devices, but the green light coming from the HLD device. This device uses blue LEDs to illuminate a ceramic rod that has been infused with green phosphor material. This blue light activates the phosphors to emit light, which is channeled down the rod by total internal reflection and emitted out an aperture. The design is unique as it allows the etendue barrier of current all-LED designs to be broken and higher lumen projectors to be produced.
In the Hitachi booth, we first asked for an update on the ColorSpark projector, which was met with blank stares. Once I said HLD, they took me to the demo area. Unfortunately, there was no one in the Hitachi booth who knew much about the technology. They even tried to tell me the projector was based on 3LCD technology when it is a DLP platform.
Hitachi acknowledged that the launch has been delayed, but they now expect to commercialize the first projector, the LP-WU3500 in October 2016. This is a 3500 lumen model based upon a WUXGA DLP chip. No details on the performance were offered other than to say the color gamut was "wider than Rec. 709."
The projector was being demonstrated in bar room setting and a retail setting. Unfortunately, the demos were not very compelling. For the bar room demo, content looked as though it was 1080 interlaced and there was very poor deinterlacing as lines were very jaggie. Overall image quality was just average.

The retail demo was not much better. Here, they placed two projectors in portrait mode to illuminate a curved surface to create a unique sort of demo. The idea was good, but the implementation, not so much. The warping was not being done very well so the image was quite blurry and not impactful.
Following the Hitachi meeting, we had a chance to meet with Leo Schouten, Business Leader at Philips Digital Lighting, the group that has developed the HLD technology. This same group also manufactures the UHP lamps so we asked Schouten if he thought the advent of laser-phosphor and ColorSpark technology would hasten the decline of projector lamps. His short answer was no.
They do not see lamps going away any time soon and he thinks solid state penetration into the projector market will only reach the 50% mark in 4-5 years. If he is right, this is an indication of how slow the projector market is to embrace change. Consumer product adoption of new technology often goes much faster – especially if there is a clear benefit. On the other hand, these solid state solutions still carry a high premium over lamps, which will slow penetration.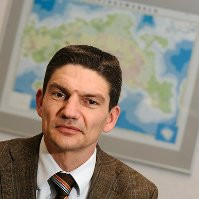 Turning back to HLD, Schouten said that major projector makers are putting the HLD technology on their roadmaps and Optoma and Hitachi should launch in Q4 with the first products. These companies are focused on products that use a WUXGA 1-chip DLP engine with 3500 or more lumens.
He also showed us a prototype of a new 3LCD-based projector from a Chinese company that uses a new yellow HLD optical component. This is dichroically separated into red and green components and combined with a blue LED to deliver the colored light to the three LCD imagers. The company is using a set of 0.64" WXGA LCD microdisplays in the prototype, but will switch to a 0.76" set of WUXGA panels for the final product, targeting 3000 lumens.
Schouten then showed some photographs of their Shanghai manufacturing line where they do the final assembly of the HLD optic and RGB light source, which is what ships to customers, plus the controller board. They are ramping production now and expect to go to mass production in September. Their Japanese customers have already signed off on this facility to go to mass production – a good sign.
But Philips is behind schedule with this mass production – 3-6 months apparently. This was caused by issues with the green HLD module. Schouten explained that their initial copper supplier could not meet the required tolerances, so they had to find another one. In addition, they experienced some delays in the lifetime testing. They need a 20K hour lifetime but this requires accelerated testing, so it seems the customer wanted this to run a bit longer than Philips was planning. In the meantime, they worked to streamline the manufacturing process by eliminating screws, components and other items.
Schouten says they have plenty of capacity in this facility and that it will not be hard to expand it if needed.
Meanwhile, Philips Lighting was just spun out of Royal Philips and is now listed on the Amsterdam stock exchange. And Royal Philips is selling Lumileds as it does not want to compete in the commodity part of the LED market. – CC