With Toshiba moving to Hall 12, TCL had more room at this year's show – its stand had been doubled in size, to 1,700m². With the size of the TVs the company was showing, that extra space was sorely needed!
At the centre of the stand was a curved 110″ UltraHD TV, with quantum dots from QD Vision. It was built by TCL subsidiary CSOT, and supports a peak brightness of 800 cd/m². Local dimming and 97% DCI-P3 coverage are built in, as is HDR technology, which TCL described as 'HDR10' (Dolby Vision or open HDR). HDMI and USB ports are built in.
The China Star TV is produced at CSOT's G8.5 factory, on a 'to-order' basis; it is too expensive to mass-produce! We heard that most sales have been to customers in the Middle East.
While the 110″ China Star has a 6,000R curve radius, TCL's new S88 TV has a deeper 4,000R curve. Available in 55″ and 65″ sizes, this UltraHD model uses quantum dots and is available now, for €1,500 and €2,350, respectively.
QD Vision's quantum dots were built into several other models displayed at IFA, such as the 55″ UA9806 (existing set, available now for €1,680); this set is said to cover 85% of Rec.2020. We also heard of the H9700, covering 'over 90%' of Rec.2020.
TCL showed off five colourful TV sets at IFA 2014, in the ColorTouch line. At this year's show, five new colours were shown in the 'ColorLine'. They are affordable 24″ and 32″ TVs, in blue, green, pink, yellow and orange, and will be launched shortly.
The flagship TV was the new A87, a Thomson-branded model. It is a curved TV that will be launched in October, for €1,260 (55″), €2,100 (65″) and €5,900 (78″). The set has UltraHD resolution and uses QD Vision's quantum dots, covering 96% of NTSC. A quad-core processor is integrated, as well as HEVC decoding.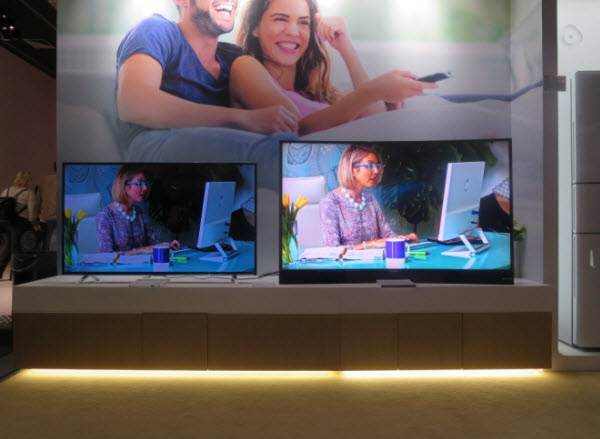 The Technicolor HDR demonstration used software-based processing to convert SDR content to HDR.As last year, TCL was showing Dolby Vision HDR – but, on the other side of the stand, was also demonstrating Technicolor's Intelligent Tone Mapping (ITM) implementation. SDR video content is analysed and converted to HDR in real-time, through software. ITM is one of the HDR optional specifications supported in the UltraHD Blu-ray specification.
Last year, I noticed that TCL's Dolby Vision demonstration seemed to use content with a noticeably lower frame rate on the SDR set. The same thing was going on this year, but this time on the Technicolor demo. Perhaps, as I thought in 2014, it's a 'glitch' in my perception – but other HDR demos haven't affected me this way!
The final TV product on show was a concept called the Transformer Kit. Much like Samsung's Evolution Kit or Haier's modular TV, this set would be able to accept add-in modules to upgrade its capabilities. TCL mentioned a customised operating system, functions and apps, depending on the module loaded. Rather than upgrading to the latest and greatest technology, the concept appeared to be focused on customising a TV to suit the user's preference; there were modules focused on gaming, music and films.
At the rear of the stand was the Lotus 5.5, a 5.5″ smartphone with 1280 x 720 resolution and an IPS panel. The phone also uses Android 5.1, running on an octa-core Qualcomm processor. It has 16GB of storage and 2GB of RAM, and was launched in China earlier this year.
All prices are ex VAT.