JVC Kenwood does not normally have new display products at IFA, instead focusing on audio, so we were pleasantly surprised to find enough interesting topics to take an hour of our time!
The flagship – or at least the product bringing the most people to the stand – was a McLaren sports car, which JVC-K had re-engineered as 'the car of the future'. Several of the innovations, such as replacing mirrors with cameras, are not yet road-legal in Europe.
No mirrors were found either inside or outside the car; instead, there are eight cameras, constantly gathering information; seven of these have 1920 x 1080 resolution.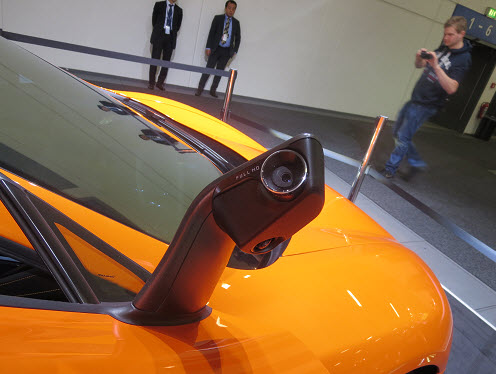 Each wing 'mirror' had two cameras: one pointing backwards, to 'see' traffic behind the car, and one pointing down to capture a 360° view; this could be used while parking. There were also two cameras at the front (one normal and one IR, to detect people and animals during night driving) and two at the rear of the car: one pointing downwards (again, for parking-assistance), and one backwards.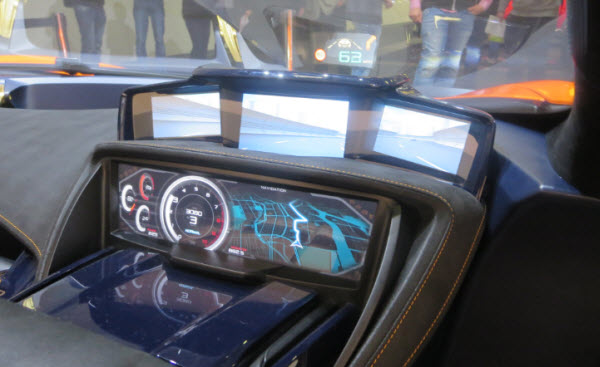 Inside, the dashboard was formed of a single large LCD display; the layout of this changed automatically, depending on the environment. For example, the speedometer and fuel gauge are at the forefront during city driving, but track driving shrinks the speedometer and enlarges the rev counter.
The second screen, in portrait-orientation, was located above the gear stick. This is the central console, with infotainment options, air conditioning and other in-car functions. It is also used to control the HUD – another LCD screen.
Hidden in the dashboard above the steering wheel, the HUD reflects imagery directly onto the windscreen. A reflective film on the glass bounces the light back and into the eyes of the driver. Unlike some contemporary HUDs, there were no 'sweet spots' – it could still be seen while leaning left or right. To combat direct sunlight, brightness is rated at 10,000 cd/m²!
The final three screens were directly above the dashboard. These show views from the wing and rearview cameras.