TCL is expanding its tablet portfolio at MWC 2023 with the TCL Nxtpaper 11, TCL Tab 11 and upgraded TCL Nxtpaper technology.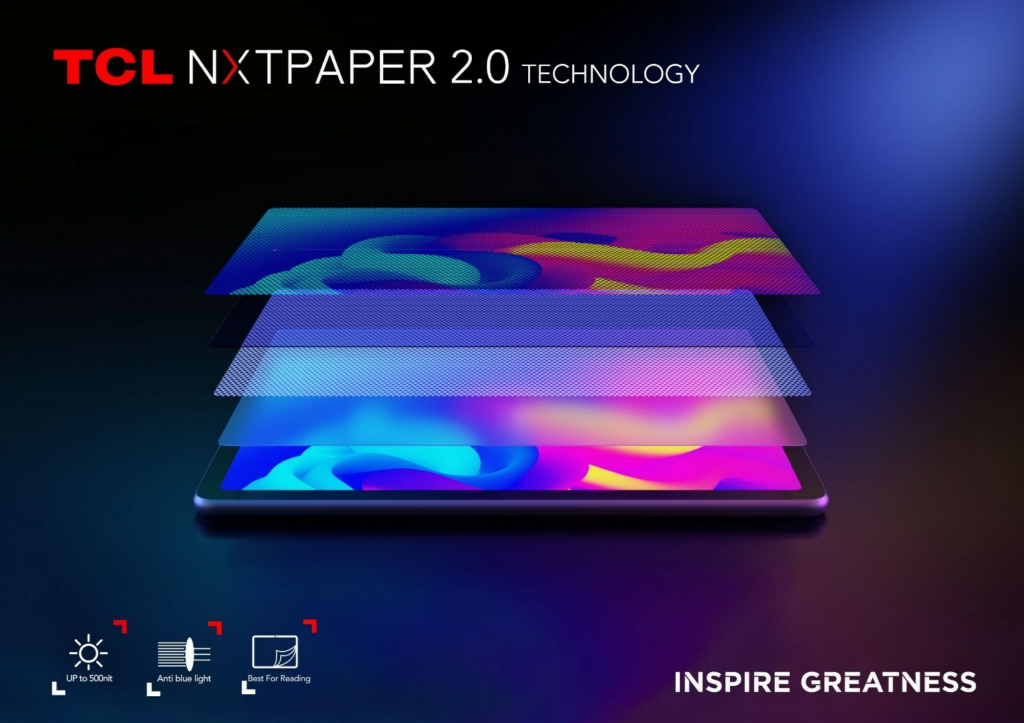 As average daily screen time increases, TCL developed Nxtpaper in 2021 to ensure users could work and enjoy entertainment without compromising eye health. Thanks to software and hardware breakthroughs, TCL Nxtpaper 2.0 is up to 150% brighter than the original. Dazzling with up to 500 nits, users can enjoy crystal clear screens even under the brightest sunshine, making relaxing outside with the latest movie a pleasure. This brightness is achieved, exceeding TÜV levels of blue light reduction, all while maintaining life-like color and deep contrast in the images on its displays.
TCL Nxtpaper 2.0 means TCL Nxtpaper devices are now even easier to use in bright light thanks to anti-glare display technology by incorporating multi-layer screen protection – diffusing light rather than altering it. Plus, the integrated light sensor automatically adjusts color temperature, further protecting eyes over prolonged use.
TCL Nxtpaper 11
Benefited from Nxtpaper 2.0, TCL Nxtpaper 11 offers a comfortable viewing experience in any condition or angle. Even whilst looking at it from the side. Its 11-inch 2K display delivers top quality visuals, further improved by AI Boost for a crisp, immersive entertainment experiences.
Including a host of productivity features, TCL Nxtpaper 11 helps balance work and play. Host video calls with the 8MP front wide-angle camera and hear clearly with quad speakers and dual microphones. TCL's simple UI makes multi-tasking easy – just use Split Screen or the Floating Window feature to get that dual screen feel in a tablet package.
For those who prefer hardbacks and notebooks to e-readers and typing, TCL Nxtpaper 11 is sure to please. The nano-chemical material display coating and low latency T-pen stylus (optional) with 4096-level pressure sensitivity offers a realistic and smooth feel like paper and pen when taking notes or drawing. Paired with TCL Nxtpaper's reading mode that mimics the grayscale effect of a paper book, TCL Nxtpaper 11 is perfect for traditionalists and tech-enthusiasts alike.
All of this is supported by a massive 8000 mAh battery, giving you confidence to power your productivity or kick back for longer. And if your other devices can't keep up, TCL Nxtpaper 11's reverse charging means none of your tech will run out of juice when you need it most.
TCL Tab 11 
Be it taking a well-earned study break or kicking back after a busy day at work, enjoy entertainment on TCL Tab 11's clear 11-inch 5:3 2K display. TCL Tab 11 delivers a theater-like experience with sharper detail and richer color, all at the even lower price than TCL Tab 10s. Thanks to its 85% screen-to-body ratio and TCL Nxtvision technology, TCL Tab 11 delivers beautiful picture quality with blue light reduction to protect eye health.
Powered by 4GB RAM and supported by up to 128GB storage optimized for performance, the TCL Tab 11 keeps up with your creativity. Create art with the responsive, low-latency T-pen stylus (optional) that boasts 4,096 sensitivity levels to help bring your designs to life. The mighty 8000 mAh battery means that when inspiration hits, you can focus without being interrupted to charge, and as a bonus provides a reverse charge to other devices.
TCL Tab 11 is available in LTE and Wi-Fi versions, offering options for those who need to connect anywhere, anytime and those who prefer to enjoy their entertainment from the comfort of their own home.
Price and Availability
TCL Nxtpaper 11: from $249, starting from Europe in May 2023, coming to select regions
TCL Tab 11: from $179 available from May 2023, LTE version available from $209