CES always introduces interesting new display innovation and technology from big and small companies alike. TCL and it's display subsidiary, CSOT, have both emerged as one of the more interesting innovators in the last few years. They used this year's virtual CES to announce several new breakthroughs including rollable OLEDs and ultra-thin miniLED TVs.
Let's start with the miniLED technology. As most of you know, miniLEDs backlights shrink the size of the LEDs and increase the number of LEDs from dozens or hundreds to tens of thousands. This allows for an increase in the number of dimming zones from dozens or hundreds to thousands – but not at the individual miniLED level.
The emission cone of the LEDs, diffusers and other optical layers are designed to create uniform illumination yet afford fine-area control to try to minimize halos around bright objects. According to TCL, the distance between the LEDs and the diffuser plate is typically in the range of 10-25mm in order to have good mixing and uniform illumination. At CES, TCL introduced their OD Zero miniLED technology which shrinks this distance to 0mm. This creates a very thin display that "effectively controls the range of astigmatism, improves the contrast and minimizes optical halo effect."
TCL showed this solution at CES 2020 buried deep in their booth as a prototype 100" 8K display with 4000 cd/m² (nits). In an email update from the company, we learned that this third generation miniLED technology will be offered on the company's 85" 8K flagship QD TV. It features 2000 dimming zones and 1800 nits of peak luminance and 12-bit LED drivers. TCL said that as the distance between the miniLEDs and QDEF/diffuser sheets shrinks, more LEDs are needed. A very high number of miniLEDs is needed for the OD Zero 8K display, noted TCL. Thermal management is also very important as the QDEF sheet is very temperature sensitive, said TCL.
Reducing the gap should also help reduce color mixing between pixels improving color gamut and contrast as well as reducing thickness. TCL has not revealed many details on how they achieve this, but they did say they have a new "lens design" suggesting this is how they control the light from the miniLEDs.
Its second generation Vidrian miniLED backlight introduced last year featured an active-matrix backplane with Oxide transistors and 120 fps capability. First generation miniLED TVs use a passive matrix PCB design. These will apparently continue to be offered for 4K and 8K TVs, we believe. TCL announced that its popular Series 6 line of TVs will go all-8K in 2021, suggesting pricing will come down significantly in the coming year.
Flexible OLEDs
The second key development area is flexible OLED displays. At CES 2021, TCL showed two devices: a 17-inch printed OLED scrolling display and 6.7-inch AMOLED rollable display. The flexible 17-inch printed OLED scrolling display, at just 0.18mm thick, is an example of a larger-scale flexible display technology. This device was actually revealed last October at the DTC 2020 event but did not get the exposure that CES will garner. The phone display is new, however. No specifications were revealed but TCL has stated that it plans mass production for the 2023/2024 timeframe.
CSOT has been very public with its ink-jet printed OLED activity recently. A year ago, Japan-based JOLED announced it had completed development of a Gen 5.5 printed OLED technology development effort and was ready to engage with customers on commercialization. Last June, TCL CSOT and JOLED announced an alliance that would bring printed OLED technology developed by JOLED to CSOT specifically to focus on TV-sized applications. The intent was to modify a Panasonic IJP machine to accommodate the larger glass sizes of a Gen 8.5 facility, which is better suited for TV panels.
According the Barry Young of the OLED Association, JOLED has started to use a stripe RGB OLED printing architecture and color filters to overcome some of the material inefficiencies of soluble OLED materials. But the 17" device has apparently removed the color filters.
IJP OLED should be less expensive than fine metal mask processing due to better material utilization and fewer manufacturing steps. TCL CSOT claims the saving will be 20% in their press release. Part of this claim may include the removal of the color filter. What is unknown is whether the materials have improved to the point where a color filter is not needed or if it is being removed for cost or flexibility reasons. TCL claims the IJP technology can achieve "100% color gamut" (clarified by the company to mean 100% DCI-P3), so maybe the materials are improved.
The smartphone rollable AMOLED display that was also revealed can be "extended from 6.7-inches to 7.8-inches with a tap of the finger, turning it from a smartphone into a tablet" (not really – just a slightly bigger phone). Importantly, the smartphone is less than 10mm thick, making it significantly thinner than the foldable smartphone options out there. The curling and sliding radius of the flexible screen can be as small as R3mm, combined with the special sliding mechanism design. TCL claims the sliding life of the device is up to 100,000 times. LG showed a similar device in their press conference.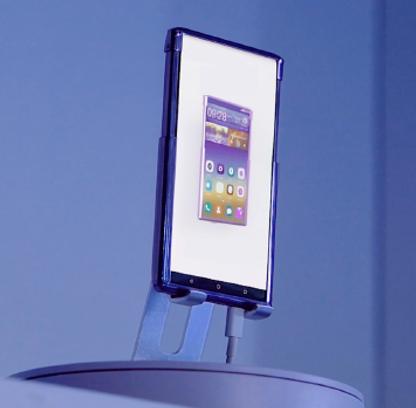 The final innovation I want to highlight is a transflective display technology that will apparently be commercialized as an Android tablet. Called NxtPaper display, this is an LCD display that is an alternative to a color E Ink display.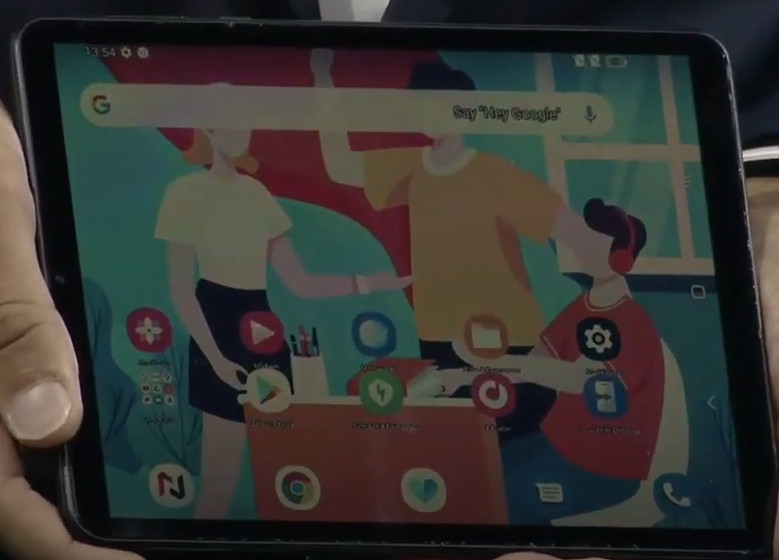 Announced last September at IFA, it offers "a paper-like visual experience with no flicker or harmful blue light." The tablet has an 8.88" display with 1440×1080 resolution and uses a MediaTek MT8768 processor. It provides 25 percent higher contrast than most e-ink tablets and is also more than 65 percent more power efficient than standard LCD screens, providing better battery life and efficiency. It also provides for smoother video playback, ensuring optimized entertainment for learning, work and leisure activities.
Transflective displays have typically offered very poor color performance. TCL has provided no information on the color capabilities but the image of the display from its IFA debut shows very muted colors with ambient contrast that is well below a traditional LCD display.
The TCL NxtPaper Android tablet will retail for €349 when it launches in April. While a 10.1" traditional LCD version will be offered for €199. Is the trade-off in visual performance and higher cost worth the additional battery life? We will see. (CC)
The original version of this article included some technical detail on miniLED that was given to the author by mistake. (BR)