Counterpoint took a look at the state of the smartphone market in Southeast Asia in the first quarter of 2023. Despite the overall drop in smartphone shipments by 13% YoY in five key countries (Indonesia, Thailand, Philippines, Vietnam, and Malaysia), there are interesting trends and developments that are shaping the market dynamics.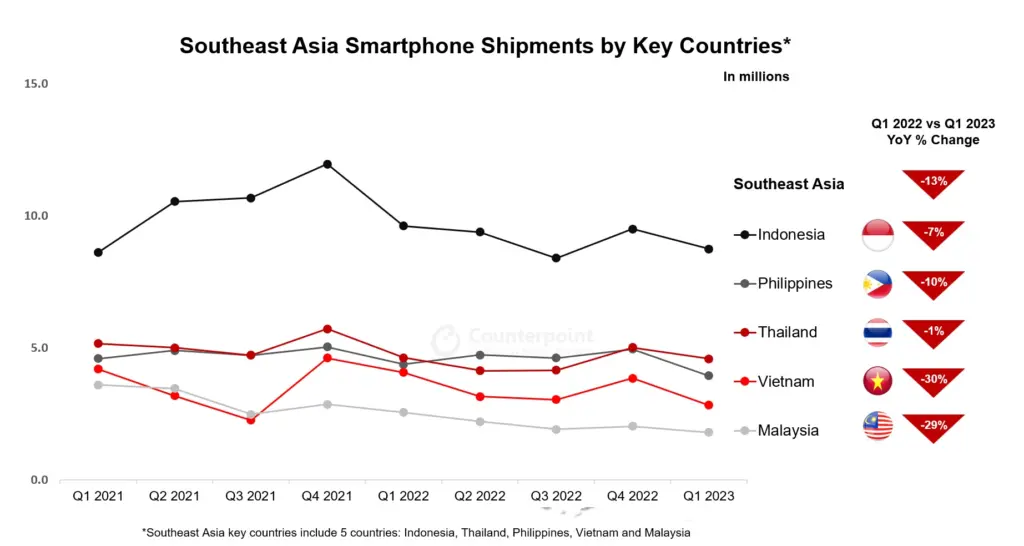 It's apparent that different countries experienced varying degrees of decline. Vietnam, for instance, had a considerable shipment in Q4'22, which necessitated a reduction in volumes in Q1 2023. The market there hasn't completely recovered, with factors such as a 10% fall in Samsung's production, seasonally low smartphone demand after Q4'22, and reduced revenues for OEMs and operators, contributing to the decline. Contrastingly, Indonesia and Thailand performed relatively better as demand started to improve in March 2023.
The report also suggests that the smartphone market in the region is still grappling with the geopolitical effects of the previous year and the persistent impact of inflation. For example, the Philippines suffered high inflation at the start of the year. Nevertheless, the industry is showing signs of resilience with ongoing 5G development and partnerships with tech companies. Moreover, foreign investments are flowing into big economies like Indonesia and Malaysia, contributing to market recovery.
In terms of brand performance, Apple's iPhone is growing in popularity in Vietnam and Indonesia, with iPhone shipments growing by 18% YoY in Q1'23. Meanwhile, Infinix, despite not matching the volumes of top brands, managed to grow by 41% in Q1'23, leveraging its position as the official smartphone partner for Mobile Legends professional league in the Philippines and positioning itself as a gaming brand.
The report highlights the disparity in consumer behavior across different price ranges. Both the low-end (<$200) and premium-end (>$600) smartphones witnessed a 4% YoY growth despite an overall decline in volumes. However, the mid-to-high-end ($201-$600) segment suffered the most across the region.
The progress towards 5G commercialization in countries like Vietnam and Malaysia could potentially stimulate consumer demand and facilitate a new level of manufacturing. Furthermore, an increase in tourism in Southeast Asian countries earlier in the year could boost business and revenue, leading to an improvement in consumer sentiment in the coming quarters.