Sony used CES to showcase two new prototypes – the next versions of the devices we reported on from IFA. The SmartEyeglass device is a dual ocular eyeglasses type device for AR applications while the Attach is a monocular AR module that, as the name suggests, attaches to a pair of eyeglasses.  Both require a smartphone or tablet to access content, with interaction via a wired control device.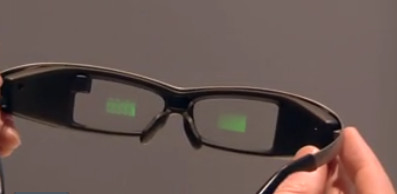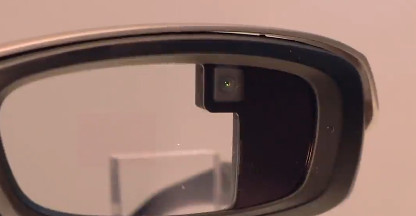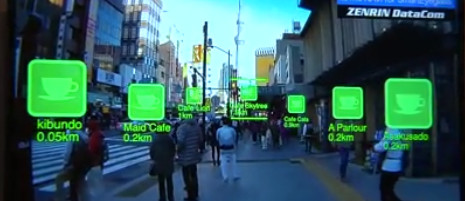 The SmartEyeglass prototype being demoed at CES 2015 was the Developer Edition, which is designed for developers to enable them to create apps that work with the device. It will become available in March
The styling is a cross between a visor and goggles and they seem a bit clunky.  A monochrome green 8-bit image appears in the center of each lens.  This may be an OLED transparent display with some sort of optic to create a virtual image or more likely, a waveguided image.  Sony was not able to provide any details other than the resolution (419 x 138), FOV (19×6 degrees), brightness (1000 nits) and frame rate (15 fps via WLAN or 10 fps via Bluetooth).
The device needs a tethered smartphone or tablet for content access, but it does include sensors like an accelerometer, gyroscope, compass, brightness sensor and a microphone.  There is also a camera that can capture 3 megapixel still images or video at QVGA resolution and 15 fps.
As a result, the SmartEyeglass seems better aimed at rudimentary task augmentation with simple icons and text being visually displayed.  For example, the company showed a navigation application that located the nearest restaurants from your location which allowed you to look in any direction and see what was available.  They also showed an AR Shooting Game, a speech translation app and a navigation app that uses facial recognition.
There is also a wired round controller that has a touch sensor for navigation, taking photos, controlling the microphone and power.
Sony also showed the SmartEyeglass Attach, which is a monocular device designed to be attached to ordinary eyeglasses.  Details of this were profiled in a December article.  As shown in the schematic below, the control board is on one side of the eyeglasses while the battery is on the other side.  The display is a color OLED microdisplay that is injected into a waveguide that extends in front of the eyeglasses lens.  It features a newly developed OLED panel that increases the fill factor from 55% to 96% – a huge increase that will create a nice smooth image.  Resolution is a decent 640 x 400 pixels.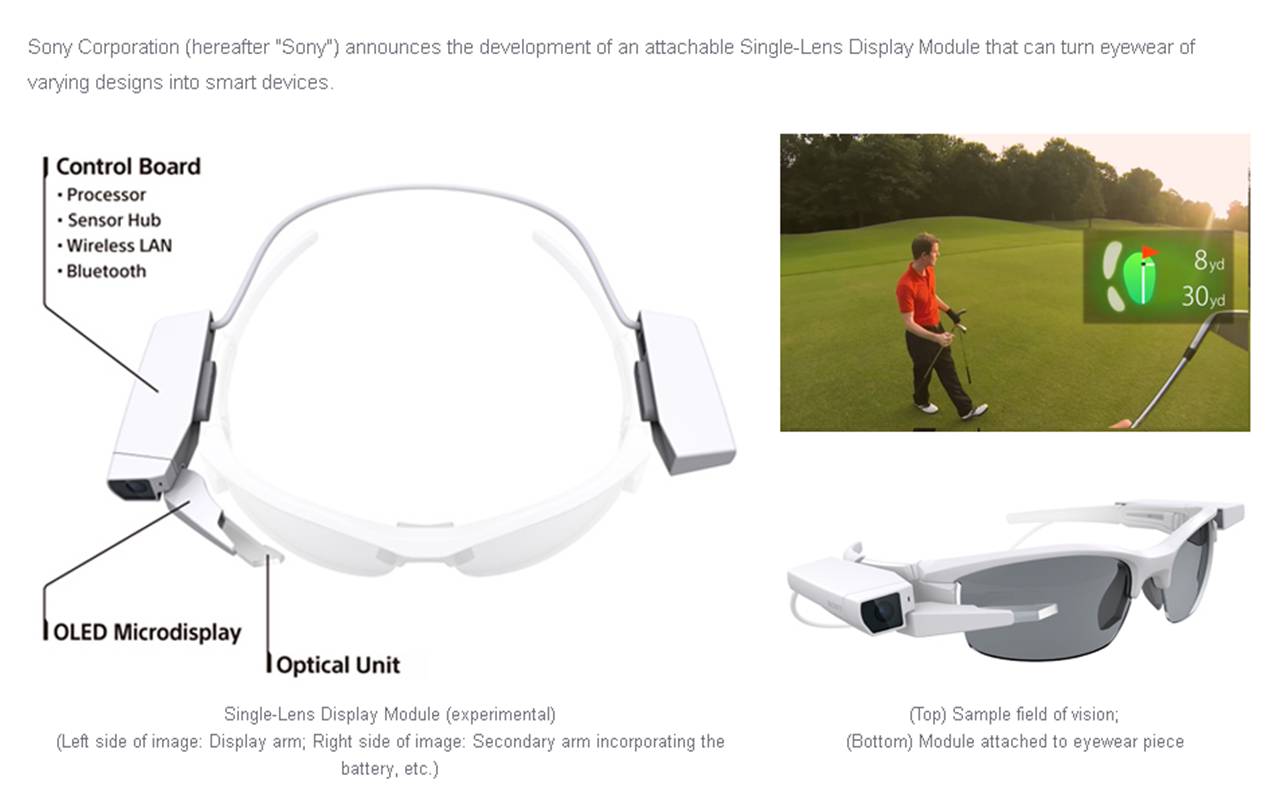 Sony may be aiming this for the sports and fitness market, but we will have to wait to learn more about pricing and target markets.  But like the integrated SmartEyeglass product, you need a smartphone or tablet for content access and control.
---