Osterhout Design Group (ODG) has primarily focused on developing dual optics augmented reality headsets for defense and commercial use. At CES 2015, the company introduced a new design that it plans to offer to consumers. This will retail for around $1K, a lot lower than the $5K price tag of the commercial version.
Six years ago, ODG developed its first pair of "smartglasses" and is now on the sixth revision of the technology. This is a standalone product that is essentially a fully functional tablet in a headset with dual optics for commercial augmented reality applications. The company claims to have solved bandwidth and latency issues to make this a very powerful and functional product.

Called the R6S, it uses a Qualcomm 2.6 GHz Snapdragon 805 SoC (same as in Samsung Note 4) with application development supported by Qualcomm's Vuforia Mobile Vision Platform. The OS is Android 4.4.3. The display module is based upon 720p LCOS panels that can run at up to 100 fps and use a transparent lens for the AR applications (a cover is available for VR applications). The field of view is a modest 30 degrees – the equivalent of a 55" 3D screen at 8 feet, but that is sufficient for most AR applications. A 720p camera is also built in.
Positional tracking is done using an acceleromoter, magnetometer and gyroscope to offer 9 axes of positional determination. There is Wi-Fi, Bluetooth, GPS and even an altitude sensor (barometric pressure sensor) built in to offer elevation accuracy to 12 inches (30cm). That's handy when trying to determine what floor level a user is on (e.g. in a fire or emergency situation).
Interaction with the device is facilitated via a track pad on the side of the glasses or a wireless ring controller. There are three microphones including a noise canceling one for voice commands. The camera is also being used to develop gesture commands.
ODG says it has customers in logistics, oil and gas and in the developer community. One of the pilot programs it is running now with an oil and gas company is a pipeline inspection program. The technician has a checklist of items to check and in case of trouble, he can dial in a remote expert who can see what the technician can see to help diagnose and fix the problem.
But the big news from CES was the company's plans to offer a consumer version of the headset. With a glasses style that is supposed to look like "Wayfarers", the dual optic headset uses the same hardware platform but changes the optical configuration. The result is a headset that the company says is 30% smaller, 20% lighter (at 125 grams) and offers 80% transparency with the new optical elements in front of the eye. It also offers a bigger eyebox, but has eliminated the IPD adjustment.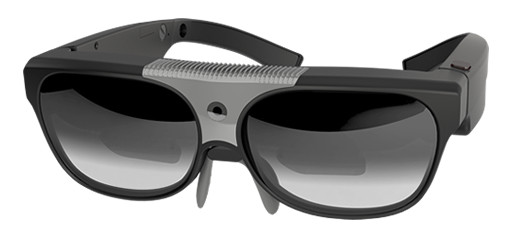 ODG Consumer AR Glasses
ODG did not disclose any details about the new optical module, but it may indeed offer less resolution. Most importantly, the price will be under $1,000 when it reaches market by the end of 2015 (much less than the R6S that sells for close to $5K).
ODG is creating its own custom turn-by-turn navigation app as well as its own app store, and is releasing an SDK for developers to do their thing.
So far, the company says it has spent 6 years and $60 million developing the glasses. Intriguingly, Microsoft bought the patents for $150 million. ODG's founder, Ralph Osterhout, was the designer of the PVS7 Night Vision Goggles and head-up displays in scuba masks.