Sony has announced a new series of premium LCD TVs known as XBR-Z: these are positioned above the company's current flagship models in the X series, such as the X930D. The focus for these sets is on reproducing UltraHD and HDR content. Mike Fasulo, president and COO of Sony Electronics in the US, called the Z series, "Our best and brightest HDR Ultra HD television".
Each of the Z series TVs uses Sony's Backlight Master Drive technology: the company's own take on local dimming, which was previewed at CES (Sony Hopes to Challenge OLED). Sony says that the BMD enhances contrast and brightness using a calibrated beam LED and a new lighting algorithm. Each LED in the backlight can be controlled individually, and the beam LED (which controls the emitted light into a spot rather than spreading it) reduces light diffusion and the 'flare' effect.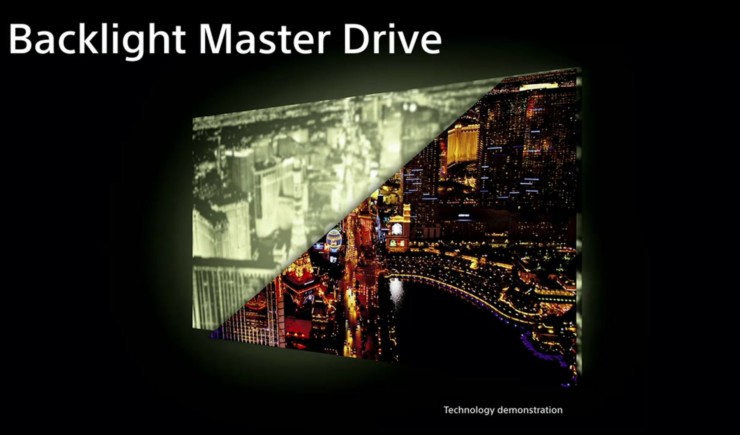 We spoke to a Sony product manager about the development. He said, "Backlight Master Drive combines an ultra-dense LED structure, discrete LED control and a new optical design for LED. Conventional full array LED TVs control their LEDs in 'zones'… Discrete LED control in [our] Backlight Master Drive means [that] each LED is controlled independently, which means much more accuracy and precision for contrast."
We also asked about the level of light in the black areas of the screen, although Sony would not share this information. The product manager confirmed that Sony is still not interested in following the UHD Alliance's UltraHD Premium certification.
As well as the BMD, the Z series uses Sony's X1 Extreme processor: this is more powerful than the X1 processor, incorporating three new technologies: object-based HDR remaster, dual database processing and Super Bit Mapping 4K HDR.
Object-based HDR remaster analyses each object in a scene and corrects its colour and contrast individually. It is also used to upscale content from HD to 'near 4k HDR quality', and reduce noise. The noise reduction database and upscaling database are the 'dual database processing' feature.
Super Bit Mapping features 14-bit signal processing. It breaks up the solid bands of 8- or 10-bit colour in a source, up-converting them to 14-bit equivalent gradation.
The first TV in the Z series will be the Z9D (64.5″ XBR65Z9D, 74.5″ XBR75Z9D and 99.5″ XBR100Z9D). This runs Android TV with Sony's own UI, and incorporates Google Play and a voice search. Like Sony's other HDR TVs, it uses the HDR10 standard.
Sony will launch the 64.5″ and 74.5″ sets this summer. They can be pre-ordered today, for $7,000 and $10,000, respectively. Details of the 99.5″ model will be announced later this year.