At the Sony press conference, President and CEO Kenichiro Yoshida said Sony is focused on three main areas: electronics (to capture, record, watch and listen), entertainment (music, movies, anime, TV and games), and financial services (insurance and banking mostly in Japan). For the first two, their operating mantra is to "get closer to creators and users."

Sr. EVP Ichiro Takagi noted how they want to focus their electronics initiatives on doing things in real time. He highlighted the new Alpha 9 camera along with their new 8K camcorder that can capture at 120 fps in HLG HDR. He then mentioned the new Master Series AF9 and ZF9 TVs and the Netflix calibration mode. He highlighted the X1 Extreme processor and the wide viewing angle in a ZF9. These will be available in Europe in September.
Misuya Kishida, president Sony Mobile Communications, sees 5G as offering a better experience in the mobile space. He highlighted the OLED panels in their phone that have HDR support and their X-Reality engine for mobile along with their Triluminos color capability. The Xperia XZ3 is the newest phone with these features. It is also introducing the Aibo robot dog to Europe.
TV On the show floor
In TVs, there was nothing new – Sony was highlighting its just-released Master Series TVs (see details here: Sony Seeks Kando with New Master Series TVs).
Sony showed very similar demos as at the New York launch as well highlighting the X1 Ultimate processor and showing how it improved the contrast, crispness and color performance of images in side-by-side comparisons.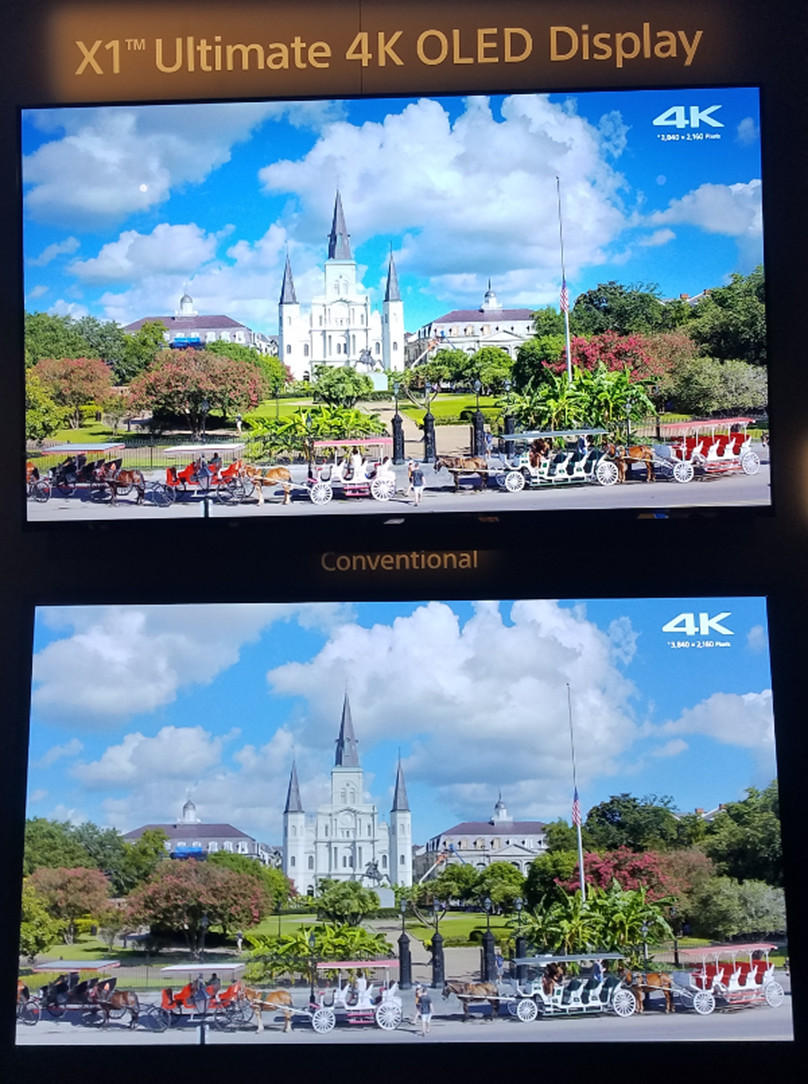 Sony did release pricing for Europe which will be €2,999/£2,999 for the 55″ and €3,999/£3,999 for the 65″ AF9 OLED. The ZF9 LCD will cost £3,799 in the UK and €2,999 in the rest of Europe for the 65″. The 75″ is £4,999/€4,999.
In other news, Sony said it was bringing Amazon Alexa support to its soundbars and wireless headsets. The HT-ZF9 sound bar can be upgraded via and firmware update, for example, and can be used to control all Alexa-enable devices in the home. The headphones upgrade is possible due to Amazon's new mobile accessory kit. – CC
Home Cinema Updates
We also got a chance to look at three new SXRD home cinema projectors that were being shown in a private meeting room. The company is reducing the range of its high end home cinema projectors from four to three. They all support true 4K DCI resolution (4096 x 2160) and are:
VPL-VW870ES (Laser/phosphor) which has a new 'All range crisp focus' ARC-F lens that uses 18 glass pieces for very good corner performance. Output is 2,200 Ansi lumens and pricing is around €25,000 when it is released in November.
VPL-VW570ES (lamp-based) which replaces the previous 360 and 550. It has picture position memory and has an Advanced Iris for contrast optimisation, outputs 1,800 Ansi lumens and will cost around €8,000 from October
VPL-VW270ES (lamp-based) has a simpler static iris, produces 1,500 Ansi lumens and will cost around €5,000 and has a low input lag mode for gaming. It will arrive in October.

The lenses vary between the different projectors. Image:Meko
There is a new processing board that was taken from the VW760 projector and uses Sony's Digital Reality Creation (DRC) algorithm to highlight detail. It is used on all three models and the company showed us the image with and without the DRC and the effect was very clear (pun intended!). The processing is varied to take account of lens shift and the engine has a dual contrast feature. The corners of the VW870ES were also very crisp, although there was some very slight loss of sharpness, still from the centre. Nevertheless, the image quality was very impressive, of course.
The lens on the two lower cost versions has 2.06:1 zoom range and a wide range of shift. The VPL-VW870ES has two lenses, a 1.27 to 2.73:1 xoom or a 0.8: to 1.02:1 optional unit.

Then three new Sony SXRD home cinema projectors. Image:Meko
Booth Tour
The Xperia XZ3 is a new smartphone from Sony, and the first to have an OLED display, a 6″ unit with 1440 x 2880 resolution with Gorilla Glass 5 and Sony got Strategy Analytics to perform a blind test of the phone to see what users thought of the unit. 70% of the 202 consumers rated the Sony XZ3 as the best display (they were all set to maximum brightness and were shown video and images). Consumers rated each phone for brightness & clarity, accuracy to true life of colours, contrast, sharpness and definition as well as 'vibrancy'. The full results are here.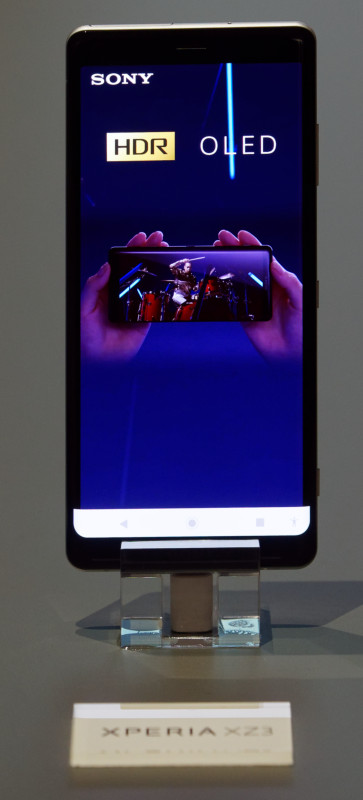 The XZ2 looked good. Image:Meko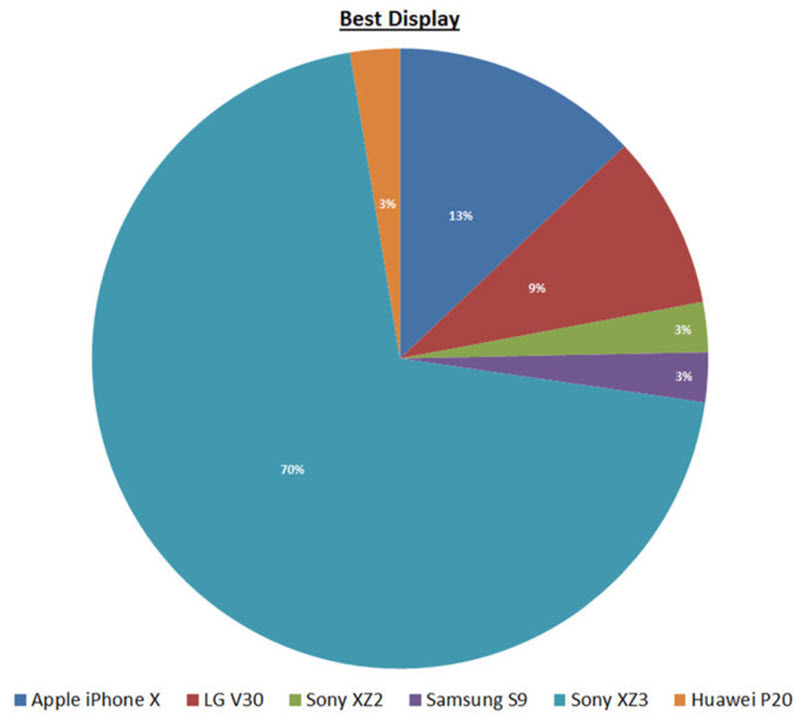 Consumers tested by Strategy Analytics liked the XZ3 display
The phone is built around the Snapdragon 845 with 4GB of RAM (or 6GB in Taiwan) and 64GB of storage and running Android 9. The camera is a 19MP single camera while the selfie phone is a 13MP version. Features include HDR support and the Sony X-Reality engine. It has a 3,300 mAh battery and Qi Wireless charging is supported.
The video capture can be done at ISO 12,800 – said to be the highest sensitivity in a smartphone.
The connector is a USB Type-C device and supports USB host functions. The XZ3 is expected to cost around €800 and will be available later this month.
The FES Watch U is a watch that has an E Ink strap so that unique patterns can be displayed, as well as a main E Ink display. There is a version with (€800) and without (€600) the E Ink strap.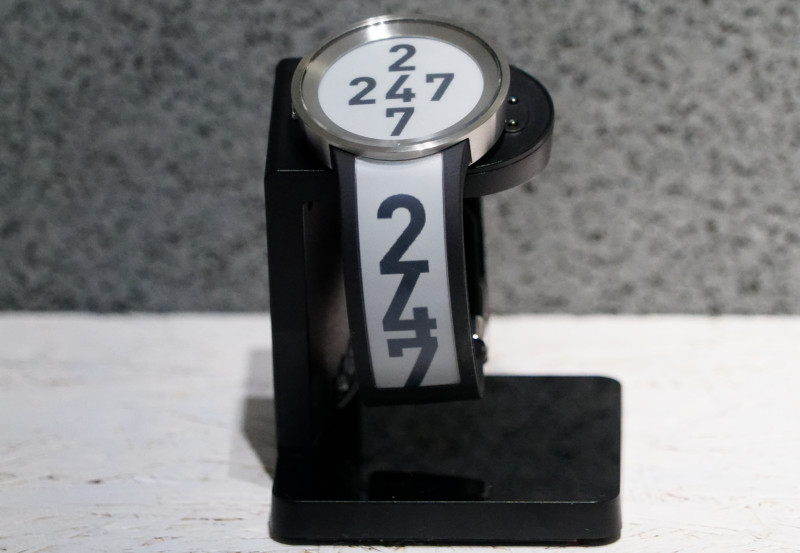 The FES Watch U has an E Ink strap as well as the face. Image:Meko
Sony was also showing a prototype sneaker that had an E Ink display for customisation.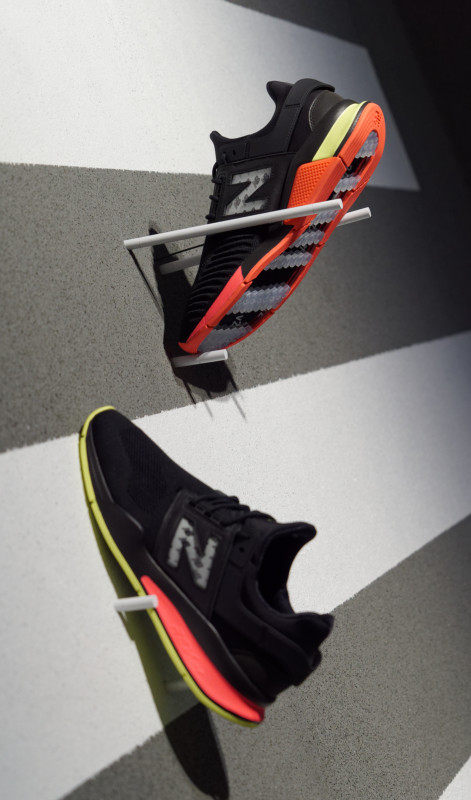 This sneaker has an integrated E Ink display. Image:Meko