Sharp held a press conference at IFA and we attended. Clearly, one of the highlights was the introduction of Generation 2 8K displays. (the first generation barely shipped in Europe, despite a lot of hype at last year's IFA – Man. Ed.)
The press event started with a business overview. With Foxconn's support, Sharp appears to be a brand on the comeback. Sales increased from 2016 to 2017 and are projected to increase again in 2018. While the share of Japanese sales is declining, exports are more than making up for this loss.
In 8K, they were the first to launch a globally-distributed 8K 70" product in 2017. A tuner-less version went on sale in Europe last July. A Generation 2 version is set to launch in 2018 in 60", 70" and 80" screen sizes with plans enhance the 8K ecosystem in 2019, including expanded distribution.
Citing data from GfK, Sharp noted that sales of TVs 50" and above were up in the first six months of 2018 vs. 2017, but were all lower for the smaller screen sizes. This implies that consumers want and are buying bigger screens, which will help with 8K adoption. Plus, that is where all the profit is, too. Details of the 8K product line are shown below.
The flagship 80" model, and maybe the others, will also offer up to 4K cd/m² of brightness. The picture processor not only will scale 2K or 4K to 8K, but will increase the frame rate of native content to 100/120 frames per second. That's a lot of processing. There did not appear to be any demonstrations of this scaling in the booth, unlike the Samsung booth.
Sharp also focused on the 8K camcorder they have developed that can capture, record, playback and provide a line out all in one device. This is a three-chip broadcast type camera that is available now. In development is the ability to broadcast this content over a 5G network.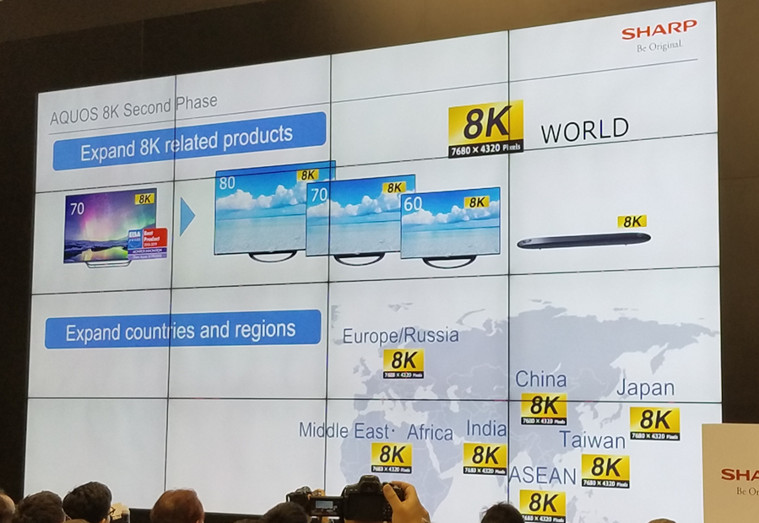 Some additional details on the three major implementations of 5G was next. Not only will this network be useful for 8K broadcasts, but it can support many other 8K markets like medical, infrastructure, security, etc.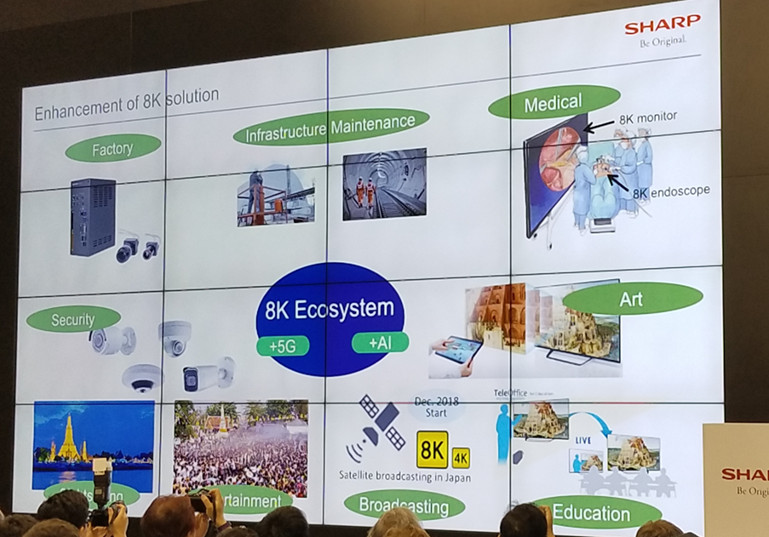 Sharp also announced an 8K soundbar. I thought that was a silly name until I realized what they are doing. Since the Japanese Super Hi Vision 8K system (now called 8KBS) uses a 22.2 channel immersive sound solution, the sound bar is designed to accept this input, 2.0 or 5.1 inputs and create a 3.1 2 channel audio output that is Dolby Atmos compatible. There was no additional product info available on this so it appears to be in the early stages of development.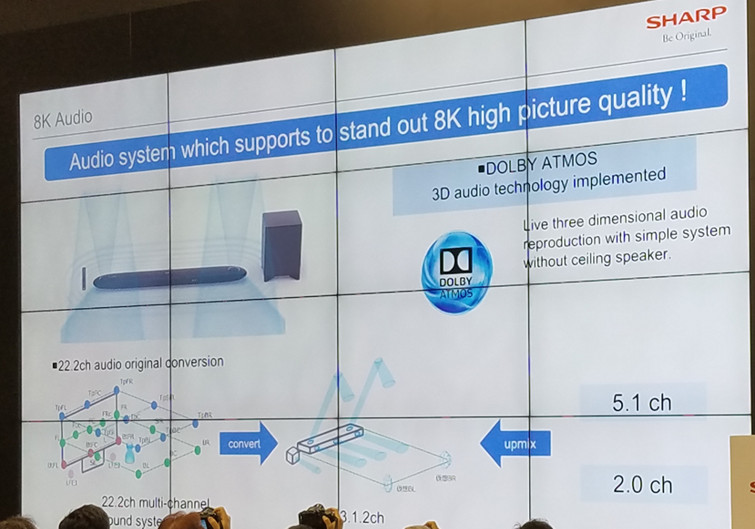 This may the first design effort between Sharp and renowned Italian designer company Pininfarina (luxury/performance cars, buildings, lifestyle products, etc.). But other audio and TV products are also in the works. There was much talk about the design effort, but very few details on products except for a couple of speaker solutions (3.1 Atmos sound bar for a low 359 Euro and 5.1.2 Atmos sound bar for €559). The slide below suggests the range of products in development that should be available in 2019.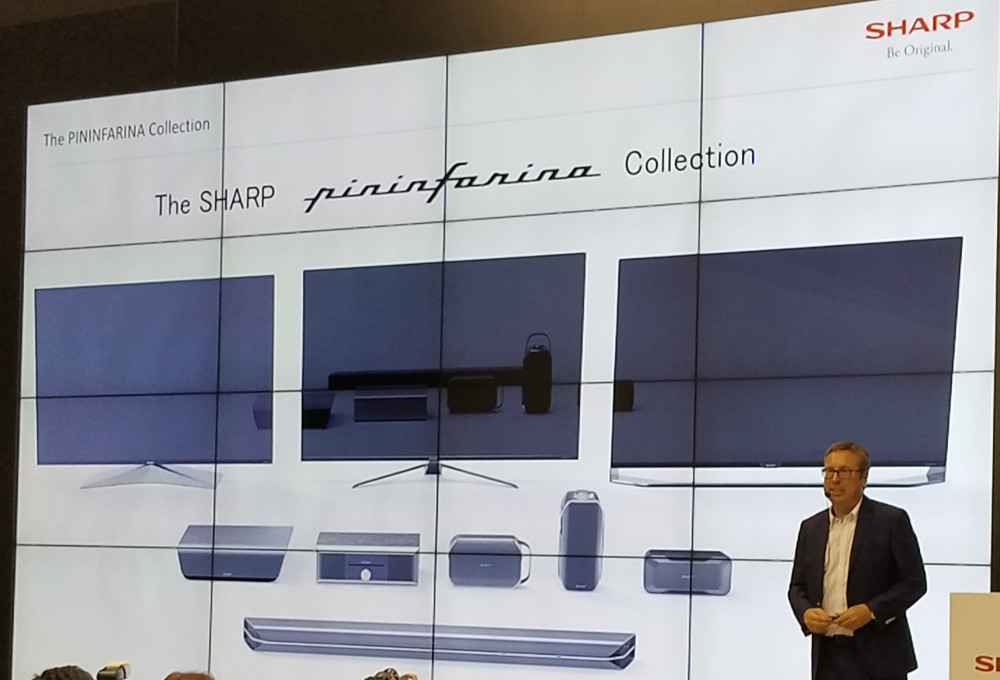 In 4K TVs, Sharp announced two additional series to its Aquos line at 60" and 70". These are smart TVs with SD card readers and 2.1 Harman-Kardon sound solutions. The direct-type LC-60UI7652 and LC-70UI7652 will be offered for 899 and 1,499 Euros while the edge-type LC-60UI9362 and LC-70UI9632 will go for 1,099 and 1,799 Euros. They should be available in October.
Shifting gears to mobile, Sharp noted their core competencies in this space: IGZO backplane technology; camera technology and what they called AIoT to represent "people-oriented innovative user experiences." As a result, they are using IFA to relaunch their mobile phones (B10, Aquos C10 and Aquos D10) to the European market at very reasonable prices.
The Aquos D10 phone for example, features a 5.99" display, 550 cd/m², FHD+ resolution, 3D glass finish, face unlock, dual cameras (video and photo) and optical zoom. With a 91% screen-to-body ratio, Sharp sees this product as representative of the Free Form Display (Freedom in 2D with round corners and notch design). The recommended price: only €399.
Soon, Sharp plans to offer phones with "truly flexible" OLED display technology. This means a Free Form Evolution: Freedom in 3D with full curved surface design.
The Aquos C10 will have a screen-to-body ratio of 87.5%, dual lens camera, FHD+ display and face unlock for the low price of 299 Euro. The B10 has an HD+ display and 13 megapixel camera and is being offered as a bundle with a 24" TV for only $299.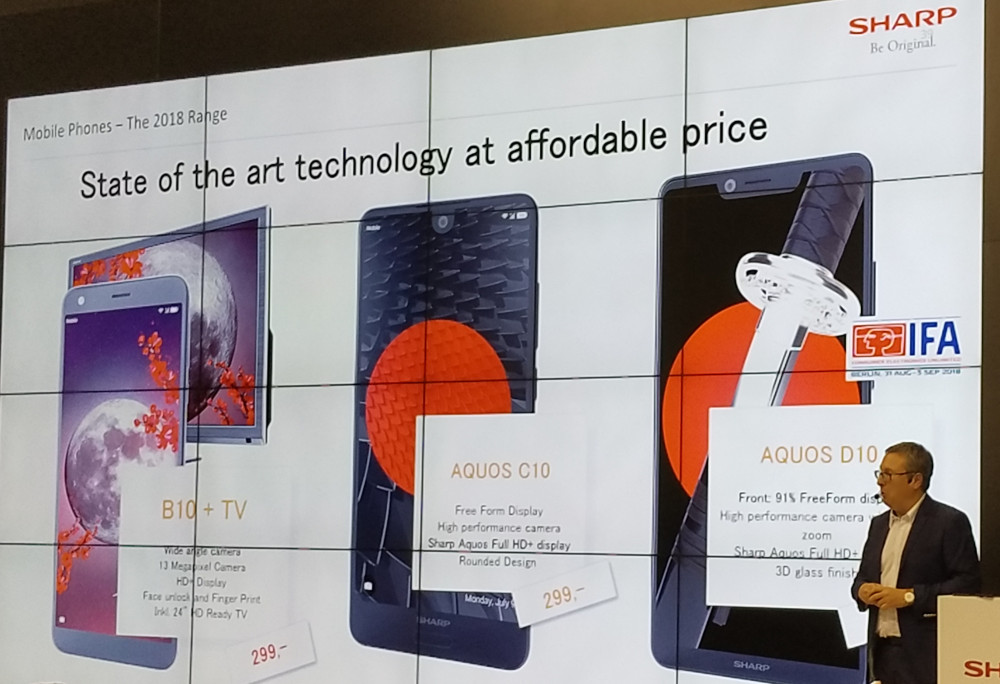 On the Show Floor
Sharp had a number of their second generation 8K displays on the show floor. For the European market, these are not TVs but monitors as they do not have a tuner. This was done because they don't except any 8K broadcast content, but it seems odd as they can certainly upscale lower resolution content. Content appeared to all be native 8K material (actually 2015 footage from Carnival vs. the more recent and much better version shot by Sony).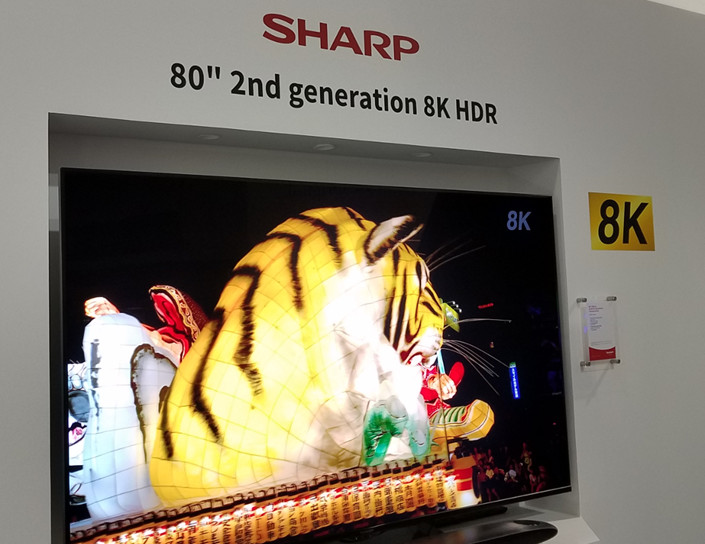 Sales of the first generation 70" 8K monitor (LV-70X500E) began in Europe a month ago (some reports say April) at €10,000 Euro before VAT (some reports suggest €12,000). These definitely have lower contrast and look a bit dull next to the Gen 2 panels. Viewing angles are quite limited too, but it did win an EISA award.
A Gen 1 display was being used as the display for the 8K camera demo they had set up in the booth with a live model being painted with vibrant colors (similar to CES demo). The camera can output a 4:2:2 8K signal at 48 Gbps using four 12G SDI lines. Booth personnel told us they are seeing decent demand for the 8K camera in broadcast and in CAD/CAM and car design applications. They recently did a trial of the French open with the camera.
The Gen 2 80" prototype has around a 1000 zones while the 70" Gen 1 has 280 zones. Gen 1 was only 400 cd/m² while Gen 2 is said to go up to 4K cd/m² (brightness of IFA models not disclosed but looked in the 800-1000 cd/m² range). These are not quantum dot models, but the gamut is said to be 120% of sRGB (why don't they just state it as a % of P3?). It is a 10-bit panel, but when I asked to provide more details on the upscaling, no information on the technical approach was forthcoming. However, they did say that there was a focus on noise reduction and elimination of jaggies.
Product release details and perhaps more specs should be available at CEATEC in the middle of October. Japanese versions will include the BS tuner to get 8KBS signals. Name plates for the three screen sizes all showed the same info, as below.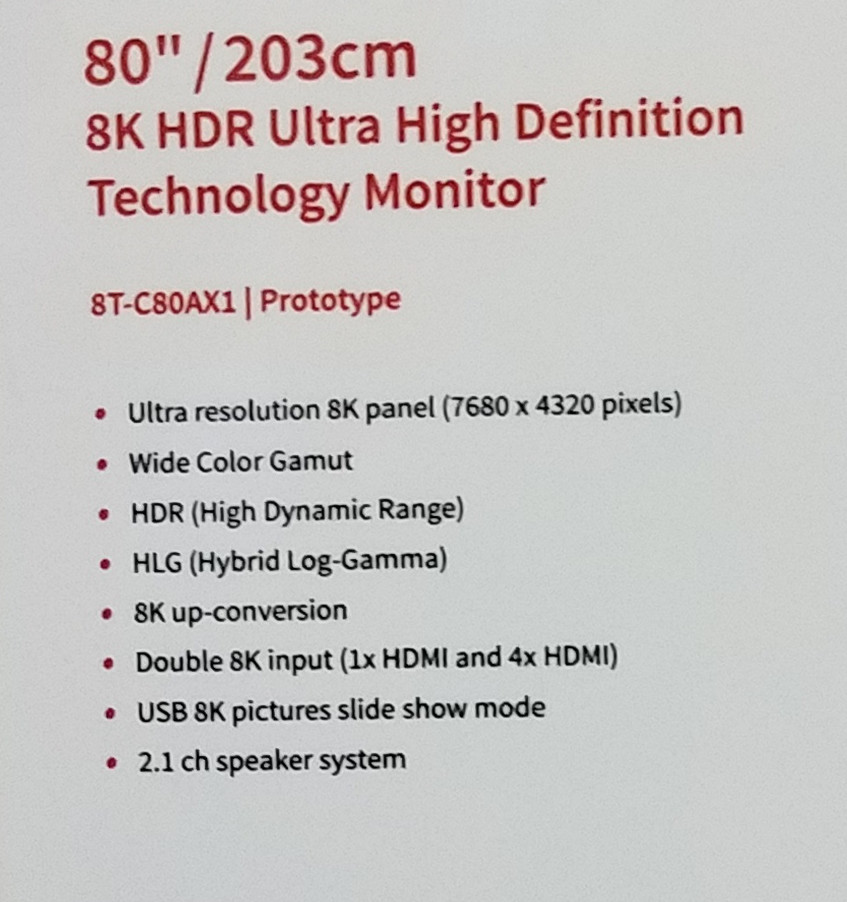 Sharp was also showing an 8K videowall, which also served as the display for their press conference materials. This was a 4×4 configuration using FHD resolution LCD panels with obvious bezels. Content comes from a workstation over four HDMI 2.0a connectors to four master panels. Each master panel is then connected to 3 additional panels with DP1.2 cables to split and scale the FHD image over the four FHD displays. This works and is clearly a commercial solution, but it also showed the pitfalls of matching screens. The black levels were very different on all of them, as shown below.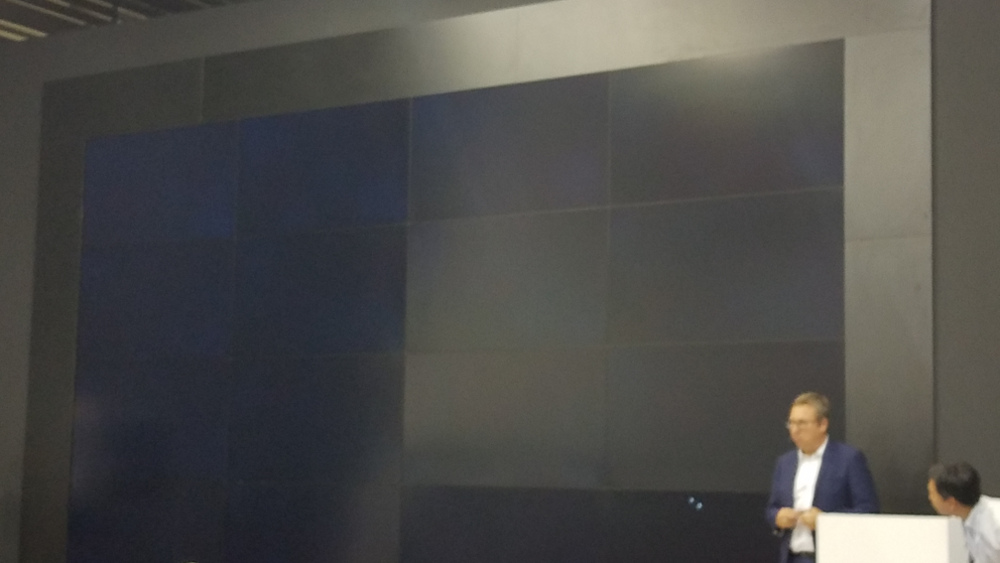 A second 2×2 8K videowall with UHD resolution panels was also on display to gather feedback. It was only 90" so maybe not too useful.
Sharp recently acquired the PC business from Toshiba as well and now plans to use this platform to expand their service business, to create synergy with 8K and IoT and to create new products that combine Sharp devices with Toshiba laptops. (We confirmed with Sharp and Toshiba that the system business acquisition is expected to complete in October and that the acquisition will include the Vuzix-based AR system that Toshiba was showing on its own booth. Man. Ed.).
New Toshiba PCs shown on the Sharp booth include the X30T which is a Portégé product that has a 13.3″ FullHD display and based on a convertible design with an anti-reflective touch display using Gorilla Glass. There are two keyboard options, a 'travel' keyboard that is very thin and light (1189 gms with the PC) while the keyboard dock (1,399 gms with the PC) includes a battery and extends battery life up to 15.5 hours as well as adding a Thunderbolt 3 connection. The system, which is relatively unusual for a slim and light PC in having a VGA connector, will ship from October at $1,550 and up.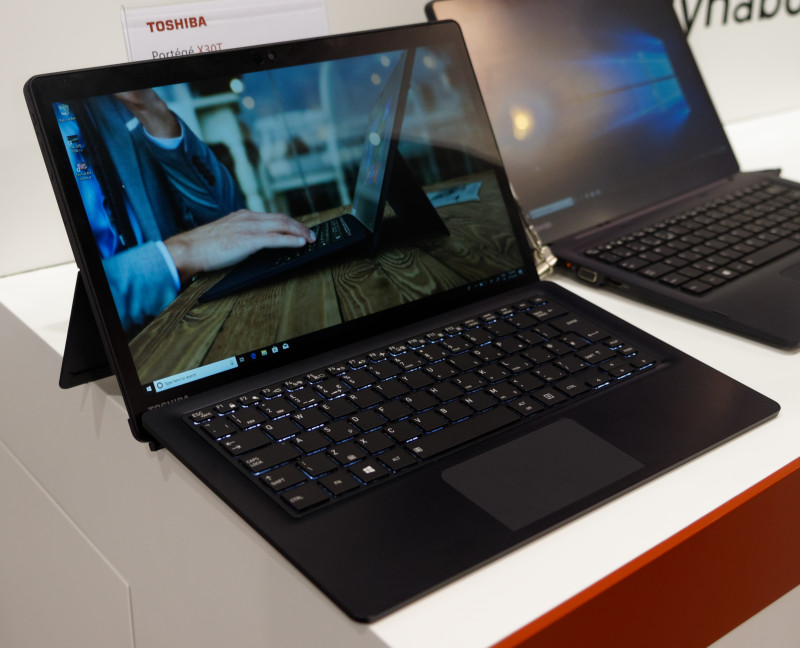 Sharp will run the Toshiba PC business from October. Image:Meko
Sharp is optimistic that it can develop the Toshiba brand and also improve financial performance by exploiting the Foxconn supply chain. The brand is still strong in B2B markets, but there is an opportunity in the consumer space, Sharp believes.
In appliances, Sharp wants to create one-of-a-kind type devices like their plasma cluster air purifier that has all kinds of benefits beyond just cleaner air and a new pet care business.CC
Analyst Comment
There may be some confusion over the Toshiba and Sharp brands. While Sharp will be selling Toshiba PCs, Vestel is selling Toshiba TVs and Sharp appliances! That could cause some confusion in the channels.
The release of smartphones will build on success that Sharp has had with these technologies in regions including MEA. (BR)