SiliconCore had a 4K LED video wall on display at NAB made from cabinets with an LED pitch of 0.95mm. This was placed next to a display of the same size (165") composed of 1.9mm pitch LEDs that created a 1920×1080 resolution wall. The idea was to allow people to see the difference in pixel pitch at various viewing distances, which was quite effective. This was the first time they have shown the 0.95mm LED cabinets in the US.
The company was also highlighting their new front access panel. This has magnets in the corners of two of the panels in the cabinet, allowing them to be easily popped off. This then enables access to screws that remove the other panels so you can get to the electronics and power supply.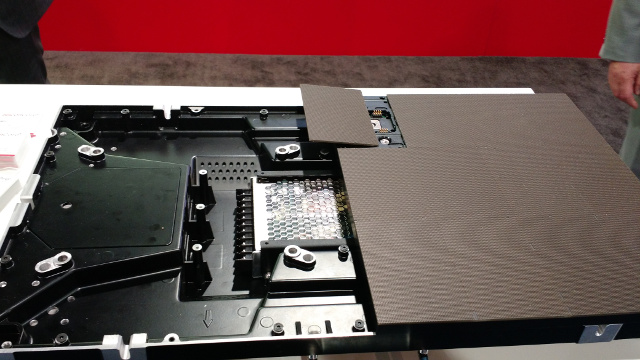 We asked about the color gamut and SiliconCore does not offer a specification, although they said some customers have measured it and it is "very good", and exceeds the NTSC gamut.
For broadcast applications, they often need to run the LED wall much lower (300-500 cd/m²) than the typical 2000 cd/m² rating and adjust the color temperature. This can range from 3200K to 5600K. They also have an anti-moiré filter that is very useful in broadcast applications. It is very hard to predict when moiré will be visible as it is based upon the pixel pitch of the camera sensors, pitch or the LEDs and the angle and distance of the camera from the LED video wall.
In terms of pricing trends, the company characterized the cost in terms of $/pixel saying that this metric seems to be declining at about 5-10% per year. -CC
Analyst Comment
I recently made an analysis of the price list from one supplier. This showed that the current minimum cost per pixel is at around 3mm pitch. Below that and above that, the cost goes up. I'm surprised that SiliconCore is seeing such low price reductions. I hear that it's much higher than 5-10% per year! (BR)