SID 2016 is ongoing at the time of writing, and we will have a full report for you in the coming weeks. For now, we have summarised some of the key announcements from the show below.
AUO presented a series of technical papers concerning AMOLED technology. They dealt with topics such as flexible plastic-based panels; applications of a 1.39″ round display in wearables; and thin-film packaging for AMOLED panels.
Canatu celebrated the launch of a flexible transparent carbon nanobud-based film, at a record-breaking 12µm thickness: almost half the thickness of its existing 23µm film. Like Canatu's other films, this new product is intended to be used as an ITO replacement.
An interesting demonstration was on show from E Ink: a new technology called Advanced Colour ePaper (ACeP). It is an electrophoretic display technology that, for the first time (says E Ink) can produce 'full colour' at every pixel, without using a colour filter array (CFA).
ACeP can be used to show all eight primary colours, using coloured pigments. Like a monochrome E Ink display, a single layer of electrophoretic fluid is used; this is controlled using voltages that are compatible with commercial TFT backplanes. The fluid can be incorporated into microcapsule or Microcup structures. All colours are present in every pixel, rather than side-by-side pixel colours from a CFA.
Only a single backplane is used, although many materials and waveform developments were required to independently control the position of the individual pigments.
The initial target application will be digital signage. E Ink was showing several 20″ ACeP displays, with a resolution of 2500 x 1600.ink
LG Display is prioritising OLED technologies. A 77″ UltraHD TV panel was shown, with 'the same levels of colour gamut [as] in displays used by film-editing professionals', and HDR. Future concept displays, such as a 55″ double-sided unit and a 65″ concave display, were also shown. In the automotive sector, LGD had two 12.3″ monitors: one curved plastic OLED and one LCD panel with over 1,000 cd/m² of brightness.
Finally, LGD showcased a 31.5″ 8k monitor and a 14″ UltraHD notebook panel, as well as a range of displays with in-cell touch. These included 6″, 9.2″, 10.3″, 15.6″ and 23″ sizes.
Nanosys had two key announcements to make. The first of these dealt with its new QD material system called Hyperion Quantum Dots. These cadmium-free dots are said to match the colour performance of those containing cadmium, while also meeting the EU's RoHS requirements. This is achieved by combining a cadmium-free red component with a low-cadmium narrow emission green component.
Hyperion QDs have been shown to enable over 90% of BT.2020 coverage, says Nanosys. They can also be integrated into current QDEF manufacturing processes. The QDs will be evaluated by Nanosys' QDEF manufacturing partners in Q3'16, with mass production scheduled to begin in early 2017.
The other announcement concerned a partnership with Hitachi Chemical, which has begun sampling Nanosys-certified QDEFs. Mass production will begin in the second half of the year.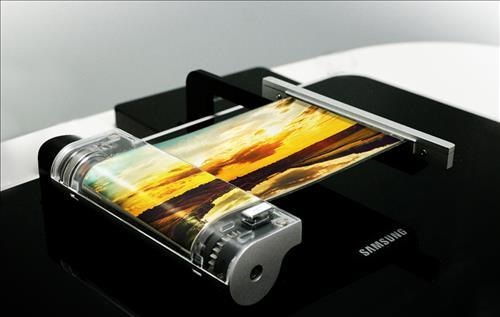 Samsung Display highlighted its flexible and rollable AMOLED displays, as well as units for VR and automotive applications. One of the key flexible models was a 5.7″ product, which is 0.3mm thick with 2560 x 1440 resolution. It weighs 5g. It is speculated that this is the display that will be used in the forthcoming 'Galaxy X' (Foldable 'Galaxy X' Will Appear in 2017).
On-cell touch AMOLED displays, in 13.3″ and 14″ sizes, were also on show. These are 1.01mm thick and weigh 120g. An UltraHD prototype for VR use was also shown.
In the LCD field, SDC demostrated two UltraHD 65″ screens.
Sharp showed two new LCD display modules with a high (1,500:1) contrast ratio and 170° viewing angles. They have built-in LED backlight drivers and are designed for industrial use. The modules (15.6″ LQ156M3LW01 and 18.5″ LQ185M3LW01) use LVDS interfaces and cost $260 and $205. Sharp has labelled the smaller module as the more expensive, and we are checking this.
Universal Display Corp (UDC) showed its phosphorescent OLED (PHOLED) colour board, which demonstrates a variety of UDC's PHOLED materials. They include red, green, blue and light blue.