3M was at the show to demonstrate how its films could be used to reduce the power taken by TVs and monitors, which are increasingly being made to support HDR and high levels of output. That means more power and can lead to issues with heat especially when HDR is combined with 8K, which has a smaller aperture ratio. 3M's latest "High Brightness Plus" film boosts the on-axis brightness by 30% for edge-lit panels and 20% for direct-lit units, while improving the contrast by reducing the black level. The film stack is also thinner.
3M has a new film system to boost brightness for HDR and 8K displays. Image:Meko
We reported on Amorphyx from the Investors' Conference (IC05 Amorphyx Can Replace TFTs with Quantum Tunnelling) when the company said that it can replace TFTs. On the show floor, the company had a demonstration LCD unit which was showing the technology in practice. Of course, it was made in a lab, not on a production line, but it showed that the technology exists and is not just a theory!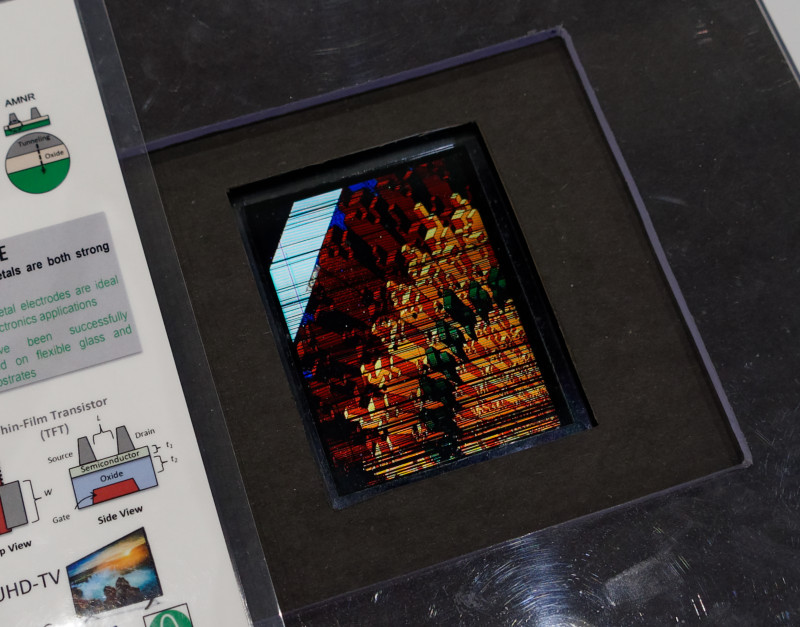 Amorphyx had an LCD using its Quantum Tunnelling technology. Image:Meko
Aska has been showing its 'floating in space' 3D imaging system with gestures to replicate touch was at SID with the latest versions of its systems. The company was showing how its systems could be used to display images with capture, as shown in the photo, where the display from a smartphone was shown.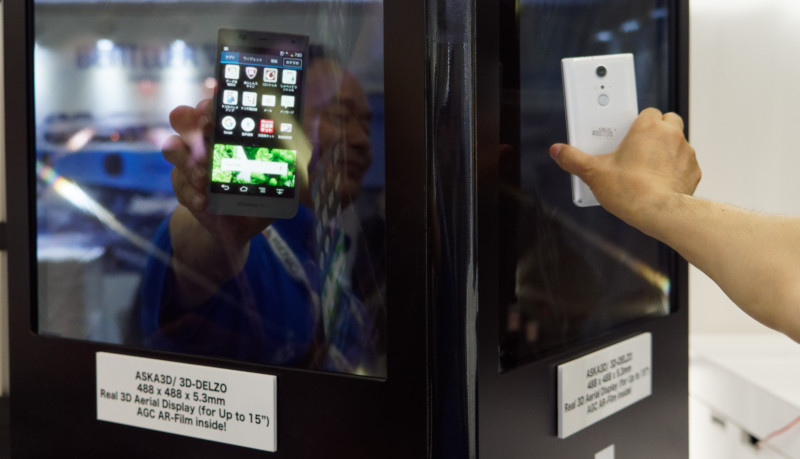 This example used a camera with the Aska 3D plate system. Image:Meko
There was also a smaller demo of a virtual keyboard that is 'floating in space'.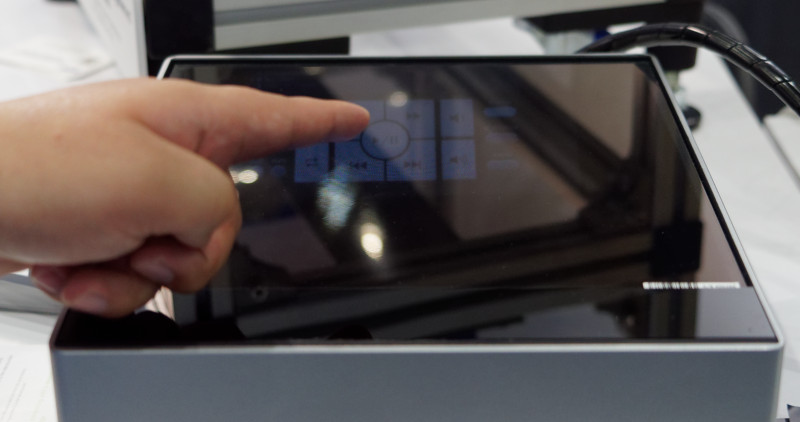 The virtual keyboard was floating in space. Image:Meko
Astro was at the show to demonstrate that it can support 8K and has been developing controller systems for that resolution. It also has a system supporting 16X upscaling (from FullHD to 8K). The technology uses AI and deep learning to significantly improve the quality of the scaling. The firm is looking to licence its technology and is already working with Foxconn (which is, of course, promoting 8K).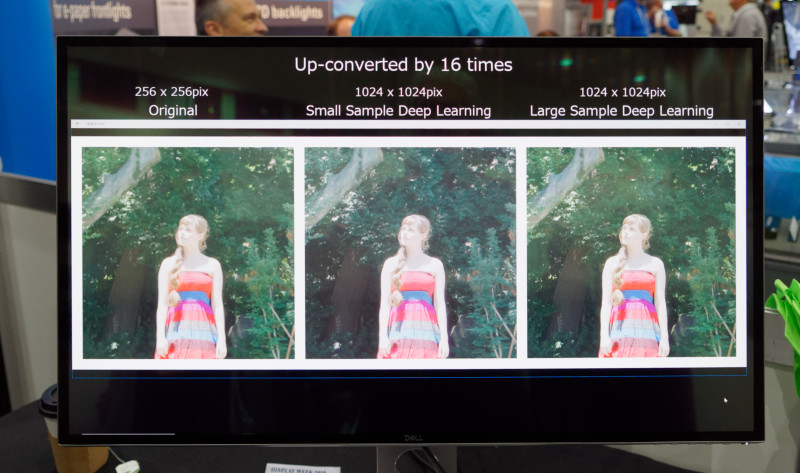 Astro is supporting upscaling from FullHD to 8K using AI and deep learning. Image:Meko
Several of us met with ClearInk and Ken wrote the main article (ePaper Roundup: E Ink and ClearInk) and we also reported on the company from the Investors' Conference (IC02 Clearink Ramping Things Up). The company confirmed to us that it has made rapid strides in almost doubling its linear pixel density to 202ppi, reducing the cell gap and reducing particle size to further improve speed.
Dimenco was showing its latest autostereo 3D (AS3D) display and it looked very good indeed – a dramatic change from previous versions as far as your reporter was concerned. The system uses lenticular lenses that are provided by a liquid crystal layer, so it is switchable. The company is now 100% owned by KDX of China and is happy to now have access to 8K panels, which dramatically improve the experience of the stereo 3D. The company is working on extending the experience of 3D and is positioning the technology as a type of virtual reality, rather than just 3D. The company wants to extend the experiences in the virtual world and is developing 'virtual touch' with Ultrahaptics and is also working on 'virtual hearing' for directional audio. The full experience may be as far as three to five years away.
Dimenco wants to develop something like a 'platform strategy', so will be releasing development kits for its AS3D displays and the versions based on the 8K panel will be available in Q1 2019. The company is looking at possibly supporting OpenXR as a development environment, but is not decided yet. Going forward, it is the platform that is most important, rather than just the 3D hardware, as having a good platform may allow development in AR and VR.
ELO was showing a new display, the 2703LM medical monitor that is fitted with PCap touch technology and rated to IP54 for resistance to dust and fluids. The 27″ is a FullHD unit using an IPS panel with 300 cd/m², dropping to 250 cd/m² when the touch panel is fitted. The unit can run on 12V or mains and is one of a number of products intended for hospital administration and clinical review.
There are also 19″ 5:4 and 24″ 16:9 versions available.
ELO also showed touch modules with PCap from 7″ to 15.6″ and options include glare displays and optical bonding. We've previously reported on ELO's monitors which have Android integrated. The company now has a box that can be fitted to 'dumb' monitors to support the functionality. The company told us that it has done very well in sports venues because the Android monitors can be re-configured remotely. 676 systems were used at the Superbowl and they were configured to allow the sale of a range of special products, with appropriate branding in different parts of the stadium.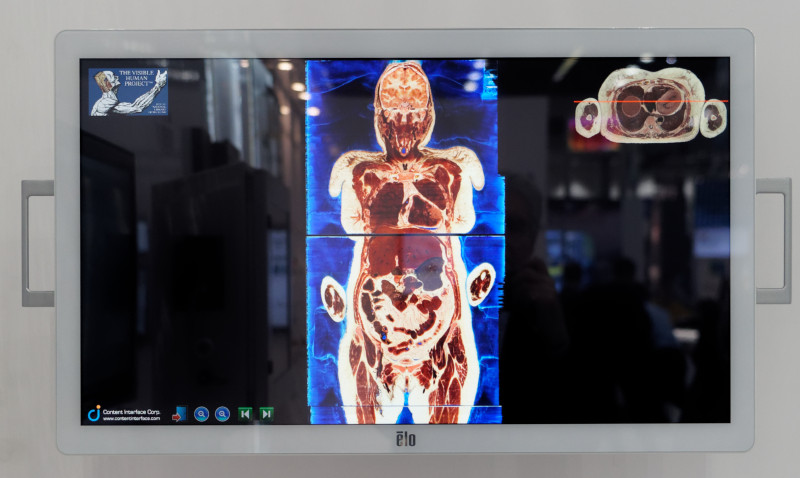 The 27″ monitor is intended for medical admin and clinical review. Image:Meko
Flexenable was showing its flexible LCDs that it is developing with Truly. See our report from the Investors Conference for more on the company. ( IC06 FlexEnable Heading for Profitability with Displays and Sensors)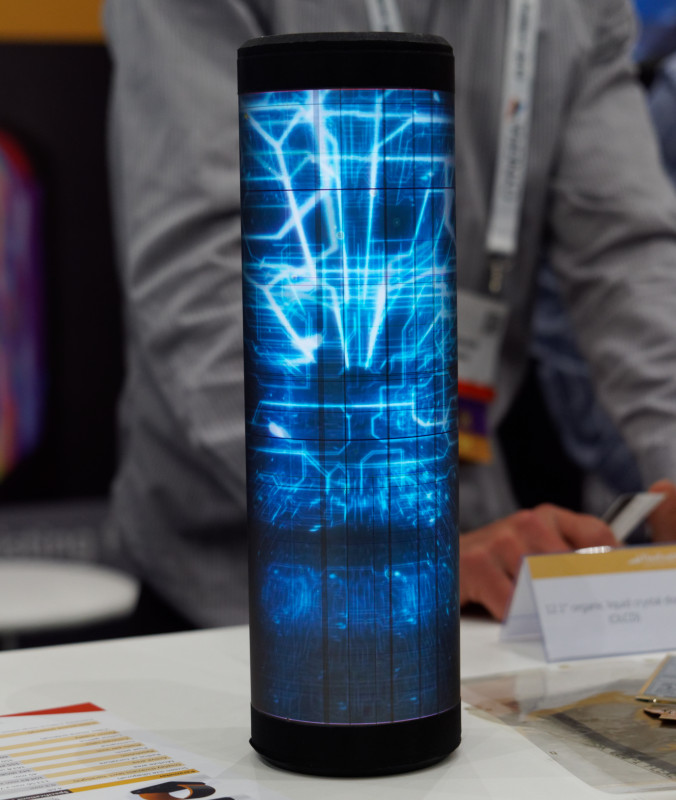 Flexenable was showing its flexible LCDs which can have applications including smartspeakers.
The Fraunhofer FEP was at the show to talk to those that can exploit its research and one of the items being shown was a 1920 x 1200 OLED microdisplay that was developed as part of the LOMID EU project.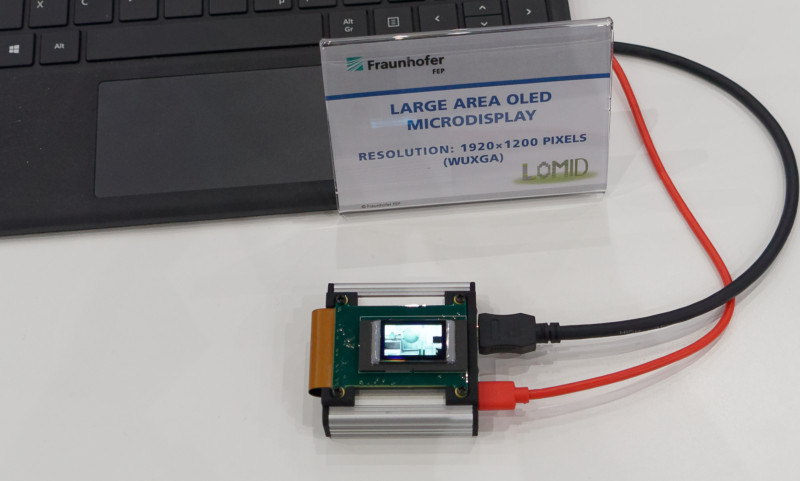 Fraunhofer FEP developed this microdisplay as part of the LOMID project. Image:Meko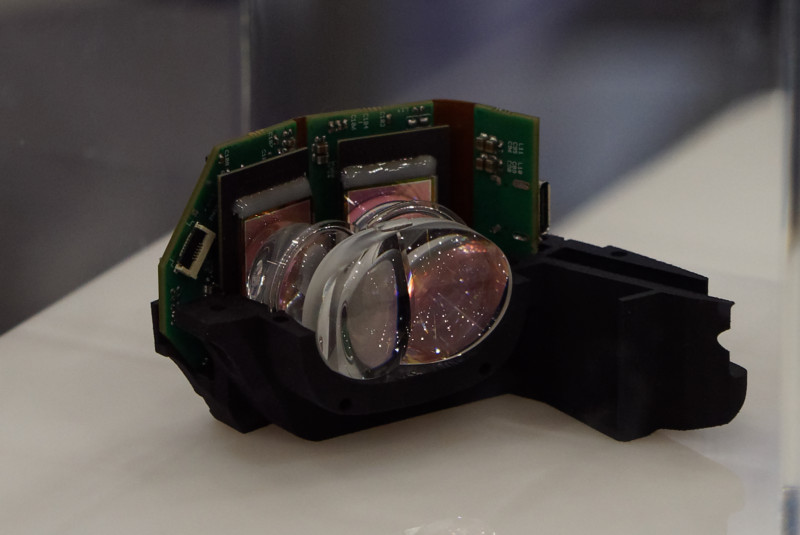 The Fraunhofer FEP was also showing this optical system for VR. Image:Meko
Jasper, that we met with at CES, was showing its latest backplanes for microdisplays. (Jasper Display Optimistic About MicroLED Potential). The company impressed quite a few people with its level of development.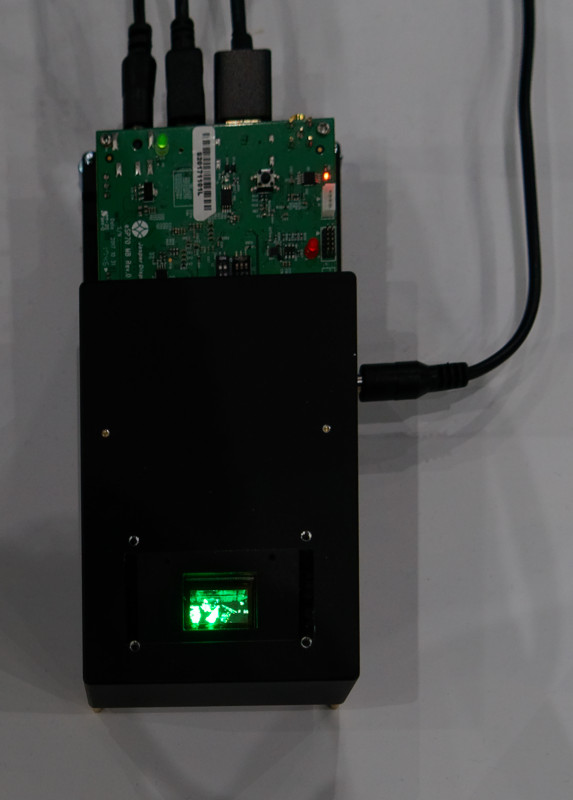 Jasper showed this microdisplay which was very bright. We reduced the exposure to show the highlight detail and if we made it a lot darker, the highlight detail would still be visible. Image:Meko
Kyocera was showing a 3.1″ 3D HUD display based on LTPS technology and with 800 x 480 resolution and 1,700:1 contrast. Transmissivity is high for an LCD at 8.5% and mass production of the panel will start in 2020. The company believes that HUDs 'must go 3D' to meet the needs of drivers and the company was also showing haptics on its displays. Kyocera has a range of HUD panels from the low end (1.12″ 300 x 160), through the mid-range (1.8″ 480 x 240 in standard or high transmissivity configurations) to the high end at 2.6″ 800 x 480 (353ppi) with 1,200:1 contrast and 24 bit colour support.
Kyocera has also added new facilities for optical bonding for panels from 3.5″ to 12.1″ although up to 15″ may be supportable.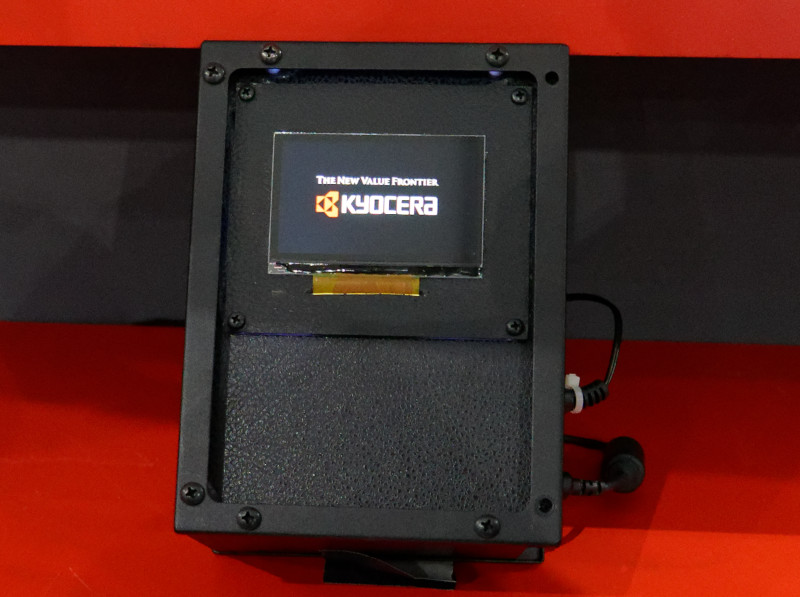 Kyocera's new HUD display will be in production by 2020. Image:Meko
Mitsubishi was showing its AT series LCDs for industrial applications and which can support operation from -30 C to +80 C, with storage possible from -40 C to +85 C and which we first reported at last year's show. The displays are also rated to withstand shocks of 6.8G and that makes them very suitable for industrial automotive applications. We looked at a 7″ 800 x 480 display with 1100 cd/m² of output. Staff told us that sales have been 'terrific'. A new panel is a 12.3″ 1920 x 720 unit that is based on IPS technology and has 1,500 cd/m² of output. Mitsubishi is expecting to get sales in applications in rugged vehicles.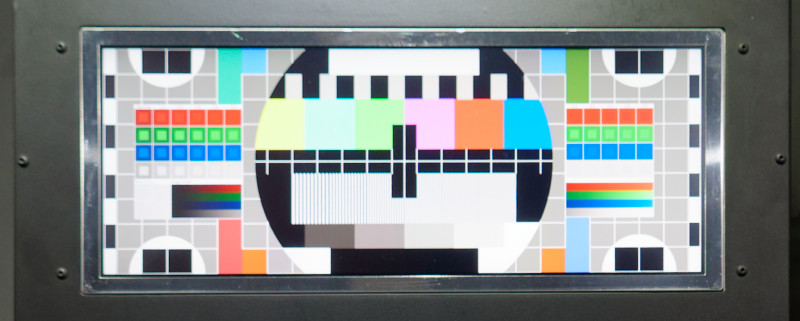 Mitsubishi's 2/3 FullHD LCD resists 6.8G shocks and is intended for rugged vehicles. Image:Meko
Nanocomp of Finland was showing its 13.3″ "front light" light guide that is ideal for EPDs such as those from E Ink. The company was showing how it is being used to show timetables. We were impressed with the quality of the film and the difference it made to the image quality and the company told us it could be better if it had more LEDs. The company can make the tapered guides using a R2R process and can support displays up to 15.6″. The company also has applications in lighting.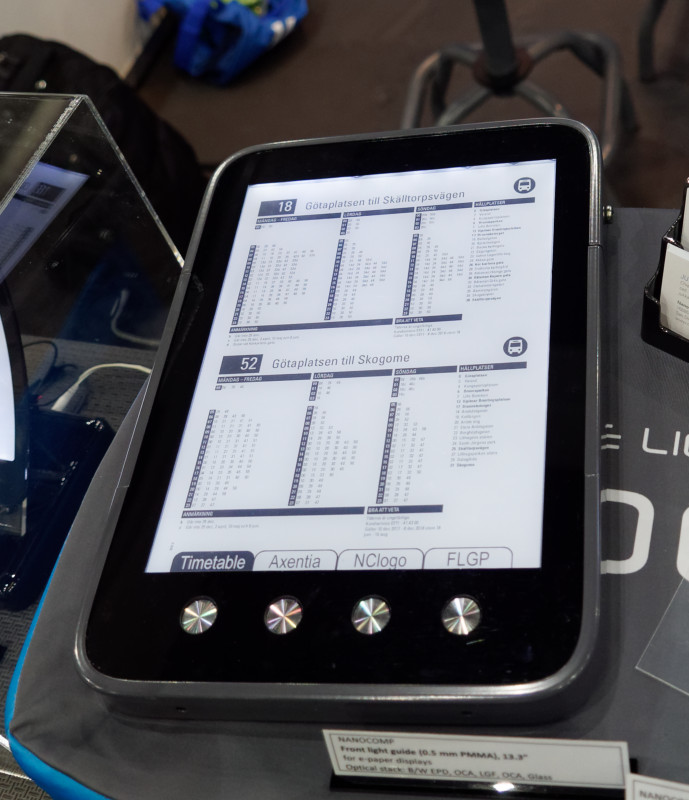 Nanocomp makes this E Ink display much easier to read. Image:Meko
We reported on PolarScreens at SID 2015 and we spotted the company in the iZone, where the company showed its display with depth which uses a steerable backlight system that directs the light from an LCD to the eyes of the viewer, who is tracked. The display has 2560 x 1440 resolution and the autostereo display showed good depth. Unfortunately, the reflections of the author in the front of the display distract from the apparent solidity of the image being seen. The system uses tracking to identify the position of the viewer's eyes.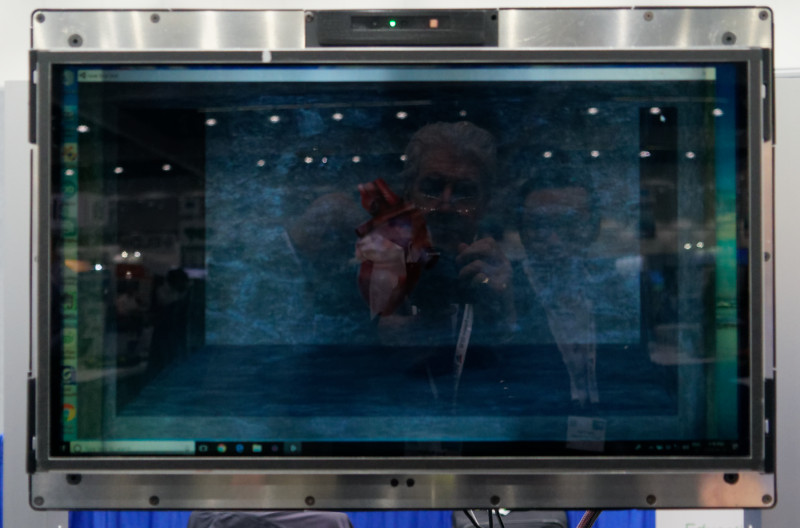 The PolarScreens display uses a steerable backlight to support autostereo 3D.
We have reported on Raontech, a maker of microdisplays from Korea several times at MWC and from other events. At SID, the company was showing a mock-up of a headset using its R-Vista70 2560 x 1440 resolution with 55º FOV, equivalent to a 125″ display at 10′ (3m). The eye box is 10 x 5.4mm and the eye relief is 15mm.
As well as the VR headset, the company was showing a 0.7″ 1280 x 1024 (10.8 x 10.8 μm pixel size) monochrome OLED with 2250ppi that has been developed with ETRI and NWT in Jorea. The display has been qualified for military use by STD SeoulStandard.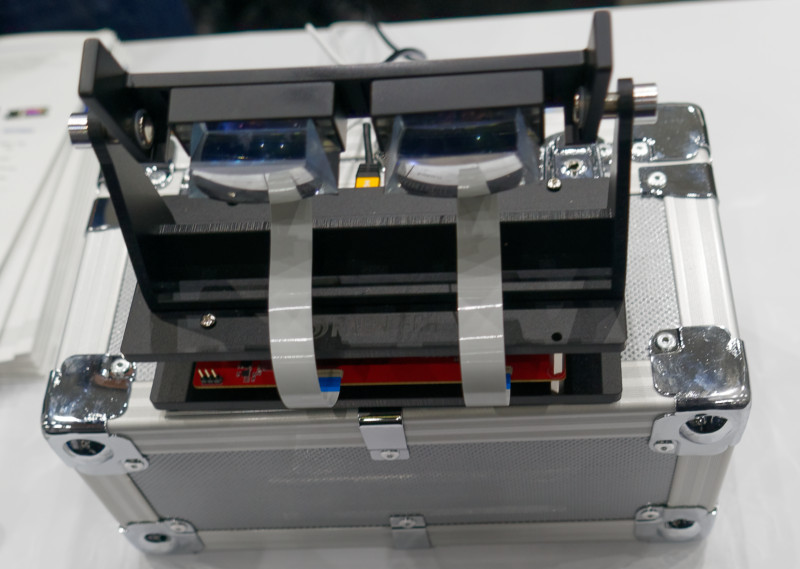 Raontech had this mock-up headset Image:Meko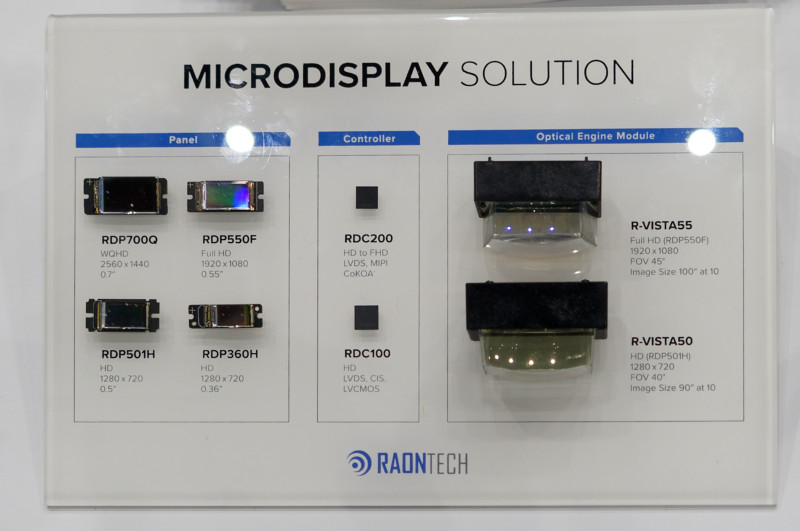 Raontech has a range of different microdisplays. Image:Meko
The RealD me group was at the show to demonstrate True Face technology that it has developed for quickly creating 3D avatars for mobile apps. We have previously reported on the company's technology that can be used to modify where the user is looking to create eye contact in a video conferencing application and that was also being shown. (MWC RoundUp Part 2)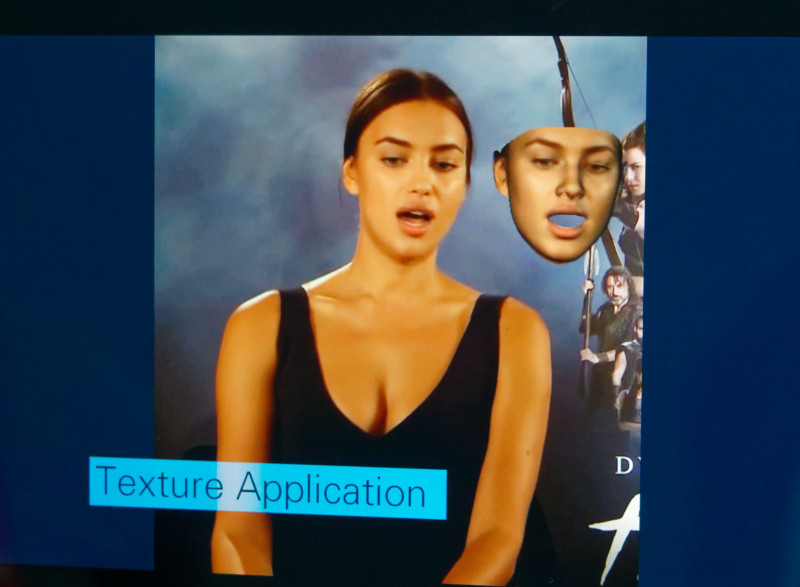 Our image from SID was out of focus, so this is one we took at MWC! Image:Meko
Sensel was showing its Morph force-sensitive touch technology which it supplies with a range of overlays both for developing custom control surfaces and for other applications requiring both high resolution touch and force detection. Force from 2gms to 5kg can be detected with 32,000 levels and at 'kHz' frame rates, the company told us.
The company expects to see applications for its technology under flexible OLEDs as the touch and force can be detected under the display. It is working with a flexible display company to develop foldable versions and hopes to show something at SID 2019. It is also looking to integrate haptic feedback.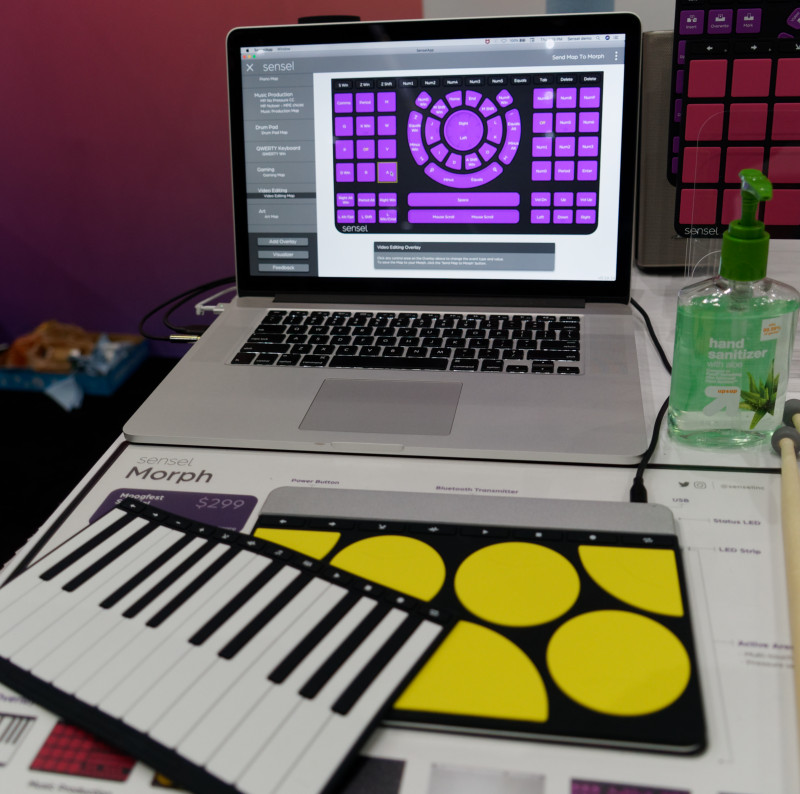 Sensel sees applications for its Morph touch pad under flexible OLEDs which could be programmed to show different shapes and patterns. Image:Meko
Inket printer head maker, Xaar, was at the show to talk to clients. The company doesn't provide 'off the shelf' solutions, but works with clients to develop printheads for their specific needs. The company told us that it has got very good at controlling drop size, a critical factor in inkjet deposition of display materials, and can provide accuracy of ±1% in drop size.