We were impressed with the Sharp Free Form displays that we saw at CES, but we were unable to get much more information, so we were pleased to catch up with the company at SID to get more background.
Sharp told us that the key breakthrough was in developing IGZO technology, which allows the gate drivers to be put on the panel. Column drivers still have to be fitted to a flat edge, but this gives a lot of flexibility. For example, you can have cut outs in the panel as long as you put multiple gate drivers per row to support each segment.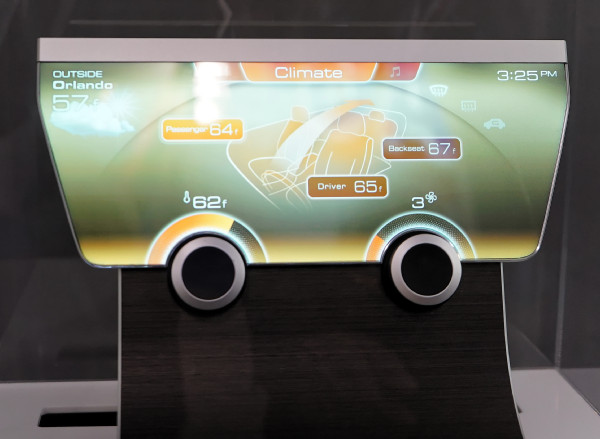 This Sharp dual cutaway display has gate drivers on the main side and also the sides of the cutaway regions and the column drivers along the top
Because the main application area is automotive and qualification takes so long, the expectation is that production will start in 2018.
At the show, a new development was the addition of "edge touch" which looks to be popular with auto makers as it avoids the user's fingers blocking the image and also reduces finger marks.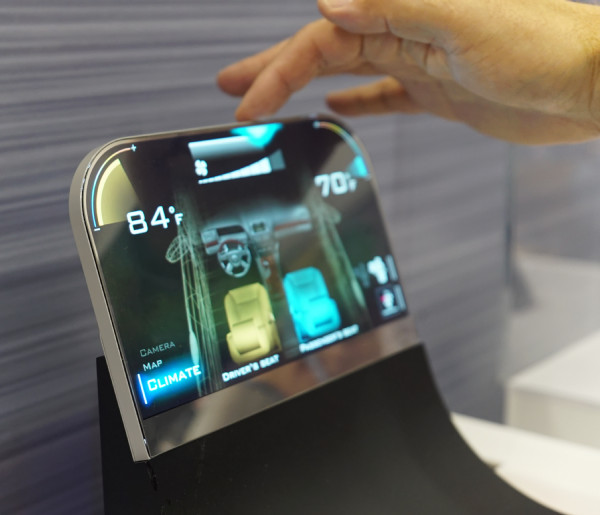 A further development, slated for 2019 is a completely circular 3″ display. This has also generated a lot of interest from car and also motorcycle makers.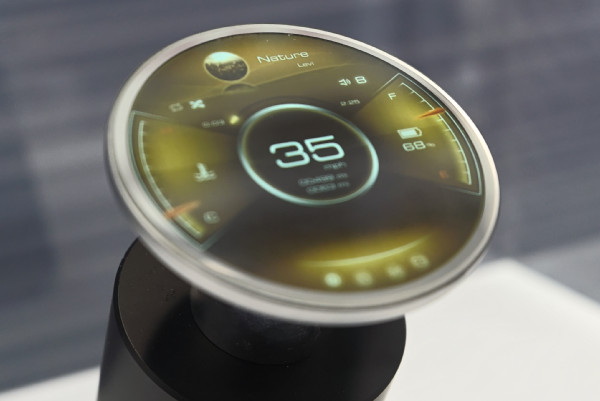 For a view of the video interview we conducted with Sharp, check (Sharp Frees Auto Makers from the Tyranny of Rectangles)
We were once again impressed with the Sharp display based on the Qualcomm MEMs technology developed by Pixtronix. Sadly there was no news on production, as we heard that there are still "some production issues".
Mobile products were next on the agenda and we looked at a new 5.5″ UltraHD panel with 400 cd/m² of brightness and 98.7% of NTSC. Like the free form products, it uses an IGZO backplane.
Finally, we looked at the latest Memory LCDs. Sharp has been a pioneer in this technology and has products from 1.17″ to 3.16″ for watches. It also uses the technology in larger displays.
Turning to industrial products, Sharp again emphasised its support of factory procap touch which simplifies warranty issues. There was something of a retrenchment in wide format industrial LCD adoption after 2008, but demand is coming back now, we heard. Sharp is also continuing to develop its US partners for special touch as this is very flexible.
In LFDs, Dave Hagan told us that the main change in the last year has been a change in emphasis to larger sizes, from 60″/70″ and 80″ to 70″, 80″ and 90″.