Sharp had a number of highlights on its booth at the show. We started by talking about the Big Pad Pro. Sharp has benefited from being one of the only large screen procap-based intelligent display systems. Microsoft has generated a lot of interest in this kind of product, but the delay in shipping has allowed Sharp to make the most of the opportunity. Sharp's Michael Bailly said that at the moment he "can't get enough of them". We asked who really needed the functionality of the unit? "Everybody needs it!", Bailly added.
The latest Big Pad Pro PN-70TW3 (for wireless) has pressure-sensitive 10 point touch and can connect and share data with 10 different wireless devices. The unit is supplied with infrared touch and pressure sensitivity. An unusual feature is Dicom grey scale response, which allows medical review and collaboration applications. Sharp also showed the Big Pad PN80 TC3 which has capacitive touch – unusual still at 80″.
Sharp is exploiting the efficiency of its G10 fab in making larger panels and has developed the PN-H701 70″ UltraHD display, which was being shown as a 2 x 2 configuration with 140″ diagonal and the resolution equivalent of 16 55″ FullHD displays. Brightness is 400 cd/m² and contrast is 3,000:1 and the backlight is an edge-lit type. Connectivity includes HDMI (4 including one with MHL), VGA, USB (for media playback) and RS-232 as well as ethernet. Weight is 38kg and the bezels are 9mm on three sides, 14mm on the bottom.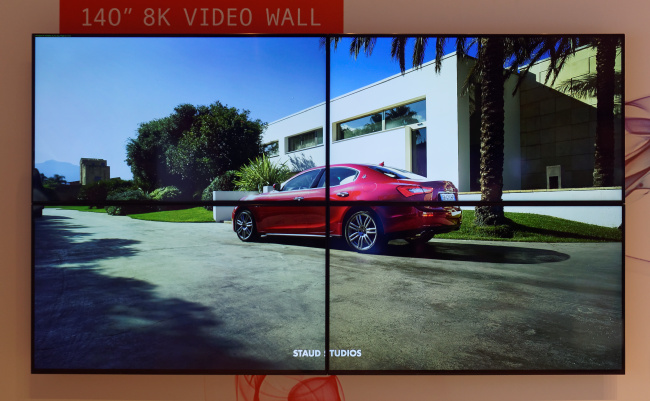 Sharp used 4 X 70″ to create an 8K wall. Image:Meko
Of course, Sharp was showing the 8K LV-85001 TV that is being sold in Japan. We heard that as well as Sharp's UV2A technology, it uses an IGZO panel and has a colour gamut that is rated at 109% of DCI P3. It seems to look better each time we see it – which could also mean that the content is getting better.
There will be a new entry level range of 16/7, 350 cd/m², landscape-only monitors that will arrive later in the year and these will have an HTML player so that they can play back websites that have already been created.
We reported on the PN-H801 80″ UltraHD display when we met with Sharp in Malta (Sharp Shows 120″ and 8K 60″ Display). The product will become available in March and offers 90%+ of AdobeRGB and 120% of sRGB colour gamut and has colour calibration. It will appeal to those that care about the colours of their logos and was being shown alongside a "standard" product which emphasised the extra performance.
Finally, we looked at a new media player that can support dual UltraHD outputs and has been developed with Arrow and is in the final stages of development and can drive the calibrated display.