Recon Instruments released the Recon Jet earlier this year, and now it is joined by the Senth IN1 from Insenth (a China-based startup company) that is also aiming at the cycling enthusiasts. The headset is based on a pair of sunglasses with an attached display unit.
The Senth IN1 headset has an optical combiner providing a see-through AR experience more similar to Google Glass than to the Recon Jet device which has a more immersive display. The optical combiner is of the prismatic type and looks eerily similar to the Google Glass device.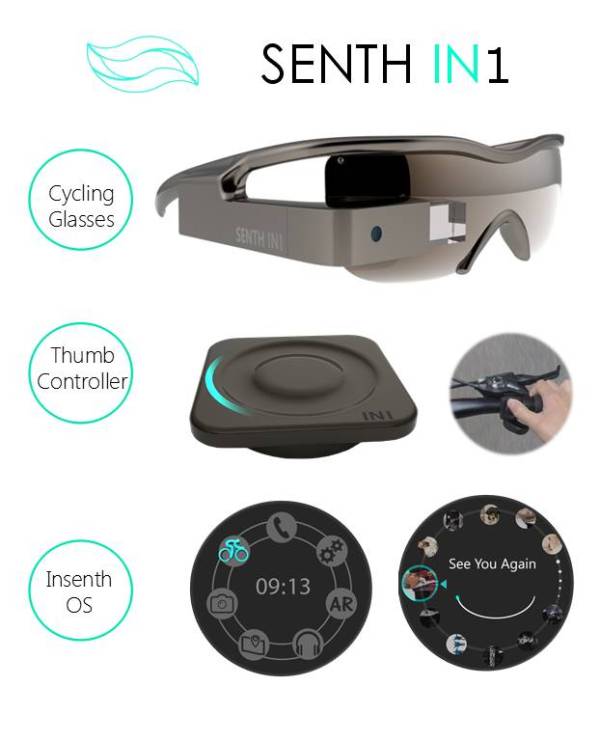 Source: Indiegogo campaign Insenth
Insenth has opened a Indiegogo crowd funding campaign to bring its device to market. After 10 days they have reached about 80% of their goal, with 36 days to go. They already have a working prototype, but still expect some changes for the final product.
The display has a resolution of 800 x 480 pixels and sits over the right eye. There are also connectivity options via, WiFi, Bluetooth 4.0, and Micro USB. The device runs on a Android based Insenth OS and provides around 5 hours of usage with the built in battery. There is also an option to extend this time via an additional battery pack.
In terms of sensors, they include GPS, gyroscope, accelerometer, magnetometer, ambient light sensor, and barometric altimeter. There is also a camera on board, capable of capturing 720p (20fps) video and 8MP pictures.
From a usage standpoint the Senth IN1 is a standalone device with its own processor, 1GB of RAM and 4GB of storage. The applications allow for navigation, music, communication, exercise data, and even danger detection while using communication features (calls and messages).
A unique feature of the device is the range of input options. There is voice input, a touch pad and in addition a thumb controller that can be installed on the bicycle.
The device will cost around $430 after release, but you can still pick one up for $249 as the cheapest option. The headset will be shipping at the end of 2015 according to current plans. – NH