Dr JS Choi is President and CEO of Samsung Display (SDC) and he gave a keynote address at the recent IMID conference with the title "Changing (the) display industry with disruptive innovation". We listened to see if we could divine anything from the entrails, but it wasn't difficult to find some interesting news!

Dr Choi came from 28 years experience in the semiconductor business but he has put that to one side and now focusses completely on displays. He said that in ten years, the display industry would look very different – he is betting on it.
It's no longer surprising that the virtual world starts to look more real than the physical one. Although people will go back to work in offices, the virtual will not go away. It's not the first time that displays have dominated the lifestyle and consumer markets. CRTs allowed TV and monitors and LCDs enabled the notebook market. Monitors and flat TVs started a change in the way that space was organised and displays enabled the development of the smartphone. We all have them now.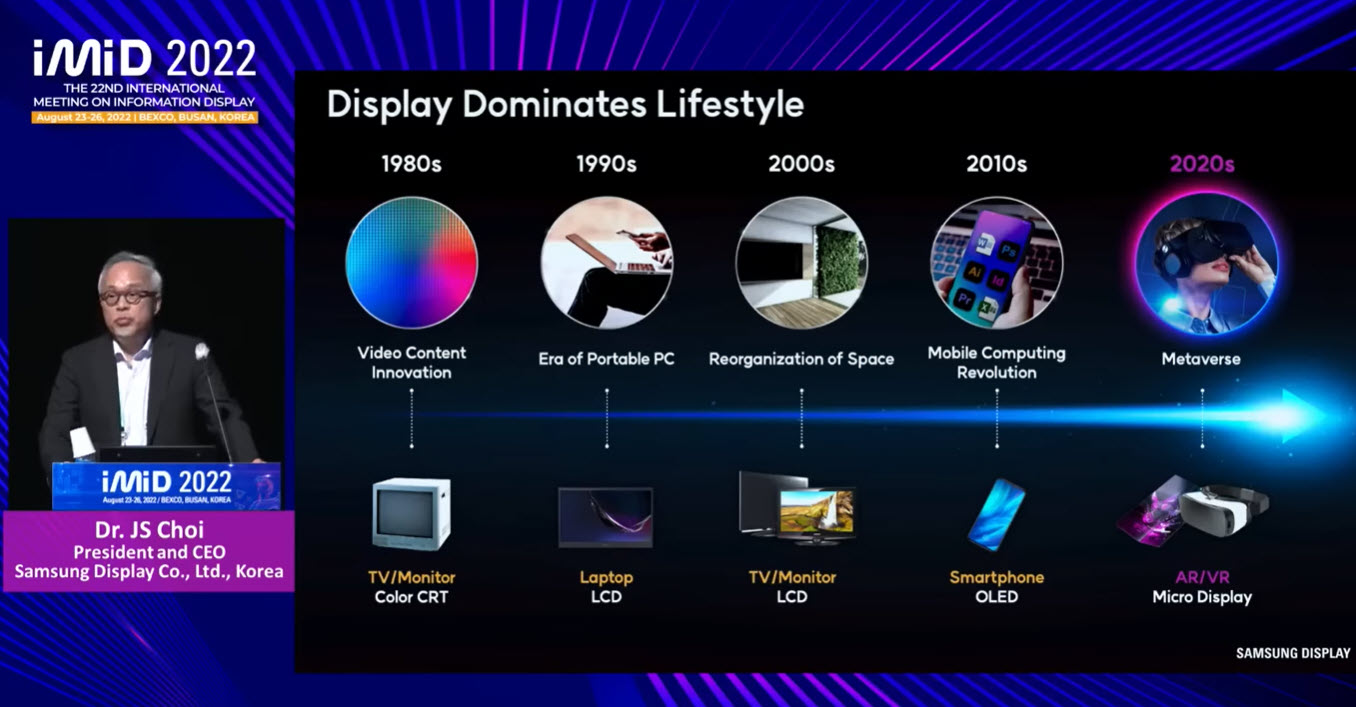 The next step will be the development of new ultra-realistic AR and VR displays as the limit of pixel size has been pushed back. Which technology will win? Choi said that after OLEDs entered the smartphone market, and delivered deep black, realistic colour and clear motion, consumers want the same quality in their TVs and computing devices. The displays also allow form factor innovation.
Recently he held a showcase in the US showing off the latest QD-OLED displays and he said that the reaction of Hollywood was very strong to these displays and their 'incredible performance'. It's the era of the self-luminous display, now. Many doubted Samsung's ability to develop the LCD market when it set a target of 100 million sets by 2010 in 2004. It actually reached 100 million in four years.
OLED on Track to Take All Smartphones
The firm also said that OLED is also on track to take all of the smartphone business, with nearly 70% of the revenue of the smartphone display business. Samsung has said goodbye to LCD and has continuously grown its OLED business. After the success in smartphones, Samsung is going to drive OLEDs in IT, in automotive and in gaming. Displays should be as important as semiconductors.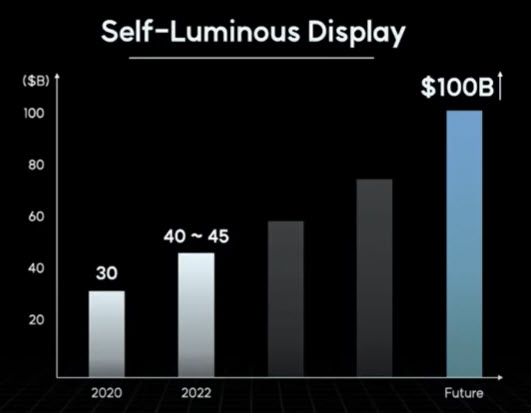 The value of the 'self-luminous display' market should grow from around $40 to $45 billion this year to more than $100 billion before 2030. It should be possible and SDC wants to join the 'half hundred billion club'. The company has decided on several new projects including a new G8 IT OLEDs with mass production starting in 2024. It will also enter the advanced IT and automotive products. It will invest to develop microdisplays.
Which display technology is most important?
Which display technology is most important and which is less significant? That is a big decision.
Most premium smartphones and some budget devices use OLEDs. SDC is supporting the new VESA ClearMR certification programme. (watch for more later this week on Display Daily as we had a call with VESA's specialists yesterday on that topic). The firm is also developing on-cell film technology (Pol-less) to enable HDR peak brightness of over 2,000 cd/m². Under panel cameras will be developed and the firm will develop 12 bit colour depth for better image quality.
In 2010, the firm developed in-cell touch and soon Samsung will commercialise the use of the whole display for fingerprint recognition. The sensor will also integrate antennas, and blood pressure and sugar level sensing using smart algorithms with noise minimisation. Panels with sensors will create new value.
In the new G8 fab, SDC will use a new evaporation method to help drive the adoption of OLEDs in notebooks. Automotive will also be a target market for that fab. In the future all the surfaces in cars will be covered in display and SDC is collaborating with many auto makers. Safety is the key issue in vehicle displays and the fast response times of OLED helps. SDC will have a privacy mode to avoid driver distraction. Narrow bezels will give more display in the same space and multi-lamination of displays will allow pillar-to-pillar displays.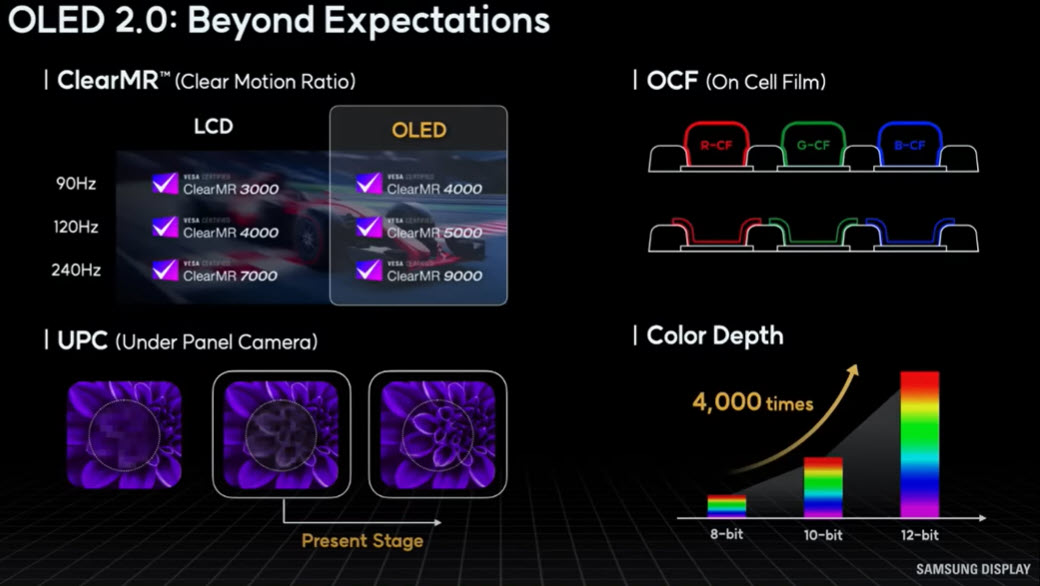 Tandem, Rollables and Slidables On the Way
Entertainment is also developing in autos and SDC will adopt tandem structures for better lifetime and brightness.
Foldable smartphones on the market are just the beginning and rollable, slidable and foldable applications will be developed and even stretchable displays.
Turning to QD-OLED, Choi highlighted the H-K effect that makes displays with saturated colours look brighter and he emphasised the XCR metric that Samsung has developed. (another topic that we plan a deeper dive into – editor). Of course, the metric that SDC has developed shows the better performance of QD-OLED vs WOLED.
SDC is highlighting Ink Jet Printing (IJP) manufacturing technology to accelerate production and Choi said that the yield of QD-OLED has improved a lot since the technology went into production. Choi claimed that the best display to see 'Squid Games' is a QD OLED because of the saturated colours. QD-OLED has won prizes this year.
In microdisplays, the importance of near-to-eye displays has become much more important as the industry looks at AR, VR and XR. SDC plans to develop inorganic emitters and move the substrates from glass to wafers. That will change the industry to a semiconductor base and will need a lot of change in the supply chain and in the industry.
SDC is looking to expand its display business to meet the needs of the market, whether that means efficient red LED materials and devices and waveguide solutions. There are many technology challenges still to be overcome but commercialisation should start in 2024 and be fully in place by 2026.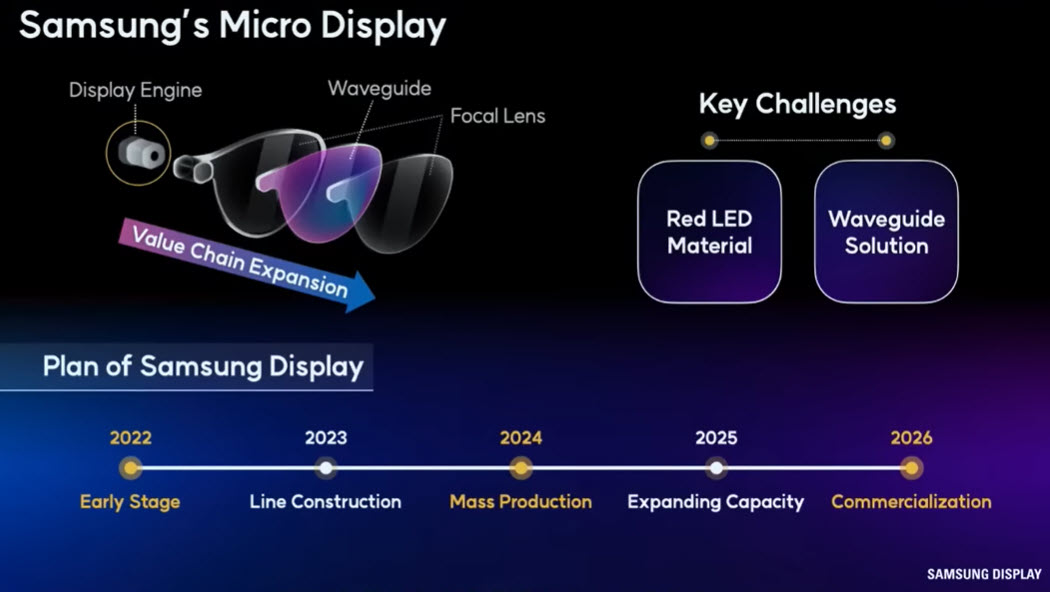 SDC Will Develop Waveguides
In his last slides he looked at three technologies – Diamond pixels, Eco2 OLED plus and Samsung SSDR long channel driving circuitry which are all needed for the best OLEDs. Samsung has patents on all these areas.
In terms of sustainability, SDC has recycled enough glass to fill the Haeundae Beach – a famous beach in Korea that needs continuous maintenance to keep it attractive. He highlighted
Eco2 OLED Plus which reduces power by 52% compared to 'conventional' OLEDs

SDC claims to have reduced by 12 million tonnes its use of greenhouse gases since 2016

It is achieving recycling of 99.5% of its factory waste and

Adaptive frequency and true black reduce power consumption
The firm is developing its Smart Factory concept for manufacture and is in process to get to a dynamic digital twin system (Level 3) and eventually Level 5 with 100% automation.
You can check out the speech online on YouTube here.
Analyst Comment
The decision to go ahead with the G8 IT OLED fab was expected, but it was still good to hear it formally confirmed, as well as seeing the timelines for the firm's microdisplay business – up to now it has just been rumour. I'm not sure that I have heard that the firm will produce its own waveguides before, I don't think. It's not a big surprise as many of the better waveguide makers have been bought up by tech giants already. (BR)